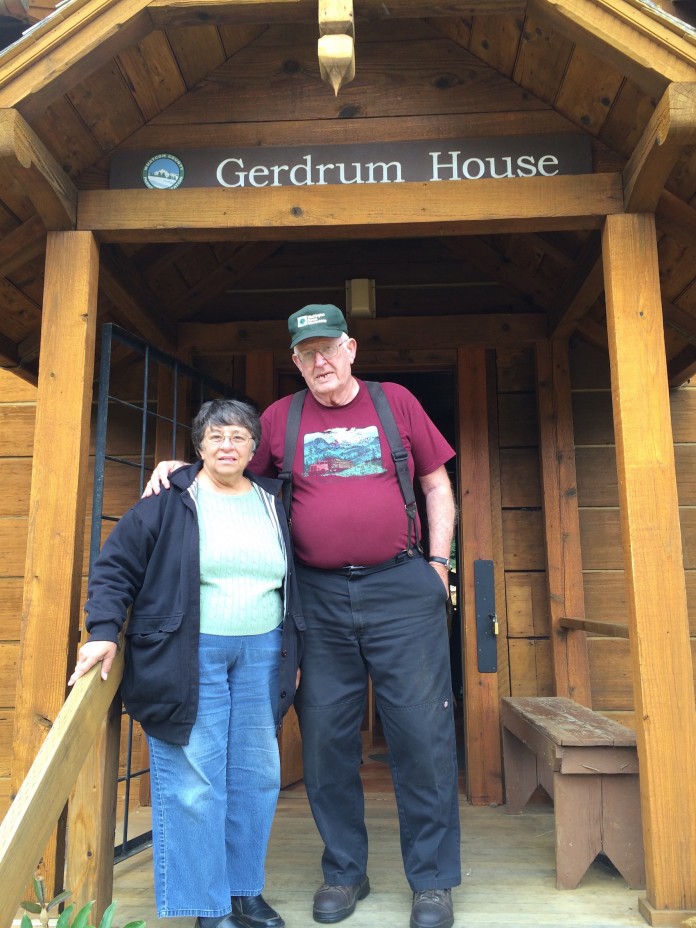 By Lauren Fritzen
If you live in Whatcom County, chances are good that your property was once forestland. In the mid-1800s, settlers began clearing the dense forest stands that came right down to Bellingham Bay. Up went cabins, houses, farmsteads – and sawmills.
Henry Roeder, Russell Peabody and Edward Eldridge are all familiar names in Whatcom County's history – they started the first sawmill on Whatcom Creek in Bellingham. At the peak of the logging industry, there were over 150 sawmills in Whatcom County. Today, only one true sawmill remains.
With our rich and colorful history so deeply rooted in the timber industry, it's no wonder the Black Mountain Forestry Center (BMFC) is chock-full of fascinating artifacts and information. Located across the road from Silver Lake Park in Maple Falls – in the shadow of its namesake – the forestry center is a nonprofit founded in 1999 by forester Wayne Beech. Beech passed away shortly after the center opened, but his mission of promoting awareness and education about forestry practices has remained intact throughout the years.
His daughter, Becky Raney, is an active supporter and says, "My dad was extremely passionate about forests and valued them for all that they are, not just as a resource for harvesting, but also as a rich habitat for our ecosystem, animals, and environment. He protected the trees, fought forest fires, and did what needed to be done back in the day. "
On a recent Sunday, my husband and I took a tour of the center with BMFC volunteers Phil and Joanne Cloward. Now retired, Phil is a master forester with a long career in the timber industry as a smoke jumper, logging engineer, and logging company owner. He and Joanne now host tours at the center, situated on an old 8-acre farmstead leased from Whatcom County Parks.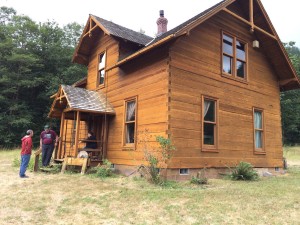 Our tour begins in the Gerdrum House Museum. Built in 1892-93 by Norwegian carpenter Embret Gerdrum, the house's exterior was constructed from the hand-hewn timbers of a single cedar tree. Beautifully dovetailed joints are evidence of Gerdrum's fine craftsmanship. Inside, some rooms are furnished with items from the period while others are dedicated to local history and logging memorabilia, including photos, equipment, and even a replica of a logging locomotive.
Outside, we walk the loop of exhibits, including several small sheds reminiscent of an old logging camp. Inside the sheds are interpretive displays illustrating the history and development of forestry, firefighting, and reforestation. Interspersed we find logging equipment and an old sawmill.
Towering over the site is a mobile spar once used for logging on Black Mountain. The mountain's peak is shrouded in mist today, but we can see faint remnants of old logging roads amidst the regrowth.
Throughout our tour Phil provides rich detail and his wealth of knowledge brings the rusting artifacts to life. He speaks passionately about the forests as a renewable resource and the need to find a middle ground between preservation and utilization.
You'll find Phil and Joanne here every weekend from Memorial Day to Labor Day, closing only for the Deming Logging Show in June. They dedicate many hours to caretaking, tours, and educational outreach. As their volunteer force ages, Phil hopes the next generation will get involved. "This is my way of paying back for having a really good life, and doing what I enjoyed. I think its imperative, for as long as we can, to maintain what we have here," he says. The weekends bring a steady stream of visitors, and 30-40 people per day is not unusual.
But the tours are just part of BMFC's endeavors. In keeping with their mission of education, they offer field trips and programs for local grade schools and participate in forestry education at county high schools and organizations like the East Whatcom Regional Resource Center.
Their biggest education project is the annual 5th and 6th grade Forest Conservation Tour held at the Olsen Creek Seed Orchard each spring. In conjunction with the WSU Whatcom County Extension and other sponsors, they teach hundreds of students about various aspects of our timberlands, including the sometimes-controversial issues involved in forest management.
Phil is happy to give talks or provide tours to any interested group, and whatever your personal views on forest management may be, you can be assured of a lively, intelligent discussion. He may be an expert on the history of local forestry, but he's far from stuck in the past. He has a keen interest in the future of renewable resources – as we wrap up our tour, he and my husband discuss the potential merits of biomass energy.
Looking up at Black Mountain, Phil offers an invitation to Whatcom County residents. "Come and find out what it's all about. We're in the business of protecting these mountains, not just growing trees," he says.
Find out for yourself any weekend between Memorial Day and Labor Day, from 12:00 p.m. to 4:00 p.m.
Black Mountain Forestry Center
9006 Silver Lake Road
Maple Falls, WA 98266
360-599-1738
info@blackmountainforestry.com