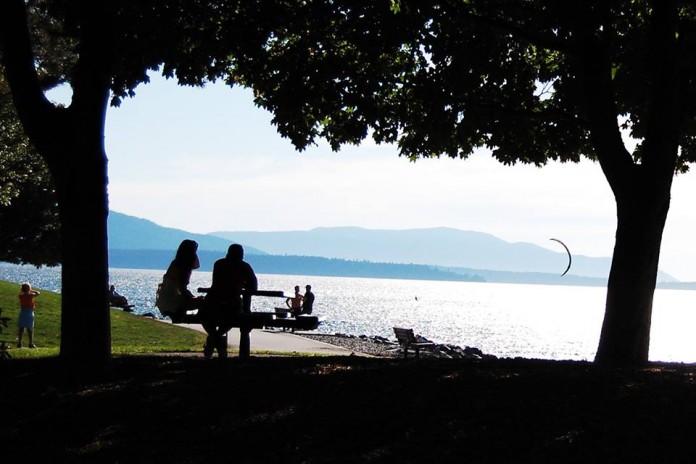 Is there anything more wonderful on a fantastic summer's day than finding just the right shady spot for a picnic? Delicious eats, good company (or a good book), and a cool breeze on a warm day are all one needs for picnic perfection.
Bellingham and Whatcom County are filled-to-the-brim with lovely spots for a lazy meal out-of-doors. Here are some ideas for provisions and destinations that will have you hankering to pack a basket and bask in Mother Nature's beauty.
Fill your picnic basket
First, you need the food. Go high-end and fancy or simple and scrumptious—there are no rules when it comes to eating on a blanket (or picnic table or bench or big piece of beach driftwood…)
Old World Deli in downtown Bellingham offers an authentic European deli experience, from carefully crafted sandwiches on Breadfarm breads to hard-to-find meats and cheeses, including Seattle's famed Salumi meats (brought to you by Armandino and Marilyn Batali, parents of celebrated American chef Mario Batali). Peruse the well-stocked market goods section for specialty items, such as olives and condiments that are just the thing to make a picnic memorable.
Fairhaven's Perfectly Paired also offers artisan cheeses and magnificent meats. They even offer a road-ready box, which feeds one to two people, complete with cheese, meat, a coordinating cheese condiment, cheese knife, bread or crackers, fruit, and a taste of artisan chocolate.
Stand at the Community Food Co-op deli case—the one downtown or at the Cordata store—and prepare to be overwhelmed (in the best possible way). Delicious, nutritious salad options abound, and all are made with whole ingredients you can feel good about. Grab a pre-made sandwich or get one made-to-order—and don't forget some crunchy chips and a beverage or two from the cold case.
When I moved to Bellingham 20 years ago, the Sehome Village Haggen was the first grocery store I walked into after unpacking in my nearby South Hill apartment. I grabbed a sandwich from their deli case that instantly became a favorite, with thinly sliced chicken, avocado, and Asiago cheese. It's still available today, alongside an array of classic specialty sandwiches, as well as unique offerings, such as lemongrass chicken banh mi. The nearby deli case offers a wide assortment of salads, dips, and more to finish up filling your basket.
Pick your picnic spot
Bellingham's parks are full of picnic tables and shelters—ideal for big family picnics; check here for a full list of which parks offer both. But what about spots that also offer good old fashioned spread-out-a-blanket and shoo away the ants picnicking? Here are some of my family's favorites. Drop us a line at submit@whatcomtalk.com to tell us about yours.
Boulevard Park
470 Bayview Drive
Who doesn't love Boulevard Park? No one, it seems, gauging by the crowds most days. But with plenty of shade trees dotting the waterfront park, and a smattering of picnic tables, it's still possible to grab a relaxing spot for a picnic. Keep an eye out for hungry crows; I once watched one take off with my toddler son's breakfast.
Marine Park
100 Harris Avenue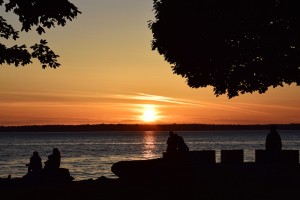 Less busy than Boulevard but with an equally lovely Bellingham Bay view, Marine Park in Fairhaven features a nice park shelter right next to the gently sloping beach. Kids can keep themselves busy throwing rocks into the water while you set out the fare.
Zuanich Point Park
2600 Harbor Loop
Pack a kite alongside your picnic basket if you head to Zuanich Point Park, overlooking both Bellingham Bay and Squalicum Harbor—it's one of the best spots in town for flying one. Unfurl a blanket, plunk down to eat, and then stretch out in the sun for a little post-lunch nap while the rest of the family plays.
Big Rock Garden
2900 Sylvan Street
Big Rock Garden feels like a serene, secluded secret—if you pop in when few others are there (this would not be Mother's Day, when Big Rock Garden holds an annual garden party in celebration of all things Mom). Its permanent sculpture garden, with nearly 40 beautiful pieces, is a wonder of styles. Discovering each one makes for a lovely, meandering walk under towering evergreens. After your stroll, grab a seat under the pagoda—the Korean War Children's Memorial Pavilion—and unpack your lunch.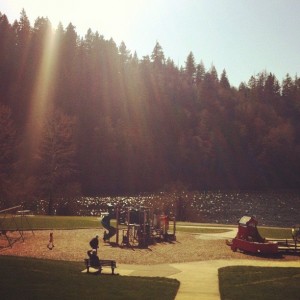 Lake Padden
4882 Samish Way
Lake Padden is a south side Bellingham charmer. Hike or bike around the lake, and then settle down for a lovely waterside meal. Younger kids will love the playground, too. Bring some stale bread to feed the ducks after you've had your own fill of yummy eats.
Bloedel Donovan Park
2214 Electric Avenue
Bloedel Donovan Park on Lake Whatcom is a popular destination on warm-weather days—its beach is dotted with sun-worshippers and lake-dippers. It's also a welcoming spot for a picnic, either on the ground or sitting at one of the park's picnic tables. This park also boasts a fun playground area for the shorter set.
You can create a wonderful picnic with nearly anything and enjoy it nearly anywhere, so long as it's food you love, enjoyed in a spot that brings you peace and relaxation. Here's hoping these suggestions inspire you to set out soon with picnic basket in hand.