By Stacee Sledge

Whether you've long lived here or are visiting from somewhere else, Whatcom County offers plenty to keep you entertained, engaged, relaxed, and inspired.
Maybe your college roommate is coming to visit from the Midwest. Or your in-laws are in town for two weeks. Maybe you're moving on and want to make sure you've experienced all Whatcom County has to offer one last time before you land in your new home.
Whatever the reason, WhatcomTalk has you covered for the top ten things to do in Whatcom County. (Disagree with our admittedly subjective list? Please share your own top ten lists with us via email at submit@whatcomtalk.com.  We'd love to read them!)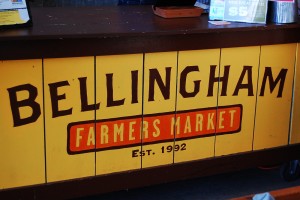 Looking for even more things to do? Check in regularly with WhatcomTalk's events calendar for a current list of what's happening around Bellingham and all of Whatcom County.
Hit the Bellingham Farmers Market for a true taste of Bellingham. The popular weekly market, which runs every Saturday from April through December, has become a downtown magnet over the years, showcasing an array of fabulous produce, delicious bites, and locally crafted products from over 145 vendors.
Meander your way down cliff-hugging Chuckanut Drive (officially Washington State Route 11) and back for one of the most breathtaking stretches of scenery-drenched highways to be had. Stop at one of the pullouts and take in the stunning island views.
Have a little one who's hit the obsessed-with-Laura Ingalls phase? I sure do. Two of our favorite recent forays outside Bellingham city limits included stops at the Lynden Pioneer Museum and Ferndale's Pioneer Park. Both offer time machines back to the days of horse-drawn wagons and make a fitting family outing. Looking for a more contemporary cultural experience? Lynden's Jansen Art Center offers exhibits, workshops, classes, and live performances.
Mmmmm, beer. Bellingham continues its maltilicious morph into Brewingham, with more spectacular craft brew spots opening every year. Create your own pub crawl and try several of our area's unbelievable beers. The Bellingham Tap Trail can get you all set to sip.
Explore the Sehome Arboretum atop Sehome Hill and adjacent to Western Washington University, where you can walk or run over five miles of twisting trails under coniferous and deciduous trees. Sit and contemplate at the Quiet Rocks area, found just below the 80-foot-tall watch tower, before climbing up to behold beautiful views of Bellingham and the bay. Fancy yourself a bit of a bird nerd? Check out Western's field guide for birders, and see how many you can spot.
The charming Fairhaven district, on Bellingham's south side, is perfect for a day of wandering in and out of shops, restaurants, and bars—just make sure you leave some time to relax in the Village Green. Once you've rested, head to Boulevard Park via the South Bay Trail, which takes you to Taylor Dock and the boardwalk, for one of Bellingham's most iconic strolls.
Attend a performance at the historic Mount Baker Theatre—there's always something fantastic on the calendar.
Western Washington University boasts a beautiful campus, but did you also know its home to a nationally famous public art collection that is displayed throughout? The Outdoor Sculpture Collection spans the campus, featuring works from major international, national and regional artists. While you're on campus, pop into the Western Gallery and peruse its visual art collection, which includes 19

th

 and 20

th

 century prints and drawings among other various media by Northwest artists. Admission is free.
Explore Tennant Lake and Hovander Homestead Park near Ferndale. Tennant Lake is on a 624-acre site that includes the shallow lake surrounded by wetlands, fields, and forest, with a 50-foot viewing tower overlooking it all and an elevated boardwalk that wends through the swamp and marsh habitat. The half-mile Hovander Homestead Trail takes visitors to Hovander Homestead Park, which harkens back to the days of pioneer farming. Summer visitors can tour the Hovander House and see barn and farmyard animals.
Have you spent time in downtown Bellingham lately? It's absolutely blooming with vibrant shops, restaurants, and events. This Downtown Bellingham Partnership list is a great place to start when looking for things to do and places to visit. Popular annual events draw crowds downtown for Art Walk, Wine Walk, Downtown Sounds, Bite of Bellingham, and more. Take a tour with the Bureau of Historical Investigation, visit Whatcom Museum, or see a movie at Pickford Film Center.
This list could never be all-encompassing—Whatcom County is chock full of amazing businesses, events, and activities to keep us all endlessly entertained and inspired. Consider this list a jumping-off point—and let us know some of your favorite things to do right here in our very own remarkable back yard.