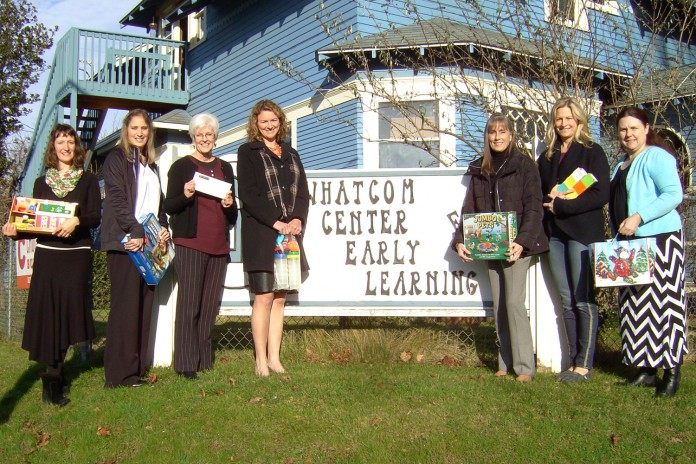 Holds Contest Awarding Area's Best Nonprofits For Third Year In A Row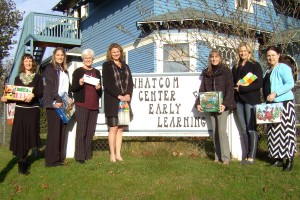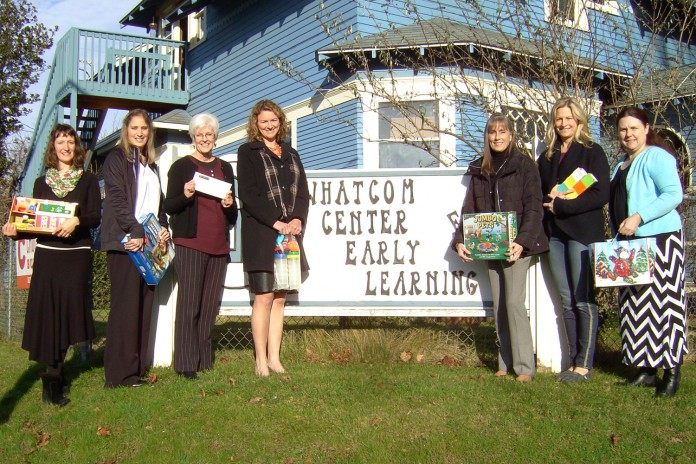 Bob Wallin began his insurance career after working for years as a delivery driver for Standard Oil Company in Sedro-Woolley.
"He had his routes and got to talk to a lot of people," says Bob's daughter, Ann Leonard, president of Bob Wallin Insurance. "He loved talking to people."
Bob came across someone who told him what an insurance job entailed: driving around, talking to people, taking care of their insurance needs, and helping them. He liked the sound of it all.
In 1963, Bob and his wife Nita moved their family to Bellingham and Bob began selling insurance from a booth in the basement of Sears, working for Allstate Insurance.
Within a few years, he was ready to strike out on his own as an independent insurance agent. So he and Nita created Bob Wallin Insurance, operating out of the Bellingham Mall, where Sehome Village stands today. In 1993, they moved to their current location on Iron Street.
Family-Owned and -Operated
"We're one of the only local agencies that's actually owned and operated by family members," says Sue DeLeon, Bob's granddaughter and vice president of Bob Wallin Insurance.
Sue began working at her grandparents' agency in 1991, while still in high school, filing after school and during summer breaks.
The agency had grown and added several employees, and when Sue graduated, her grandparents asked her to consider joining them full-time. Sue accepted. Today she is the agency's bookkeeper, and also works in agency operations, licensing, as a customer service representative, and assists in the commercial lines department.
Ann Wallin-Leonard, Bob and Nita's daughter – Sue DeLeon's mother – came on board in 2003 in the commercial lines department as a customer service rep. In January 2006, Ann and Sue began the process of buying out Bob and Nita. Bob passed away in October of 2013; Nita still drops by the office often to say hello.
Ann also handles human resources for the agency and, like others on this long-standing team, often wears many different hats, as necessary.
Bob Wallin Insurance currently has six employees, including Suzanne Taylor, a commercial, personal and life producer; Molly Hammar, personal producer; Jason Taylor, customer service representative; Todd Smith, health and financial producer; and Chelsey Eddy, receptionist.
Working with Bob Wallin Insurance versus an impersonal online company
The Bob Wallin team is close-knit, and when you step into the office, you instantly feel welcomed. If you're there around the holidays, you're greeted with a festively decorated Giving Tree, part of the agency's efforts to help nonprofit organizations like the Whatcom Center For Early Learning (WCEL).
That's just one of the many ways working with this local, independent insurance agency simply feels more genuine, more connected, than working with a large corporation or online company.
"Anyone down the street can get a home policy or auto policy online – the difference would be explaining the coverage and options," says Suzanne Taylor.
Bob Wallin's producers make sure customers understand the proper limits for their unique situations. "So often, people get a policy online and don't understand that their limits are too low. We educate them."
At Bob Wallin, folks sit down and have a conversation about what makes the most sense for them as an individual, family, or business owner.
"It's so much more than just checking a box and here's your total," says Suzanne. "We build relationships with our customers."
And when you call Bob Wallin Insurance, you get a live person on the line.
"You aren't pushing 12 buttons," says Sue, with a laugh. "You call, you ask, and someone helps you."
"We have higher expectations of ourselves and our employees to make sure that customer experience is met," says Suzanne. "That's really important to us."
When it comes to claims, working with Bob Wallin Insurance is also a superior experience to an online company; they can act as a liaison between the insured and the different insurance carriers.
"So many people don't understand when they should turn one in, why they should, why they shouldn't," says Ann. "How will filing a claim affect their renewals? Will they risk being canceled?"
"And we go to bat for our customers," Ann continues. "If you go online, you don't get any of that."
Working with local charities to improve lives throughout our community
Every one at Bob Wallin Insurance is dedicated to helping the community in a variety of ways.
"Suzanne and I grew up in Bellingham, and Ann has been here since the '60s," says Sue. "We all understand the importance of this community and being involved."
Suzanne, who has been with Bob Wallin Insurance for nearly a decade, realized several years ago that she wanted to do more.
"I felt a deep connection to the community," she says. "And when my son was born with special needs, the Whatcom Center for Early Learning became really close to my heart. They've been so supportive of me with Kaden from the get-go."
Suzanne and husband Jason struggled after Kaden was born; when WCEL and random community members reached out to help, they were deeply touched. Suzanne knew she wanted to do more to give back to the community. She spoke to Ann and Sue, who agreed.
They began several years ago with the Christmas Giving Tree, benefiting WCEL.
"They give us a list of simple things they can use, like paper towels, crackers, Dixie cups, and art project supplies," says Suzanne. "One year they had a vacuum on the list. Folks can buy whatever their heart pulls them to and whatever they can do."
The following spring, they wanted to create an event to help many in the community – customers and noncustomers alike.
"We wanted to create an event that was welcoming to all and had nothing to do with selling insurance," says Suzanne. "People don't always like insurance companies because they've had a bad experience. We wanted to create a positive experience through our agency."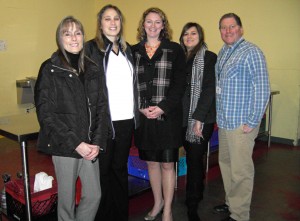 They came up with a free shredding event, using Sound Shredding and Recycling, and offered an unlimited amount of shredding for anyone in the community on a specific day and time.
"On a homeowners policy, you can add on protection for identity theft," says Ann. "Well, shredding documents helps folks protect their identity. People loved it."
Over the years, the office has done many different things. Each year they invite the community to stop by the office for free photos with Santa and with a collection of Easter Bunny dolls. They give out safety bags at Halloween with glow sticks and alternatives to candy. They also support the Bellingham Food Bank with its MilkMoney Challenge.
But their biggest annual event is organizing a vote for Whatcom County's favorite nonprofit organizations. The agency facilitates the nominations and voting – giving all local nonprofit organizations that register an opportunity to share who they are and what they do with voters – and then awards $1,500, $1,000 and $500 to the top three vote getters.
Nominations are made throughout the month of March, giving all Whatcom County 501 3(c) organizations plenty of time to register online.
"And then it's up to the community to vote for who they want, in April," says Suzanne. Votes are tallied in May, and then the winners are announced.
"We do it to promote local nonprofits," says Suzanne. "There are so many great organizations."
Bob Wallin Insurance shares news of the top three vote getters in its paper mailings, on its website, and through social media; it makes for wonderful exposure.
Last years first-place winner was Camp Horizon, followed by Wild Whatcom, and then the Bellingham Childcare and Learning Center.
All that Bob Wallin hopes to gain from the work that goes into the campaign is that people fully understand that their whole team is deeply invested in this community.
"We want to make a difference," Suzanne says.
Learn more about Bob Wallin Insurance at www.bobwallin.com, and keep up with their latest community events at www.bwicares.com.
Bob Wallin Insurance
1844 Iron Street
Bellingham WA 98226
360.734.5204
1.800.562.8834