By Stacee Sledge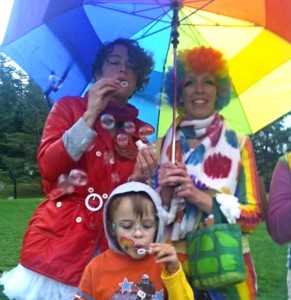 For Abby Franklin, longtime owner of Bellingham's Loving Space School, the idea of PLLAY came four years ago as a natural extension of what her preschool and kindergarten classes have been doing for more than two decades: playing and bringing smiles to faces of all ages.
PLLAY – Programs to Lighten the Lives of Adults and Youth – is a nonprofit organization run by volunteers who simply strive to bring happiness to folks – some who might find themselves in not-so-happy situations.
Think playful activities delivered to those who need more light in their lives, random acts of intentional kindness, surprising a child at his or her birthday party, and parent education classes.
PLLAY is made up of four different programs and run by a governing board. The nonprofit organization is always looking for more volunteers to help spread those smiles.
"We wanted to be able to take that feeling that happens at Loving Space – or really anywhere where kids are able to just really engage in real play – and bring that to places that maybe weren't as playful. Places where people are struggling for whatever reason, maybe with finances or health issues or whatever it is that makes your life feel heavy," says Franklin.
Play In A Box
To that end, PLLAY volunteers bring a program dubbed "Play in a Box" to the Agape House once a month.
"We go in and play with the kids and adults," says Franklin. "It's very open-ended, really interactive – and the idea is to give these mommies a moment to lose themselves in the joy that comes in watching your child play and being able to be a part of that."
The happiness for volunteers comes in watching how much the mothers love the activities brought in by PLLAY. "They enjoy it just as much – sometimes more than the children do. It's delightful," says Franklin.
PLLAY hopes to bring the monthly program to Lydia Place, as well, but needs more volunteers to make that happen.
The Birthday Cake Program
If a family is struggling with finances but would like a little something extra special for a loved one's birthday, they can apply online at PLLAY to make it happen.
By sharing the child's age, favorite color, and what kinds of things they're interested in, applicants supply PLLAY volunteers with the basis of what they need to create a fun drop-in birthday party surprise.
"Say they really love bugs," says Franklin. "We decorate a cake with all kinds of bugs on it, and then all dress up like bugs and go to their birthday party." Once there, the PLLAY crew delivers a cake, gives them balloons and a small gift that's related to their theme, sings happy birthday, and leaves a little sparkle behind before they go.
"We don't put on the party, but we bring a homemade custom cake and we dress up and just bring that silly, playful thing that we do so well," says Franklin.
"I love to see their faces," she continues. "When we first get there, they're just stunned, and by the end they're chasing after us and want to play. And I love the fact that we're leaving them with this idea of: Who were those people who cared enough about me to come and help celebrate my birthday? I must be pretty special."
The Do-Good Gang
The Do-Good Gang is another faction of PLLAY that's also a youth-mentor program. A group of volunteers – currently ages 8 through 70 – gets together every month to do random acts of kindness.
"Tomorrow we've got about 15 people who are going to go help a one-woman farmer who has a lot of work on her hands," says Franklin. "We're going to show up and give her a couple hours of our time."
The idea behind the Do-Good Gang is for kids to have an opportunity to give back, showing them how good it feels to make somebody else happy.
Recently, a couple younger members of the Do-Good Gang requested gift cards for their birthdays, in lieu of gifts. They then took them to the Bellingham Grocery Outlet and passed them out to shoppers.
"It was so cute to hear the kids explaining to people, 'No, you don't have to give me any money, I'm doing this just because I want to,' or 'I just want to make you smile,' or 'I thought it would make you happy,'" recounts Franklin.
PLLAY board members are currently developing a program around this do-good theory and hope to bring to the public schools by this winter. "We'd base it around activities around the school and the people who are in your school community," Franklin says. "How can you support and make the teachers feel appreciated? And the custodian? And people in your class?"
Good Stuff for Parents
PLLAY also offers a monthly parent-enrichment program with parent education classes that are held at St. Luke's Education Center.
Speakers donate their time, while attendees pay $10. "Every single penny of that goes right back into our program," says Franklin, "paying for balloons and birthday cakes and glitter and paint and all the supplies we need to make people happy."
PLLAY's parent education series for this coming school year kicks off with a session on October 18 at Whatcom Community College, with well-known early childhood educator Bev Bos.
"She's the pioneer for the importance of play," Franklin says of Bos, whom she credits as her inspiration and mentor. "To have her come and spread her message and to encourage all those kindergarten teachers and parents to remember the importance of play is a really big deal."
To see a day in the life of PLLAY, watch Lauren McClanahan's fantastic short film. Please visit the PLLAY website for more information or to volunteer. You can also learn more about Loving Space here.