If anyone's looking for the largest green screen in Western Washington north of Seattle – and come on, who isn't? – it can be found at the Bellingham studio of Hand Crank Films.
Founder Max Kaiser and his team – Chris Donaldson, Jim Pidgeon, Cameron Currier, and a talented crew of contract directors, producers and editors – have built a successful film production company that creates commercial spots for a wide range of clients. They also donate their time and talent to help local nonprofit organizations.
What they produce isn't your typical run-of-the-mill commercial work: Hand Crank Films creates short films that truly engage the viewer, are cinematically powerful, and include intriguing narratives.
But back to that gigantic green screen at the Hand Crank Film office, which is a stone's throw from the Civic Athletic Complex.
Though the majority of Hand Crank Films' work is done on location – with locales ranging from local and regional to across the country and as far-flung as Africa, Bangladesh, Uganda and India – having this particular no-frills space with the gargantuan green screen means they can do top-notch professional interior work in-house, as well.
"It's pretty utilitarian, really," Kaiser says, showing me around Hand Crank Film headquarters. "We had a fancy space in Fairhaven, but we outgrew it. And when I started to look for something, it was either utilitarian and fit our bill or it had character but not the drive-in ability that we really needed."
He literally means being able to drive a vehicle into the building. A large white van loaded with filmmaking equipment is parked inside the cavernous green-screen room at the back of the Hand Crank Films offices.
That very van marks a lot of miles – back and forth between Bellingham and Seattle – as the majority of Hand Crank Films' commercial work these days comes from the Emerald City.
"The idea always was to grow the company here in Bellingham and eventually make our way down there. Seattle was always the market," says Kaiser. "And that's exactly what happened – we just wound up doing a lot more films around the country and the world first."
And while Kaiser makes that I-5 trip two or three times a week himself, he has no plans to move south. Hand Crank Films, he insists, will always be headquartered in Bellingham.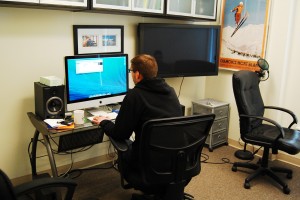 Kaiser grew up in Indiana and graduated in 1994 from Yale, where he did a lot of theater. He also completed an intensive film workshop at New York University.
"After that, I just kind of bumped around the industry for a long time," Kaiser says. "Finally, when I decided I wanted to move here, I wrote a film about a girl who lived out in the islands."
That film, Desolation: A Comedy, came out in 2004 and can still be purchased at Village Books.
"Desolation was a complete failure; it's not a good movie," Kaiser says, smiling. "But it was a lot of fun and we learned a lot."
Kaiser also garnered recognition for – and more valuable filmmaking experience from – his second film, 2008's On A Wing and a Prayer, a PBS documentary about a local American Muslim man working to get his private pilot's license under FBI scrutiny in post-9/11 America.
"That was a big deal, with worldwide distribution," Kaiser says.
Kaiser's family roots grow deep here, where his grandfather opened an ophthalmology practice – still run today by Kaiser's uncle – in 1945. His father Nicholas Kaiser is the co-founder of Saturna Capital, where two of Max Kaiser's sisters also work.
"My wife is from Bellingham and I have tons of family here," Kaiser says. "I always wanted to move to the area but couldn't figure out how to do film stuff here."
He eventually did figure it out.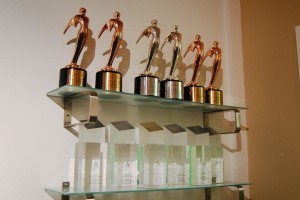 Kaiser hit on a successful filmmaking company formula that makes sense here. Hand Crank Films, which began in 2003, expects to reach a million dollars in business this year.
"We've never had a worse year than the year before," he says. "Our average growth is 25 percent a year, so if we can keep that going, the sky's the limit."
While the vast majority of their work these days comes from Seattle, Hand Crank Films still has a solid segment of local business. Clients include Western Washington University, PeaceHealth, Whatcom Smart Trips, and many others.
"Bellingham is a great town but there's just not the demand for us," says Kaiser. And that's fine; it's all according to the plan.
An important change for Hand Crank Films this year is its donation of work to local nonprofits, helping organizations raise significantly more money for their causes.
Hand Crank Films has long worked – for a fee, usually between $12,000 and $15,000 per film – for many larger nonprofits, helping them bring in far more fundraising dollars.
"We generally see organizations make about five dollars for every dollar they spend on our fundraising films," Kaiser explains.
For instance, Hand Crank Films made a promotional video for a Seattle Humane Society fundraising event, which had pulled in $600,000 the year before. With the  Hand Crank Films clip to help boost awareness, they upped that to $1.2 million in funds raised.
"It makes business sense for them to do it," Kaiser says of the larger nonprofits that have marketing budgets.
This new venture into helping nonprofits for free is based on one litmus test – the organization must literally have no money to spend. Hand Crank Films expects to produce four free promotional films this year.
Its first, for Kids' Council NorthWest's TreeHouse program, which provides grief support to children, teens and families, helped the organization raise more than it ever imagined it could.
"We quadrupled their numbers for the evening," says Kaiser. "And there was nothing different about the evening other than our movie and the fact that we got really involved in consulting with them about their event, how best to do it."
Hand Crank Films sets some criteria when considering which nonprofits to work with. "We have a goal of at least doubling their revenue," Kaiser says. "So if they can't give us a certain number of seats, we won't do it."
TreeHouse historically offered 35 seats for its annual fundraiser; Hand Crank Films asked them to sell 100 at $100 a pop. "They didn't think they could do it," says Kaiser, "but they did."
Circulating a teaser of the film on Facebook helped stir up buzz for the event. See the entire finished TreeHouse film here.
Hand Crank Films is currently working on a film for Whatcom Center for Early Learning, an organization providing early intervention for kids born with special needs.
"There's no way to say no to that," says Kaiser. "It's such a good cause, but they don't have a good way to express it. That's when we see we can really help."
His team is also working on a retrospective film for the closing Larrabee Elementary. "It's not a fundraiser, but it's an event that means a lot to people in the community," Kaiser says.
"It's a big initiative for us and we hope to do a lot more of it," Kaiser says of these special projects. In the meantime, there's plenty of paying commercial work coming the Hand Crank Films crew's way.
"The real key differential with our company is that every single person who works here has a background in independent filmmaking," says Kaiser "That's different than being someone who came up doing corporate commercials."
"Our feel – which I think is special in the market – is this narrative, cinematic feel, as opposed to a very sort of corporate feel."
And this special way of coming at commercial projects has caught the eye of bigger and bigger clients.
"We own the local, no problem, and we're doing a lot more regional," says Kaiser. "We're working our way up to national."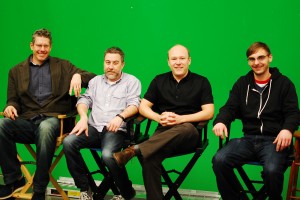 "It's a trick trying to climb that ladder. Some people just skyrocket right into national, but we've always just been a one-step-after-another kind of company, small and steady."
Take a few minutes to look at a few of the spots Hand Crank Films has created for local organizations and see how exceptional their work is.