Submitted by: The Chrysalis Inn & Spa
The Chrysalis Inn & Spa presented $2,100 to Bellingham Pride, representing the spa's June donation in honor of Pride Month. Bellingham Pride is a 100 percent volunteer-based organization that would not be possible without the generous financial support of the community. Pride is able to provide youth events, parades and festivals that foster a healthy and safe environment for the LGBTQ community, families and allies in Whatcom County.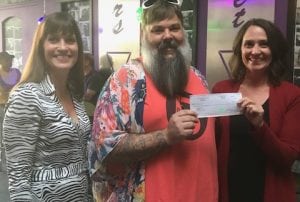 The organization relies on donations to fund everything from parade permits to event spaces, decorations and even porta-potties! This year, Bellingham Pride is also providing transportation and housing for the parade's Grand Marshall, Tree, the bartender from the Stonewall Riots in New York City. Next year marks the 50th anniversary of those historic events that helped launch Pride celebrations around the world. For more information about this week's Bellingham events and how to make a donation, visit bellinghampride.org.
The Chrysalis, a locally owned hotel, spa and restaurant on Fairhaven's waterfront, has been giving 1 percent of monthly spa revenues to a local non-profit since February of 2017, now totaling over $30,000.
For July, 1 percent of spa revenues will be donated to the Bellingham YWCA, an organization dedicated to eliminating racism, empowering women and promoting peace, justice, freedom and dignity for all.