I know why I prefer my favorite coffee shop and I know why my friends like theirs. The difference could be in the atmosphere, flavor options or milk alternatives, or in the quality of the roasted beans they serve. But what do those coffee shops think of themselves? What do they want people to know about them? That was the question my husband posed to me a few weeks ago. "We have so many cafes," he said. "It's hard to pick between all of them. What do you think they'd tell us makes them special; why we should choose them over another shop?"
So, in the spirit of investigating the best, I asked several different Bellingham coffee shops what they feel makes them stand out from the crowd. Here's what eight of them had to say: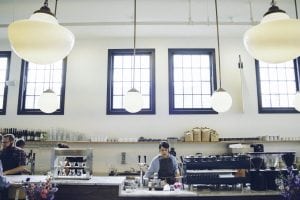 Although it's one of the newer coffee shops, Camber started roasting coffee for other cafes around the country in 2015. "Good coffee is at the core of what we do," says David Yake, Camber co-founder. "Our baristas are incredibly talented and can make a single origin pour-over for the coffee nerds, a delicious vanilla latte with Grace Harbor milk or – one of my favorites – an espresso milkshake using Snoqualmie Ice Cream."
"It just so happens that we're also obsessed with food and we pride ourselves on having amazing dishes for our guests from morning to night. Our head chef is always coming up with fresh, seasonal dishes. A couple of his latest additions are the Fennel Sausage Sandwich, Grilled Watermelon Salad, Chilled Avocado Soup and, a perennial favorite, the Lamb Burger, made with grass fed lamb sourced from Anderson Ranch. We also have amazing desserts that we get from a number of incredible local bakers, including Antler Baking, which pair nicely with our well-rounded wine program, which is always rotating thanks to the hard work of our Wine Director, Emmaline Jones."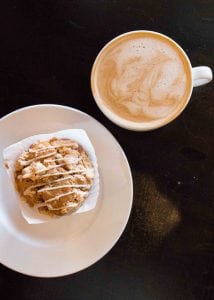 While this may not initially stand out as a coffee destination, Pure Bliss offers a serious, unique coffee experience. "Being a from-scratch, all-natural dessert shop, it's important that our coffee and espresso selection pairs beautifully in quality and flavor with our desserts," says Owner Andi Vann. "That's why we choose to serve pour-over style 'drip' coffee. The fair-trade, organic beans are freshly ground and brewed upon order, ensuring the smoothest, freshest cup of coffee possible. We also insist on using our house-made chocolate ganache, white chocolate ganache and caramel to complement our espresso beverage selection. Those in combination with locally-roasted organic espresso beans and locally-sourced dairy makes the best possible latte or mocha. Yum!"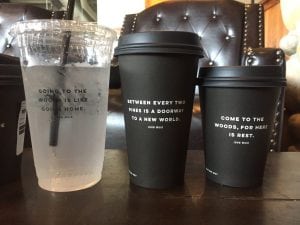 Ryan Spiker, Director of Marketing for Woods Coffee, says, "There are a number of things I could speak to in regards to why we believe so many people would choose Woods Coffee every day, but I'll give you just the few that are most important: people, culture and quality. We go to great lengths to find amazing baristas who genuinely care about our guests and want their experience to be amazing. Our hope is that anyone who walks through our doors would instantly feel like they're part of the family. In terms of separate locations, we're really diligent about creating a similar experience at all of our stores. It's important to us that guests get the same great experience no matter which location they choose."
There are lots of Woods Coffee locations in Whatcom County but Wes Herman, Founder and CEO, says, "Our Boulevard Park, Railroad and Flatiron locations are all registered historic buildings and for that reason alone, these are unique sites. Each building is over 100 years old. The character of each adds to the experience, not to mention the history of each building and how we have built coffee shops in spaces that were built for other purposes. We take a lot of pride in preserving the original architectural elements that are found at each location. Our Lakeway site is unique because it's our area's only public place to view coffee being roasted and see how Cold Brew is produced. With such a great local coffee culture, this is important for people to enjoy the craft side of what we do with roasting coffee and brewing Cold Brew."
Kim Strang was behind the counter when I walked in to Café Velo, a friendly smile on her face, ready to make a cup of coffee or talk shop. "What makes Cafe Velo unique is that we are a bike shop," she told me right away. "We're a full service bike shop where you can have a great coffee, draft beer and sandwich while waiting for our mechanic to tune up your ride. Cafe Velo also has a wonderful patio space to enjoy all day long."
"At Primer we are not striving to be the best coffee shop in Bellingham," says Angela Bryant, owner of both Primer and Elizabeth Station. "Our goal is to do our absolute best without making any compromises. We source ingredients of the highest quality and try to showcase what is inherently awesome about Whatcom County. This means bringing in local product and seasonal items so any patron to stop by could experience what's great about living in Bellingham. Our number one priority is service; this means when hiring, we seek out professionals who have a passion for hospitality running through their veins. Above all, we want to be a place for our community, a safe and fun local hangout spot that our neighbors love and are proud to call their own. We make most of our products in-house and sell a rotating menu of incredible coffees sourced through relationship and roasted by us here in Whatcom County. We also have a unique Natural Wine program and, of course, offer a very large unique selection of beer by the bottle on the Elizabeth Station side of the wall."
When asked, Cameron VanEpps shares some great reasons to choose The Union Coffee Shop. "We strive to be a comfortable place to come in and study, meet friends or grab a Latte and pastry while heading to work."
Since they're connected to the Daisy Café, you can eat from their full menu while enjoying prize-winning coffee. "We were hand-selected from very few shops to serve Tony's Ganesha espresso, which was the first place winner in America's Best espresso competition," says VanEpps. "So not only do we strive to use the highest quality of ingredients to serve you the best cup of coffee, we also try and follow our motto that we hand stamp on every one of our cups 'From much love, comes much love.'"
If you like to drink mochas, you'll especially enjoy theirs – the chocolate is made in-house. "And the array of pastries we offer are freshly baked every morning," VanEpps says.
Rei, the manager of the Lettered Streets Coffeehouse (LSC), had this to say about their shop. "Located in the historic Pickett Building, we at Lettered Streets Coffeehouse are proud to be Bellingham's neighborhood go-to for deliciously crafted coffee. We appreciate each unique individual within the LSC family and look forward to serving our valuable customers and community daily."
"We believe first and foremost in using a quality, traceable product that is as local as coffee can be," says co-owner Stephanie Oppelaar. "Our beans are roasted by Maniac Roasting, the founders of the Black Drop, right over by Bellingham High School. Secondly, we adhere to rigorous training. Our training program was developed by The USBC judge and all our baristas were trained to that standard. Thirdly, we believe in the power of community and strive to be a safe, inclusive space for all. We take our coffee seriously and ourselves not seriously at all. We strive to include our customers in our jokes and you will often find us laughing with a line of people. We're all about top notch customer service and work to learn everyone's names so we're personal, not faceless."
Check out each of these great choices for a delicious cup o' Joe. Grab a quick cup or sip slowly and enjoy your friends, the scenery or a quiet project. And remember, this isn't an extensive list – if you have time, experience all of Bellingham's great coffee shops. You won't be disappointed.