Not even a dreary day can keep me away from a farmers market. This past Saturday was a wet one for Whatcom County (sometimes I think the weather gets confused and doesn't realize it's July). Despite the rain, vendors and customers alike gathered at Lynden's Centennial Park for the weekly market.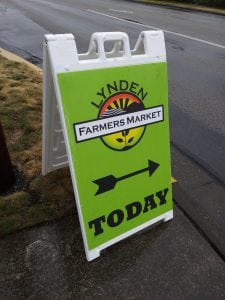 The Lynden Farmers Market moved to Saturdays this year to encourage more engagement with vendors and Lynden's flourishing downtown. The market runs from 10:00 a.m. to 2:00 p.m. and stays open rain or shine.
All Lynden Farmers Market vendors grow, produce and craft their items locally, which is the biggest reason to attend. Shopping local helps the local economy, making it more sustainable and fostering economic growth. There's no better place to peruse an abundance of local wares and produce than a farmers market.
The market, which started in 2011, has been used by many vendors since the beginning. This year brings a few new faces, several of whom joined after the move to Saturday.
I wanted to meet as many of the vendors as I could, and disperse money across several different outlets. Let's see how I did.
The market is set up in a giant circle. I started off on the right side and made my way around counterclockwise. Before I began, I checked my wallet for cash. I was out. It's a good thing almost all vendors use card-readers; luckily my credit card could work here.
First stop: Ten Fold Farm, owned and operated by Tiffany Bell, President of the Lynden Farmers Market. I knew I wanted produce. My favorite part of the farmers market is buying a ton of fresh veggies to stock the fridge. After a nice chat with Tiffany, I picked up a box of mini squash containing small pattypan and zucchini squash varieties, and a head of lettuce.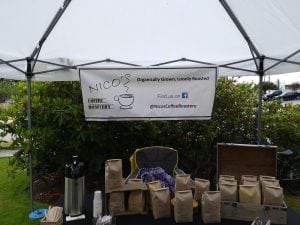 I didn't have to travel far to my next destination. Tiffany's next-door market neighbor, Lacey Thompson, co-owns Soul Sisters Baking. The goods on display looked too delicious to pass up – plus I needed something to pair with my coffee.
Lacey must have read my mind, "Looking for a treat to pair with your coffee?" she said.
This is Soul Sisters' first year at the Lynden Farmers Market and Lacey said it's been a rewarding experience; both customers and vendors are accommodating and nice.
After eyeing a giant salted chocolate chip cookie, I was sold. I purchased one and continued on, my sweet tooth satisfied.
On my way to Slanted Sun Farm's stand to grab some beets that I'd noticed from afar, I decided to browse the woodworking, soapmaking and other craft vendors. The Lynden Farmers Market carries a wide variety of fine wares and proceeds go directly to the local artisans who create them.
Slanted Sun Farm owners Jared Danilson and Anna Morris have been vending at the Lynden Farmers Market for four years, and Jared has spent the last two years on the Lynden Farmers Market Board. Their farm is located in Everson and is certified organic. I found vibrant beets, carrots, cabbage and romanesco at their stand.
I was on a mission for those bright red beets.
Beets have a variety of uses. Many people juice the beetroot and they're even good cut raw or boiled to make a beet-like hummus dip. What I didn't know is that the leaves are edible; Anna enlightened me. If you like beets, don't miss out on the leaves – healthy, nutritious and delicious sautéed with lemon oil and red chili flakes.
As my coffee ran low, I decided to round out the day with one more cup. My last stop was Nico's Coffee Roastery, a small-batch coffee roaster based in Lynden. The roastery has operated commercially for two years, and the Lynden Farmers Market is the only market where you can currently get their coffee.
Coffee roasted at Nico's Coffee Roastery comes from South America, Central America and Africa. After I tried a free sample, I bought the appropriately titled "Farmers Tan Roast."
It was a successful day at the Lynden Farmers Market. As I forgot to bring my reusable bags, I walked away with as much as I could carry. My haul was diverse: a bag of coffee, a bunch of beets, a box of mini squash, head of lettuce and a giant chocolate chip cookie. And this doesn't even come close to the vast array of items available. Check out the Lynden Farmers Market for yourself. You'll be glad you did.
Sponsored