Submitted by: Volunteer Center of Whatcom County
We don't always see the people who need our help the most, but the volunteers at the Salvation Army Emergency Food Bank do. Last year they gave emergency food to almost 31,000 people, according to Renatta Burroughs, the Volunteer Coordinator for the Salvation Army Food Bank.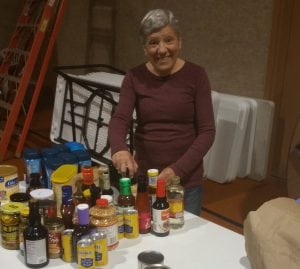 A mother with three children, including a newborn, Bonnie needs the Salvation Army Food Bank because "food stamps don't last all month." She explained, "I'm trying to figure out how to get my life back on track after a bad situation." She has brain damage that she suffered from drug addiction. Although she has been in recovery for seven months, she still isn't sure what she can do for work.
Many clients said that they need the food from this food bank because their food stamps don't last through the month. Chris explained that he is homeless so he doesn't have anywhere to store food. He has to eat premade food, which is more expensive. But he's getting his life back together. He has been recovering from drug addiction for 41 days and passed his drug-free test. He is grateful because now he is able to work through Express Employment.
"This is a supplemental food bank where people can get enough food for three days, twice a month," explained Renatta. People come from all over Whatcom County. There was one woman from Maple Falls who had missed the day the Maple Falls food bank was open when she drove a grandchild to the doctor. She's feeding three grandchildren and one great-grandchild so this supplemental food helps her family have enough food for the month.
There are chairs to sit on and if there is a line, people wait inside so it is a comfortable place for the disabled, older folks and families with small children. One woman sitting on a chair said, "I've got three kids and an unemployed husband. This supplemental food is helpful. It also includes important extras such as diapers."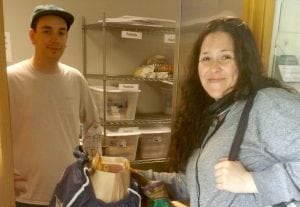 Renatta proudly shows off the room where volunteers fill the orders for clients.  The large refrigerators were mostly emptied during yesterday's food bank. She needs volunteers to fill them. When deliveries are made from the Bellingham Food Bank or Food Lifeline's Grocery Rescue and food order, the food is transferred from the trucks into one of three large Connex containers that sit outside the back door. There are three containers: a freezer, a refrigerator and one for dry goods. Then volunteers take the boxes of food from the containers into a large room full of tables where they sort the food. From there the items go into the supply rooms where other volunteers gather the food and dry good items for the clients.
The donations cover a range of items and needs. On a shelf near the diapers sits a snowmobile helmet and Renatta points out the puppy pads. She said she never knows what items will get donated from the stores or who might need it.
Renatta says they are shorthanded of volunteers to sort food and intake clients. She said, "The intake process is a good job for people who need to sit." Clients need a State ID to get food.  The Salvation Army tracks who it serves to get grants for the food bank and to report to the Grocery Rescue and other donation sources.
"Volunteers need to have an open heart, open mind and to treat our clients with dignity," Renatta said. "There are no other requirements. We currently need volunteers on Monday, Tuesday and Thursday from 9:30 a.m. – 1:30 p.m. in the food room and for stocking/sorting. The food bank is open on those days from 10:00 a.m. – 1:00 p.m. On Wednesday and Friday we need volunteers from 10:00 a.m. – 2:00 p.m. for assembling pre-made bags." The Food Bank is located at 2912 Northwest Ave.
A young mother, Lyndsey says, "The staff is really pleasant and fast. They are nice here, too. But sometimes they don't have enough volunteers to open on time. I've had to stand outside waiting in the rain with my two kids for them to open." If you are looking for a meaningful volunteer experience, talk to Renatta at 360-733-1410 or register on the Volunteer Center of Whatcom County website, www.whatcomvolunteer.org.