For the third straight year, Lynden's Downtown Business Association will celebrate Independence Day with a truck-and-barbecue-filled celebration along Front Street. The annual July Fourth BBQ and Truck Meet will feature some friendly competition for prizes among barbecue and truck enthusiasts, as well as live music, an Overflow Taps beer garden and the JT's Smokin' BBQ food truck.
The idea for the BBQ competition came from Gary Vander Giessen of Gary's BBQ Supplies, who mentioned it several years ago at a DBA meeting. The when and where were questions that lingered – until the July 4 event was put together two years ago.
Vander Giessen, a 63-year-old electrician who also judges for the Pacific Northwest BBQ Association, says he wanted a more laid-back competition, having grown tired of judging events where the same four meats were cooked in very similar ways.
"I just want to have a contest where they can come and have fun," he says. "There's really not much in the way of rules."
Once competitors submit their $150 entry fee, they're free to assemble a team or go it alone, competing in as many of the categories as they want. There are four groups: steak, chicken wing, chopped salad and "mystery box." The latter category is similar to the TV show Chopped, where contestants must incorporate random ingredients into their dish in a way that's easily seen or tasted.
"I don't know what I'm going to put in there yet," says Vander Giessen of the mystery box. "But it's going to be something crazy."
Teams must cook the meat they're given within a one-hour time limit and are free to do whatever they want to achieve the best-tasting dish. Judges assign a point total to each category and the team closest to 40 points will be named grand champions.
The winners will take home cash and a Chevrolet Corvette. Vander Giessen is quick to point out, however, that the Corvette happens to be ceramic. He picked it up at a pottery studio several years ago and thought it would make a cool trophy. Like the Stanley Cup, it spends a year with the victors before being passed on to the next champions.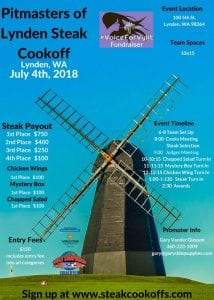 The competition averages 13 teams, with room for up to 15. The biggest change to this year's competition is that it's officially sanctioned and judged by the Steak Cookoff Association, meaning a win can qualify a team for the association's national competition next year.
"I'm hoping that we'll get a few people from out of town to compete," he says.
This year's event is especially important to Vander Giessen, as it's also a fundraiser for "Voice for Vylit," an advocacy group committed to bullying prevention. It's named in honor of Vander Giessen's 13-year-old granddaughter, who died by suicide last year as a result of bullying.
The BBQ festivities begin early, with set-up beginning at 6:00 a.m. in an area near the Waples Mercantile Building. A cook's meeting, featuring a morning whiskey shot, takes place at 8:00 a.m. Then it's time to get grilling.
The truck meet is the day's other big attraction. Organized by Lynden native Ellie Anderson, the meet drew more than 130 trucks, from places as far away as Oregon, in each of its first two years.
"I've always been into trucks," says Anderson, 21. "Building trucks and throwing meets is my passion."
Anderson's parents own Stan's Auto Body in Bellingham, where she's worked since she was 14. In 2014, she wanted to organize a large, local truck meet. A friend suggested she throw one together, which she did in 2016 at Tulalip, where over 300 trucks filled the Cabela's parking lot. Most of the truck owners had no idea a teenage girl organized the event.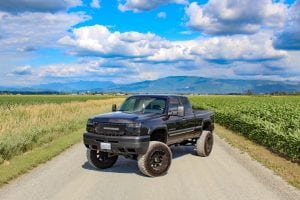 Anderson has now hosted meets across Western Washington, including a large annual meet in Long Beach, WA. Anderson also runs the Facebook page "Washington Truck Meets," where truck owners can find updates on upcoming meets.
For the July 4 event, Anderson is still working on pre-registration. Entry fees will be $20 per vehicle. Trucks will congregate on Front Street between 8:00 and 11:00 a.m. for parking in front of Lynden Liquor. Registration closes at 11:00a.m. There will be six prizes and seven trophies including the "Lynden DBA's Best of Show."
All manner of trucks are welcome, from customs and classics to lifteds and lowereds. Eight prize categories, including a "peoples' choice" award, will provide several truck owners with a trophy and prizes including detail buckets and $100 gift cards.
Anderson finances the event out of her own pocket, recouping some funds with entry fees. The trophies are made by Lynden's Hats Off.
All in all, it'll be a day of beer, bands, big trucks and barbeque. And what could be more American than that?
Sponsored