Lovitt Restaurant serves farm to table meals from their basement kitchen in the heart of Historic Fairhaven. Owners Norman and Kristen Six developed their menu around locally sourced ingredients, with a focus on unwinding the common narrative around fats.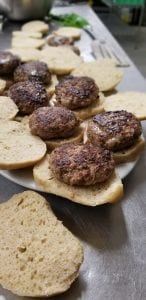 "A major part of our restaurant is that we believe – scientifically and anecdotally – that if you eat in a traditional way, you can eat satisfying meals on a daily basis and have positive health ramifications," says Norman. For the Sixes, this means using quality fats and traditional methods of preparation, like fermentation.
Lovitt's space is expansive yet cozy, with a great view into the kitchen. A piano stands in the corner for live evening music. "We rent such a large space because we want to see our restaurant become a gathering place for our community," says Norman. "We want it to be the place people come for coffee and where they gather around an evening meal – and have that community built around sharing good food."
Norman and Kristen opened their first restaurant in Chicago in 2002. At the time, Norman was a vegetarian. Despite eating what he thought was a healthy diet, his cholesterol was too high. Faced with the possibility of a daunting regimen of medications, he decided to address his diet instead. "I remembered that where I grew up near Colville, the old-time ranchers ate their meat and vegetables every day and they were healthy," he said.
Norman began introducing meat and cooking with lard in lieu of processed seed oils. Today, he feels healthy and energetic, and his cholesterol is down to normal. "We don't yawn anymore," he says. "Even though we should be exhausted running this restaurant and raising two kids."
Kristen agrees. "It helps us get through long days when we eat good food. We work all day in our restaurant. We eat what we serve and we feel great."
On his workbench, Norman divvies up a large batch of sourdough into hamburger buns. "Sourdough fits right into our ideas of traditional eating," he says. "The fermentation helps break down the gluten and it helps diversify our guts' bioflora." Norman also uses sourdough in his fish batter.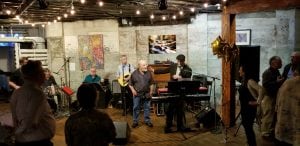 "Our customers can tell the difference," says Kristen. "We have regulars who come here and know they have wheat sensitivities, but they can eat our sourdough and it doesn't trigger a reaction in them."
Norman isn't shy about fried foods. The coconut oil in their large fry kettle is a unique part of Lovitt's approach to fats. "Every other restaurant uses corn oil in their fryer and the difference is clear in how your body can process that," Norman says. "We use coconut oil because it behaves similarly to animal fats. I can eat a plate of our fish and chips and not feel bogged down with grease. In fact, I feel energized by it."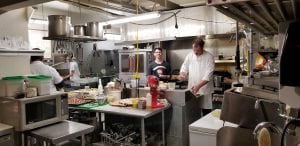 Lovitt sources its beef from a rancher in Stevens County, purchasing whole animals. The practice is more economical and ensures quality. "We can serve up a nice steak dinner for a similar price to other restaurants in town," says Norman. "The difference is our meat is better. We source animals that graze and roam freely, not feedlots."
Keeping with the farm to table movement, Lovitt also uses local eggs and vegetables. Norman cracks open two eggs to demonstrate their quality. Both locally sourced, one came from a majority organic grain diet, while the other came from foraged insects and scraps. While both looked richer than the anemic yellow of industrially farmed chicken eggs, it was clear from the deep orange yolk and thick shell that the foraging chicken was healthier. Norman and Kristen believe eating what we're designed to eat is a gateway to vitality.
"Take the time to cook your food – it's the crux of life," Kristen says. "What you eat affects your whole experience when you make choices that determine your health and energy." She once had an office job and relied on quick, pre-prepared, sugar-based foods. "I'd constantly crash and have to eat more," she says. "When I shifted to eating more fats and whole foods, everything changed for me."
Sponsored