If you take a stroll through downtown Lynden these days, it's hard not to be impressed by what you see: immaculate storefronts housing bustling local businesses, all lined up along clean, flower-filled sidewalks.
It's an aesthetic that Teri Treat, a board member of Lynden's Downtown Business Association, calls a great blend of hip and historic for Whatcom County's second-largest population center. "It's an intact, classic American downtown," she says. "And, one of the most walkable cities in Whatcom County."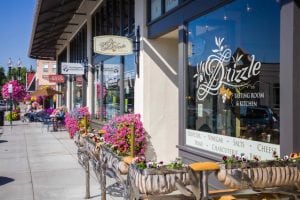 The revitalization of Lynden's Front Street has been, in large part, due to the efforts of the LDBA, an organization founded to promote and enhance the success of downtown Lynden. Made up of local business owners, the LDBA has nearly 100 members just five years after being close to dissolution.
Not long ago, Lynden's downtown was riddled with vacant retail spaces and the burned-out shell of the old Waples Mercantile Building, which was nearly destroyed in a 2008 fire after standing since 1914. "It was pretty much a ghost town," says Jerry Blankers, a longtime Lynden real estate broker with an office on Front Street. "It was dead."
When longtime member Ken Stap stepped up to become LDBA president in 2013, money started being invested into downtown and Stap knew better times were just around the corner.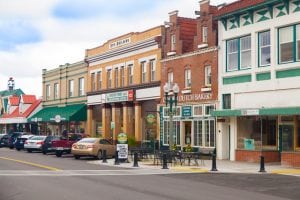 In 2016, the building that once housed Billy Waples' Lynden Department Store re-opened, spurring a boom that's brought a resurgence of downtown visitors. The Waples building is now home to a hotel (the Inn at Lynden), a taphouse (Overflow Taps) and a delightful mix of restaurants and shops including Whatcom County favorites Avenue Bread and Village Books. The nearby Jansen Art Center has also contributed greatly to downtown's resurgence.
Two years ago, the LDBA helped Lynden win $25,000 from America's Main Streets, a national contest that annually awards one lucky town a grand prize to be used for downtown revitalization efforts. Those funds, says Stap, have been used for upgrades to downtown benches, trash cans and lighting, among other things. And where LDBA meetings once had just half a dozen people, there are now at least 30 to 40 attendees. "They're all excited about what's going on downtown," Blankers says. "It's a whole different-looking atmosphere."
"Our own little Mayberry"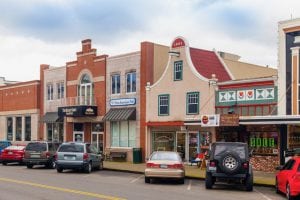 According to Treat, what makes Lynden's downtown so great is that it features unique businesses in a concentrated location that's clean, safe, bikeable and walkable. It also doesn't hurt that parking's free.
The LDBA helps by providing a unified voice to downtown business owners, helping them market themselves and – in being unified – manage both the rewards and challenges of growth. In addition, the LDBA works with the City of Lynden on a downtown flower program that decorates storefronts and sidewalks with pots and baskets of vibrant flowers.
It's one of many little touches that Jesse Clark, owner of Lynden Bolt, says brings people back to town. "People actually come here from all over the place, just to walk around the downtown when the flower baskets are up," he says. "It's our own little Mayberry."
Clark's store has been on Front Street for two years now, and he says being part of the LDBA not only makes working with the city easy, but provides a sense of unity; other members have often come to his store to buy supplies for their construction projects. "Everyone's willing to help each other out," he says.
Stap hopes Lynden's downtown vibe is as welcoming to locals as it is to outsiders, giving off the feeling that Lynden appreciates its visitors, but isn't too touristy. "It's a working downtown," he says. "We're not just a tourist destination. We still have the paint store, we still have the hardware store, we have the furniture store – we have all these things that people come to downtown for."
Logo-motion
One of the LDBA's latest projects is a new logo, created by local graphic designer and LDBA member Corey Jamison.
Jamison, creative director of San Diego-based Jamison Advertising Group, has lived in Lynden for 13 years, working out of a Front Street office for the last year-and-a-half.
For the LDBA's new logo, Jamison says they wanted something simple and easily identifiable that would pay respect to Lynden's historic tradition while still representing its up-and-coming modernity.
The logo features a hand-drawn script to represent a city built by hand, by hard-working people. It is encapsulated by a clean, modern typeface representing what Lynden is becoming today. There's also an embedded icon that's interchangeable depending on the time of year.  Icons include a raspberry, a flower, a bicycle and a pint glass.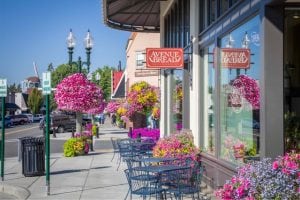 "It's a nod to the tradition and the past, but using colors, type and imagery to always point towards the future," Jamison says. "We want to attract the local residents who are here; we want to attract people from Whatcom County and beyond. Not just to be a 'Dutch destination,' but to be a true destination that anybody would want to go to.
They're also working on a marketing campaign using 18-by-24-inch illustrated posters depicting the downtown life of Lynden, based off iconic 1930s-style travel posters of France and other European countries.
Jamison says the logo's official launch will be in time for the Farmers Day Parade on June 2.
In addition to the new logo, Treat says the LDBA is working on several upcoming events, including a 4th of July barbeque, outdoor evening movies (Hot Summer Nights) and a Girls' Night Out planned for the fall.
The Lynden Chamber of Commerce – which works closely with the LDBA – also puts on a number of big events, including the annual Raspberry Festival and Curt Maberry 3-on-3 basketball tournament.
In other words, there's no shortage of opportunities to see why the pride is back along Front Street. "There's a whole new energy downtown," says Blankers. "When people started changing the whole attitude – the picture of downtown – it's made a huge difference."
Sponsored