Ten years ago, Fai and Ethan Lynette took their twin sons Shane and Micah to a roller rink for their seventh birthday. That trip to the roller rink would become a prophetic moment for Micah. He enjoyed skating so much, he wanted to continue doing it, but there were no roller rinks close to their house. Fai and Micah compromised and she agreed to take him to a local ice rink. It was a good thing she did. Now, at just 17 years old, Micah is the men's national figure skating champion of Thailand.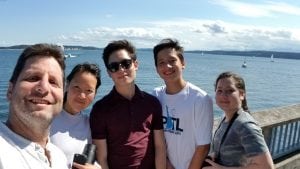 Micah was allowed to skate for the Southeast Asian nation because his mother is from Thailand. It's only Micah's second year skating professionally for the country, but he hopes to become the first Thai male skater to ever make the Olympics. With the 2022 Olympics in sight, Micah has four years of training left to make his dream a reality.
It's Thursday April 12, and I'm meeting Fai and Micah for a quick interview before they go catch up on much-needed sleep. They just got back from Thailand two days ago and are on a 14-hour time difference. Micah has just finished his last tournament for the 2017/2018 skating season – the 2018 Thailand National Figure Skating Championship, in which he placed first.
"I started out in hockey actually," Micah says. "But I hated it. I'm not very coordinated."
Fai interjects, "Yeah, he's not. His brother is but Micah – not much." Fai is just as invested in the skating as Micah is. In fact, she will be the first to tell you she isn't his fan, but his biggest critic. She may just be the best skater to have never stepped foot on ice.
After Micah told his parents he didn't like hockey, Fai suggested he try figure skating. His younger sister Sasha was already enrolled in the sport, so Micah wouldn't be alone as he made the switch.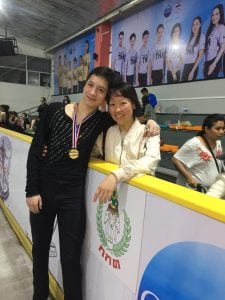 At age seven, Micah started his figure skating career a little later than most. Typically, individuals aspiring to skate at the professional level start when they are as young as three. But that didn't discourage him as he continued to move up the ranks in both regional and international skating.
Micah says two specific instances made him realize he wanted to become a professional figure skater. It first began in Bellingham, where he's from. After spending much of his time training in the local rink at Bellingham Sportsplex, he began competing and winning  local competitions, which inspired him to move on to bigger things. Fai decided it was advantageous for Micah to start training in Canada, thus began their daily trips across the border.
During the season, Micah travels to Richmond, British Columbia's Connaught Skating Club five days a week to train. The border agents even know him and his mother by name.
"They check in on us and ask if he is in the Olympics yet," Fai says with a laugh.
Micah's second skating epiphany came last year when, for the first time, he was crowned the male national figure skating champion of Thailand. "I'm now performing at the highest level," Micah says. "I have a whole nation on my back now. I have to get it together."
There are four years left until the 2022 Olympics that take place in Beijing, China. This gives Micah three years to train and attempt to qualify for the winter games. "It really depends if it's advantageous for me or not," Micah says. "On one hand it gives me more time to train, but that also means there's more time that I could get injured."
In addition to all the training Micah will go through, he is still a junior at Sehome High School, and wants to have a social life too. "It has been really important for us that he has a normal high school life," Fai says. "We're making sure not to put all our eggs in the figure skating basket, but it can be hard finding a balance between staying competitive in figure skating and going to school full time."
It helps Micah is close with his Thai teammates. Whenever he's in Thailand he's able to hang out with them both on and off the rink. And, social media apps such as Snapchat and Instagram allow him to keep in touch with his friends back in Bellingham when he is on the road, in the air or skating in another country. But social media can only go so far. "Travelling is definitely the hardest part of what I'm doing," Micah says. "It isn't easy to be away from school, family and friends as much as I am."
In the 2017/2018 competitive skating season Micah competed internationally six times. In the last month alone, Micah was in Bulgaria, Thailand, Canada and The United States. Fai is Micah's main travel companion, but it's getting to the point where he'll have to go by himself, she says. Both are in agreement they are getting tired of all the flights and jet lag that comes with it. At the end of the day, Micah is the one skating and Fai isn't, so those long flights will end sooner for her.
This year, Micah travelled to the ISU World Junior Figure Skating Championships in Sofia, Bulgaria by himself, where he placed 23rd out of 49 skaters. These trips may seem like vacations, but travelling to other countries is all business for Micah.
As soon as he gets off the plane he gets to work. For example, he will compete for the entire week he is abroad if he makes it to the long program section of each competition.
So with all the travel and sacrifices, what drives Micah to keep on skating? It's an intense love and passion for the sport. "Honestly, I just really love figure skating," he says. "I like to think that if I wasn't doing it, I would still be a fan of it. I love the way being on the ice feels; it's a natural experience for me."
So far his favorite place he has travelled to is Taipei, but he says he performed his best this past month in Bulgaria. Figure skating performance is surprisingly intertwined with the music you choose, Micah says.
In the past he didn't like selecting music and left this task up to his coach. But two years ago, his coach picked a piece he just couldn't compete with. Micah and Fai look at each other in agreement at the memory – it's unanimous – the program he skated to that song did not go over well.
Micah now picks his own pieces. The problem now is he often wants to pick 10 different songs. One time, he even changed his long program song right before he took the ice in a competition in Tallinn, Estonia.
Now in his off season, Micah will focus on school until his next competition in August – the Asia Open in Thailand. But first things first, Micah needs to sleep off that jet lag before he opens any school books.