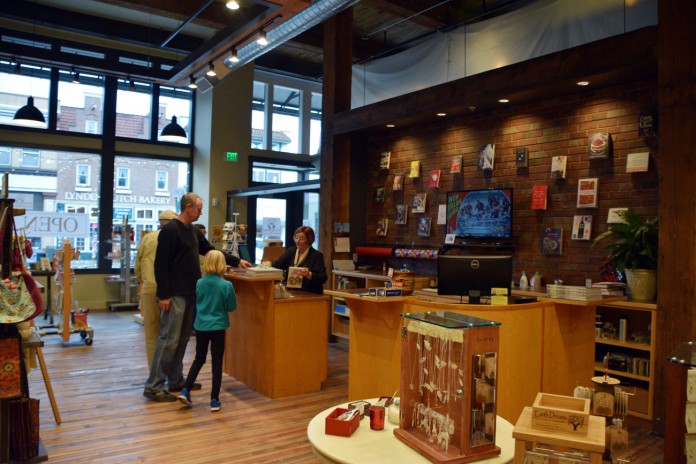 Sitting around the book-lined living room of Village Books owners' Chuck and Dee Robinson's is the store's leadership team: Chuck and Dee joined by Paul Hanson, Kelly Evert, and Sarah Hutton.
These folks are responsible for the exciting expansion of Village Books and Paper Dreams into the newly renovated Waples Mercantile Building in downtown Lynden, which opened late last November.
When asked how the group dreamed up a second location, Chuck jokes: "Which night was it when we all drank too much?" The room explodes in laughter.
The idea originated over four years ago, when Village Books created a pop-up store in Bellis Fair Mall, to see if it could attract a different type of customer in another part of town.
"We also wanted to see what it was like to run a satellite operation, something smaller," says Chuck. The experiment went well.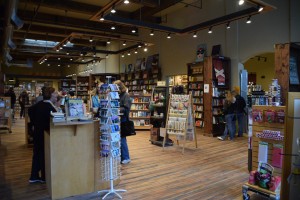 In the time since, Chuck, Dee, and the management team considered several places as possible locations.
"We were waiting for the perfect chemistry, the perfect community," says Paul. "It had to be a really good fit."
"And it couldn't be too close to the Fairhaven store," adds Dee. "We thought about Mount Vernon, but that's not really our community and customer base as much as Lynden is."
They considered Bellingham's Barkley Village, but worried that another store in town could cannibalize the original.
In early 2015, word began to circulate about the renovation of what had formerly been Delft Square in downtown Lynden. The pieces began to fall into place.
"Dee and I have known the partners renovating the building — Jeff and Deb McClure and Teri and Matt Treat — for about as long as we've been in Bellingham and thought they'd be good to work with. We saw what they were doing with the building and it was really exciting."
After a fire nearly destroyed downtown Lynden's Delft Square in 2008, the historic building — built in 1914 and home to William H. "Billy" Waples' Lynden Department Store for more than 60 years — sat wounded, empty and unused.
Thanks to a massive restoration spearheaded by the Treats and McClures, and completed with RMC Architects and Dawson Construction, the Waples Building is again the heart of downtown Lynden.
(Enjoy this wonderful video detailing the building's history and renovation.)
Teri Treat and her partners were excited when Chuck floated the idea of possibly moving into the space.
They were always confident the renovated building would attract businesses interested in the central corner location amidst the beauty of sleepy downtown Lynden. But to have one of those tenants be Village Books?
"Once you actually have interest, particularly from such a confident, successful retailer, you know your vision has merit," says Treat. "We couldn't be happier — the collection of tenants is exciting for us and wonderful for the guests of The Inn at Lynden."
At the time of this article's writing, businesses open in the building also include the 35-room Inn at Lynden, Drizzle, and Bellingham Baby Company. Overflow Taps is very close to opening and Avenue Bread is on its way.
Village Books' decision was partly driven by who was restoring the building, but also what the team had heard about changes and growth in Lynden.
"I've always liked Lynden and just think it's a neat little town," says Chuck. "It reminds me of an awful lot of charming towns in the Midwest."
Village Books also liked the vision for how businesses would work together in the new space, similar to what Village Books and Paper Dreams have long enjoyed with their neighbors in Fairhaven.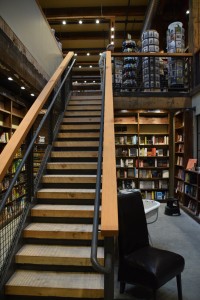 "You have this flow inside the building creating a community within that's not just about a lot of separate businesses," says Paul. "What we do here in Fairhaven with the openings between the stores and how we're so community-minded inside the walls and out, it was a natural fit."
Time and again, the Village Books crew has encountered folks who are emotionally moved by what's happening in the Waples Building.
Chuck and Dee happened to sit near Billy Waples' granddaughter Judy Judson Carroll and her husband at a recent dinner at Steakhouse 9, while both couples were staying at the Inn at Lynden. As they began to chat, Judy — the last president of the Lynden Department Store — could hardly talk about the reconstruction without tearing up.
Holiday sales at the newly opened store happily met expectations. The real challenge begins now, during the slower winter months, with the building not yet full of tenants.
"Lynden almost literally rolls up the sidewalks at five o'clock in the afternoon during the week and doesn't do much on Sundays," Chuck says. The businesses in the Waples Building will be open seven days a week.
"I understand the tradition of staying closed on Sundays, but the whole culture has changed," Chuck continues. "People now consider going out as part of their day of rest."
"Even the Christian bookstore at Fairway Center is open," says Dee.
"That should be our standard answer," Chuck says with a laugh. "'We're open the same hours as the Christian bookstore!'"
The Fairhaven management team divides duties at the Lynden location. "We all rotate in and out, spending time up there," says Sarah.
With all new staff members up north, the team has worked hard to put in place the same systems and culture, so things run smoothly at both locations.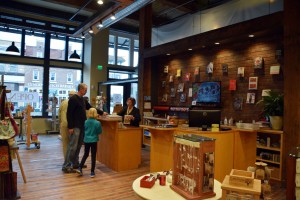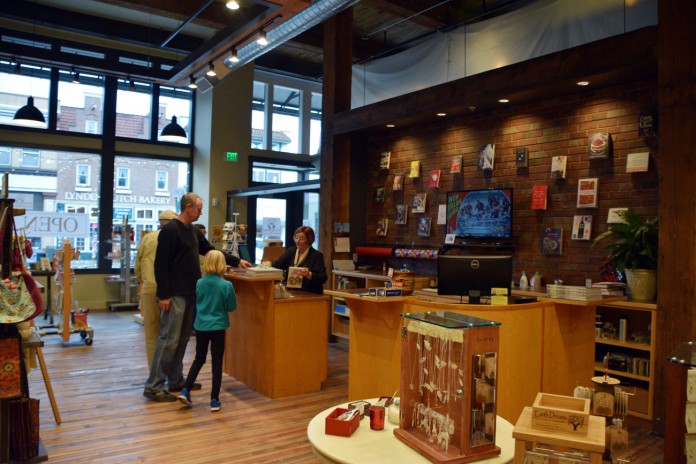 The completed store has a large open space on the main floor and a 300-square-foot book cellar in the basement. Gift and novelty items, like those found at Fairhaven's Paper Dreams, are seamlessly intertwined.
"I love that Sarah got a comment from someone who walked up to the register with their arms full of things," Dee says. "They said, 'I'm so glad to have a bookstore here in Lynden!' And none of the things they were buying was a book."
A number of people have come from Bellingham to see the new store, but Chuck is quick to point out that Village Books has long had many customers in Lynden and the North County.
"People are excited about the whole thing for the downtown, but there's also a convenience factor," he says. "I talked to someone who lives just north of Bellingham and they said it's faster and easier for them to come to Lynden than Fairhaven."
The new store will hold regular events, book clubs, and Chuckanut Writers classes, just as in Fairhaven. The first writer-in-residence is planned for April, with the chosen author staying at the Inn and holding public events at the Jansen Art Center.
"All of our new staff members except one came from a job fair last summer at the Jansen," says Paul.
"And six of those eight people live right in Lynden," adds Chuck.
When asked about the process of moving into the new store, you can see a myriad of stories — and challenges — cross their faces. But of course, they all had a happy ending.
Highlights include all the bookshelves traveling from the largest branch of Denver's Tattered Cover Bookstore, which was downsizing to another location — and Paul himself cutting and reinforcing every shelf installed in the 100 or so 9-foot structures.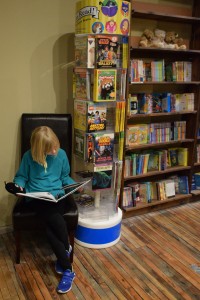 Or Kelly staying late into the night, headphones on, setting out merchandise, creating vignettes, and dusting — construction work continues in the building, and with it, plenty of dusting.
All the books were delivered on Wednesday, November 18, with a proposed opening day of the following Saturday — they nearly made their ambitious goal, opening the doors on Sunday at noon.
"They unloaded the boxes of books down the center of the space because the workers were still there," says Dee.
"That final week, they were still working all around us," says Paul. "We got to know each other and got along really well. We were all 'doing the dance,' as the foreman said."
Paul is quick to commend the construction crew for working so hard — and pushing even harder near the end, so the doors could open.
"When they handed the keys over, they looked up from their finally finished work, brushed the dust off, cleared their eyes — and the biggest smiles came on their faces," Paul recounts. "Like, 'Wow, look what we did.'"
Village Books — Lynden
430 Front Street
Lynden WA 98264
Hours:
Monday through Saturday, 10:00 a.m. to 8:00 p.m.
Sunday, 12:00 p.m. to 5:00 p.m.