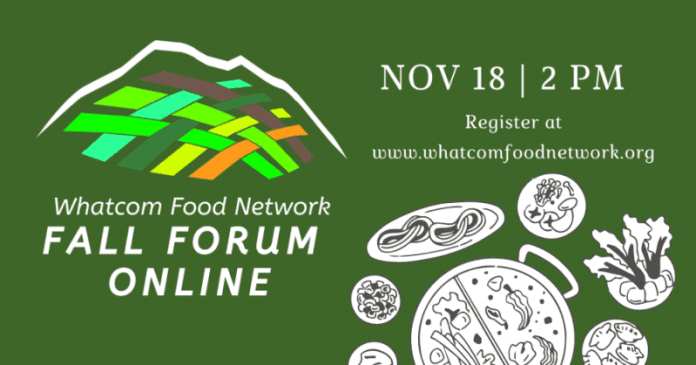 When:
11/18/2020 @ 2:00 pm – 4:00 pm
2020-11-18T14:00:00-08:00
2020-11-18T16:00:00-08:00
Where:
Online Zoom Meeting
1701 Ellis St.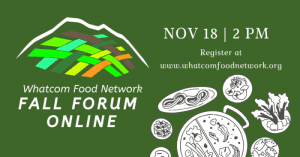 WHAT: Fall Forum Online: Where Are We Now? COVID Responses in our Local Food System, hosted by the Whatcom Food Network.
WHEN: Wednesday, Nov 18, 2-4 PM (Join us at 1:50PM if you're new to Zoom!)
WHERE: Zoom Meeting—register for the link!
https://www.eventbrite.com/e/whatcom-food-network-fall-forum-online-tickets-125673557995
Join your fellow food systems organizers, professionals, participants for networking and information sharing as we reflect upon the first nine months of the pandemic.
This 2-hour interactive event will focus on community responses to the on-going COVID crisis; with a mix of presentations and small-group discussions to maximize information-sharing, strategic conversations, and collaboration across sectors. Participants will discuss food systems inequities and gaps that have either arisen or become exacerbated during the pandemic, and hear about groups that have coalesced to address them.
Presentations will include:
Whatcom County officials giving updates about the government response, with a review of CARES Act funding by sector and policy recommendations
Reflections from people of color working in our local food systems who have agreed to share their experiences with the COVID response. Speakers include Azizi Tookas of Brandywine Kitchen; others to be announced.
Attendees are invited to share, learn, and reflect together on the following questions: Where have we found paths forward during this difficult time? How have gaps in the response burdened people of color working and organizing in our food systems? Where do we have the resources to meet those gaps? How can we support the resiliency of the people and organizations that make our local food system thrive?
Don't miss this chance to connect across food system sectors to deepen our community resiliency, now and in the future.
Please share this event with your colleagues, and register today.
Webpage:

FB page:
https://www.facebook.com/events/1033989410378953
Eventbrite registration page: https://www.eventbrite.com/e/whatcom-food-network-fall-forum-online-tickets-125673557995
Who should attend:
Food systems practitioners/ NGO program coordinators of all kinds
Food recovery and food waste and emergency food representatives
Harvesters, farmworkers, fishermen, and growers
Labor and farmworker representatives
Food and farming organizations
Direct market outlets / direct marketers
Food processors, retailers, and buyers
Distributors and food hub managers
Restaurateurs, caterers, and chefs
Public health representatives