When:
05/22/2021 @ 6:00 pm
2021-05-22T18:00:00-07:00
2021-05-22T18:15:00-07:00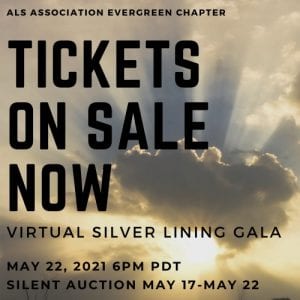 If you haven't registered for the online auction, now is a great time! Register here: https://silverlining.ggo.bid
6:00pm the gala begins!
The evening will be filled with inspiring stories from around the chapter on how assistive technology has assisted ALS patients with living life on their terms. Our keynote presentation is from Katrina Hawking, daughter in law of Stephen Hawking.
Be sure to purchase a Gala In a Box and learn how to make the perfect cocktail from nationally recognized mixologist and podcaster, Sailor Guevara.
Please join us in this fun, interactive virtual gala while we share messages of hope and ways YOU can help support local patient services.