When:
2020-07-09T00:00:00-07:00
2020-07-10T00:00:00-07:00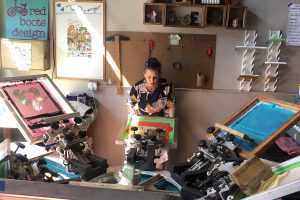 Red Boots is running as it ever was. The shop only has me in it, so sanitation standards are easy to maintain. Payments can be made online and proofs are done with photos and phone consults. As many of the wholesale businesses that Red Boots works with are not open, people can help support Red Boots by purchasing retail items from my ETSY Shop and that really helps keep things afloat right now!
-Erin Boyd, Red Boots Design owner