When:
2021-06-11T00:00:00-07:00
2021-06-12T00:00:00-07:00
Where:
Firehouse Performing Arts Center
1314 Harris Avenue
Bellingham
WA

Cost:
$50 per table, or $20 per person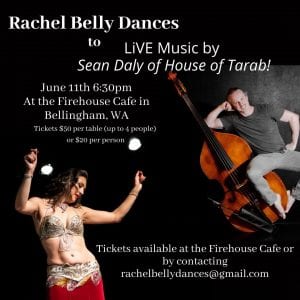 Ready to feast your ears and eyes?! To live music, live dance – in person?!
I am excited to present this truly unique event! Presenting – Rachel Belly Dances to Live Music with Sean Daly!
Come join this gorgeous evening performance – Sean Daly playing the string Bass to classic and traditional music of Egypt and the Middle East, plus an original composition created by Sean during lockdown.
Rachel Belly Dances will be dancing raqs sharqi – what you may know as belly dance – a beautiful, masterful dance that is indigenous to areas in the Middle East, North Africa, Turkey and Greece.
Sean Daly will be travelling from Portland, Oregon for this original, One-Night-Only performance!
If you are ready for in-person entertainment and a special evening out – please join us on June 11th at the Firehouse Performing Arts Center. Doors open at 6pm – show starts at 6:30pm. The Firehouse Cafe will be open for you to indulge in their offerings including coffee, tea, beer and wine.
Seating is LIMITED due to distancing restrictions. Please purchase your tickets soon!
Sean Daly is a bass player (with forays into other strings) and musician of the House of Tarab Arabic Music Ensemble based in Seattle, Washington. He also plays in Ritim Egzotik, and Bedouin Spice Orchestra in Portland, Oregon. This is his first time playing for Bellingham! Sean welcomes you to explore the deep undertones of the heart strings together, through music and movement!
Rachel Carter has been a raqs sharqi (Oriental dance) student and performer for the past 15 years. Based in Bellingham, Washington, she strives to entertain and to teach this beautiful, cultural art form from the Middle East, North Africa, Turkey and Greece. Rachel brings the music and dance of the middle east to you, for your enjoyment. To learn more about her classes and performances, please visit rachelbellydances.com .