When:
03/15/2019 @ 7:00 pm
2019-03-15T19:00:00-07:00
2019-03-15T19:15:00-07:00
Where:
Judson Hall (Old LMS Campus)
516 Main St.
Lynden
WA 98264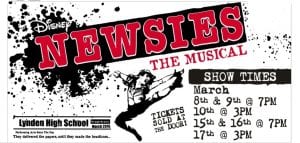 NEWSIES, The Musical
"New York City, 1899. Jack Kelly and his ragtag team of newsboys make a meager living selling newspapers on the city streets. But when the prices of "papes" are hiked and the newsies are hung out to dry, there is nothing left to do but "open the gates and seize the day!" Led by charismatic Jack and independent, young newspaper reporter Katherine Plummer, the Newsies form a union and organize a strike against the greedy publisher of the New York World. Can a group of idealistic newsboys win against a foe as powerful as acclaimed publisher Joseph Pulitzer?
Inspired by the true story of the 1899 Newsboys Strike, Newsies is an ebullient, joyful, and entertaining musical capturing the strength that young people have when they join together and stand up against injustice."
SHOW DATES:
March 8 & 9 at 7pm
March 10 at 3pm
March 15 & 16 at 7pm
March 17 at 3pm
TICKETS:
Are ONLY available at the door starting one hour prior to the show. General seating only.
Adults are $10 and Students/Seniors (Age 62+) $5
Directed by Tina Miller, choreography by Ashlie Blaske, costumes by Kim Silva and sets by Bob Miller.