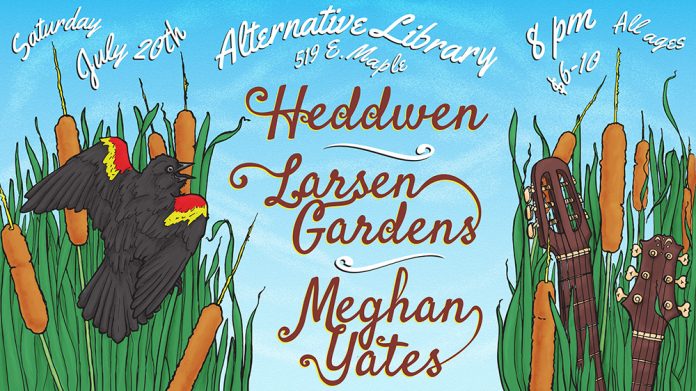 When:
07/20/2019 @ 8:00 pm – 11:00 pm
2019-07-20T20:00:00-07:00
2019-07-20T23:00:00-07:00
Where:
Alternative Library
519 E Maple St.
Cost:
$6-10 sliding scale, NOTAFLOF
Heddwen, Larsen Gardens, and Meghan Yates in concert at the Alternative Library, July 20th
The Alternative Library (519 E Maple St.) presents a night of beautifully crafted alternative folk music from Seattle's Heddwen and Larsen Gardens, joined by Bellingham's Meghan Yates, on Saturday, July 20th. Doors open at 7:30 pm, music begins at 8:00. All ages welcome, admission $6-10 (sliding scale).
Heddwen is an original alt-folk duo with singer-songwriters Riley Skinner and Katie Rudman, featuring complex harmonies over simple folk progressions. They are based in Seattle, WA.
Larsen Gardens is the project of Seattle-based singer-songwriter Sarah Edmonds, whose intimate lyrics, soft vocals, and buoyant acoustic guitar build ethereal, reflective folk songs.
Meghan Yates is a Bellingham-based experimental joy folk fusion singer-songwriter whose musical career began in Portland, ME. Whether solo or when other players join, the music she creates often uplifts, penetrates and inspires the listener.
Visit the event's Facebook page to RSVP: https://www.facebook.com/events/615464702274669/
Links to additional information about the performers and venue:
Heddwen
Website: https://www.heddwen.com/
Facebook: https://www.facebook.com/heddwenmusic/
Instagram: https://www.instagram.com/heddwenmusic
Bandcamp: https://heddwen.bandcamp.com/releases
Larsen Gardens
Website: https://www.larsen-gardens.com/
Facebook: https://www.facebook.com/LarsenGardens/
Bandcamp: https://larsengardens.bandcamp.com/releases
Meghan Yates
Website: http://www.meghanyatesandthereveriemachine.com
Facebook: https://www.facebook.com/thereveriemachine/
Bandcamp: https://thereveriemachine.bandcamp.com/
YouTube: https://www.youtube.com/channel/UCQ6VJC64HUGkuGAjQ0UkBLw
Alternative Library
Website: http://altlib.org/
Facebook: https://www.facebook.com/BellinghamAlternativeLibrary/
E-mail: bellingham.alternative.library@gmail.com