When:
06/08/2023 @ 10:00 am – 12:00 pm
2023-06-08T10:00:00-07:00
2023-06-08T12:00:00-07:00
Where:
Padilla Bay Interpretive Center
10441 Bayview Edison Road Mount Vernon
WA 98273
Contact:
Jonathan Robinson
(425) 357-6008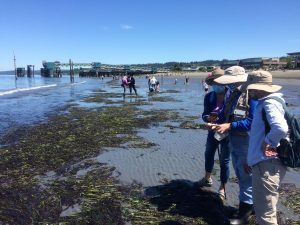 Invasive European green crab are voracious eaters that threaten our shellfish beds, clamming beaches, and nearshore habitat for salmon. Join Washington State University Extension and University of Washington Sea Grant in this effort to monitor our beaches for signs of green crab presence by searching for their molts. This event includes a 2-hour workshop which will teach you how to identify the crab molts, where and how to conduct a 20-minute Molt Search survey, how report your findings using a mobile app, and how to collection additional data on Dungeness crab molts if you wish.
To register for this free event go to: https://GreenCrabMoltSearchTrainingSkagit.eventbrite.com
Volunteers on the beach photo by Jonathan Robinson, WSU Snohomish County Extension