When:
2018-11-03T19:00:00-07:00
2018-11-03T19:15:00-07:00
Where:
The Sylvia Center for the Arts
205 Prospect St
Bellingham, WA 98225
USA

Contact:
Dragon Tales Productions
360-920-6332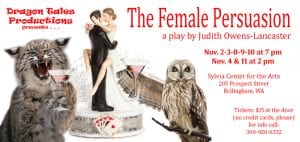 Dragon Tales Productions Brings World Premiere to Bellingham: "The Female Persuasion" by Judith Owens-Lancaster.
A celebration of the ingenuity, creativity and resourcefulness of women when the chips are down, "The Female Persuasion" is the latest to be offered by seasoned, local playwright and director, Judith Owens-Lancaster. Opening November 2 at the Sylvia Center for the Arts, it will run for only seven performances. The cast will include well-known local players.
Dragon Tales Productions was founded by Ms. Owens-Lancaster to inspire, encourage and support emerging playwrights. This play is the second in her efforts to bring original theater to our community; it is her hope that it will inspire new playwrights to step forward and offer (with her help) their new creations as well.
Ms. Owens-Lancaster is a native of Bellingham who lived in New York City for thirty years, where she pursued a career in the performing arts as a singer and actress. Now retired and living back in her home town, she enjoys writing and directing for the theater. She is the recipient of the 2016 Mayor's Award for Contributions to the Performing Arts in Bellingham.
In "The Female Persuasion," Ethel, the main character, just wants to see her eldest daughter get married but everything seems to have gone awry, starting when there is no room in the inn for the wedding party to dress and they are relegated to a storage room. The father of the bride may have lost his shirt but gained his soul, and the groom's former girlfriend has shown up causing the bride to rip up her dress and hide in the bathroom in anger. Ethel's sister, Vespa, has given her husband a black eye; her sister, Ada, keeps fainting because grandma Edith has had vibrations and there may be ghosts in the inn. Great Aunt Rose keeps the older generation calm with her special tea from a flask; and young Susie keeps her eye on the ball while her sister, Samantha, outruns some irate Indians. Whew. It all takes place in one interesting afternoon.
Shows are November 2, 3, 8, 9 and 10 at 7:00 p.m. and November 4 and 11 at 2:00 p.m. at the Sylvia Center for the Arts, 205 Prospect Street, Bellingham, WA 98225. Tickets are $15 at the door (no credit cards, please); ahead of time please phone 360-920-6332 or email playsanddragontales@gmail.com.