When:
10/05/2022 @ 10:00 am – 12:00 pm
2022-10-05T10:00:00-07:00
2022-10-05T12:00:00-07:00
Cost:
$96 for members, $120 for non-members
Contact:
WWU Academy for Lifelong Learning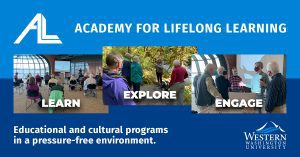 Watch the Preview Video for Ethical Theories and their Application to Contemporary Moral Issues
Modern life is rife with thorny ethical issues such as abortion, war and end-of-life questions (suicide, physician-aided dying, euthanasia and termination of life support) to name just a few. We examine some of the moral theories in circulation today, including relativism, divine command theory, egoism, utilitarianism, deontology and virtue theory, and how these can be applied to some of the major moral issues of today. Presentations include both moral and legal aspects of each issue and class discussion.
We are pleased to host Dr. Smith via Zoom from Seattle as a referral from the Osher Lifelong Learning Institute at the University of Washington (UW). Dr. Smith is one of the most popular instructors in the UW Osher program.
Instructor: Dr. David E. Smith
Dr. David E. Smith grew up in the world of fundamentalist Christianity. As an adult, he gradually moved away from that perspective and became a religious progressive/skeptic. After earning an M.A. in the philosophy of religion and serving as an urban law enforcement officer, he received a second M.A. and a Ph.D. in religious studies from Temple University in Philadelphia, PA. David, who currently teaches for the Osher Lifelong Learning Institute at the University of Washington, offers courses in religion and philosophy at many different venues through his Beliefs and Ethics seminars. He has published in these areas as well. His mission is to empower people to think for themselves about things that matter.