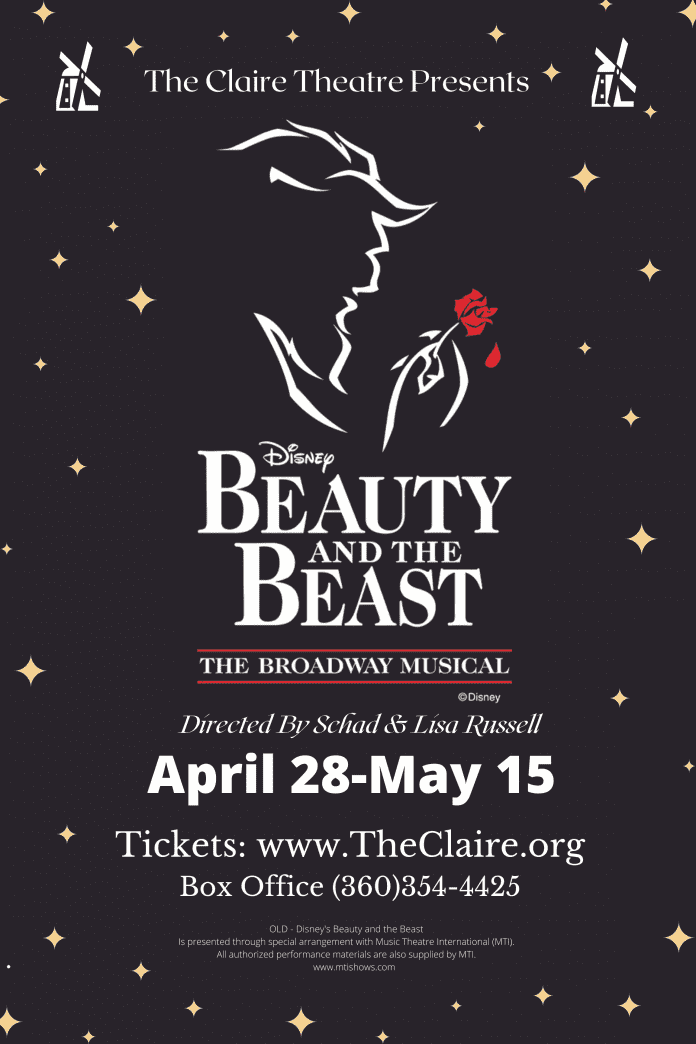 When:
2022-04-28T00:00:00-07:00
2022-04-29T00:00:00-07:00
Where:
The Claire
655 Front Street
Contact:
Disney's Beauty & The Beast at The CLAIRE
3603544425
Be our guest! Come join us for our dazzling and delightful rendition of this tale as old as time, Disney's classic love story where only the true love a beloved, quirky bookworm can transform the heart of a hideous, angry beast into a handsome prince.
Disney's Beauty & The Beast; The Broadway Musical~ Directed by Schad & Lisa Russell
Thursday-Saturday evening shows:
April 28, 29, 30 & May 5, 6, 7, 12, 13, 14 at 7pm
Sunday Matinees: May 1, 8 & 15 at 3pm.
Tickets:
$13 Adult
$11 Seniors/Students
$ 9 Children under 9 years of age.
Out of respect for your fellow patrons, please refrain from bringing any children under age of 3 into our theatre as they can be distracting to the actors and to the audience. Thank you for your consideration in this matter.
TICKETS ON SALE NOW: www.TheClaire.org
*Health Protocol: We ask everyone who enters the theatre to comply with current CDC guidelines.*