When:
2020-09-21T00:00:00-07:00
2020-09-22T00:00:00-07:00
Where:
Zuanich, Marine, Squalicum Creek, Maritime Heritage and Waypoint Parks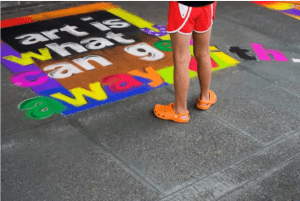 During ALL IN for Climate Action Week, we invite community members to share their artistic chops while promoting climate action awareness. We will be designating areas 6 feet apart. Register for a piece of concrete canvas at a park near you and share your work to be entered in a contest. Your project can be up to 5? by 5?. Categories include: Global Climate, National Climate, Local Climate. We encourage you to find ways to incorporate water and ocean themes into your drawing. Please BYOC (Bring Your Own Chalk).
This event is part of the City's ALL IN for Climate Action Week. Find a full list of events at www.cob.org/all-in