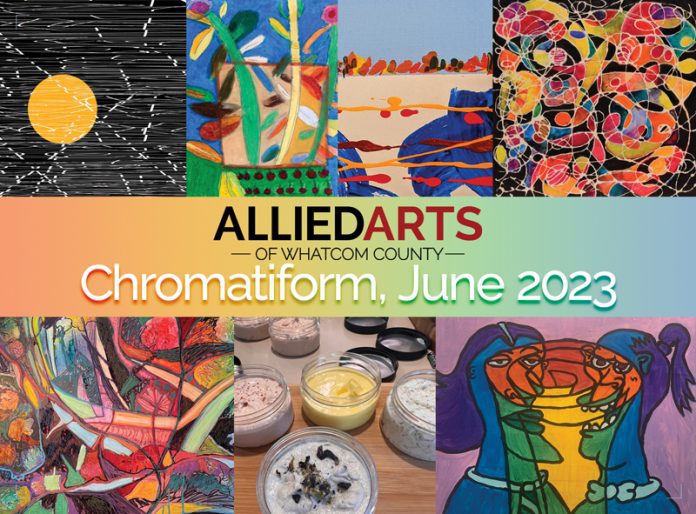 When:
2023-06-08T00:00:00-07:00
2023-06-09T00:00:00-07:00
Where:
Allied Arts of Whatcom County
1418 Cornwall Ave
Bellingham WA 98225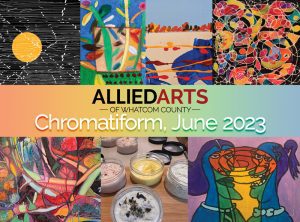 Allied Arts of Whatcom County's June exhibit "Chromatiform" is a celebration of color and abstraction, featuring the work of Ann Chaikin, Barbara Hicks, Beth Anna Margolis, Brian Simpson, Jabez Richards, Lori VanEtta, and a special edition from SASS!
Ann Chaikin creates mixed media paintings on canvas, expressions of her love of pattern, shape, color, and filled with playful delight
Barbara Hicks makes original digital designs derived from typography, geometry, and photography translated to fabric and fine art giclee prints
Beth Anna Margolis is a painter and a poet who has been creating art for over 25 years. Beth's colorful pastel and watercolor paintings reflect her bright personality, her sense of humor, and her love of nature.
Brian Simpson creates pencil, charcoal, watercolor and acrylic works of art, consisting of cool against warm color, and dark against light, sometimes showing contrast. Often landscapes with broad brushstrokes in the foreground and sometimes chromatic color schemes.
Jabez Richards makes cartoon cubism using ribbons, rings and other geometric shapes, blushing with bright colors and a fine smattering of whimsy.
Lori VanEtta paints colorful, vibrant acrylic abstracts on canvas that bring happiness and whimsy to those who see them.
SASS! Is a bath and body company run by Joseph and Audrey Krupnik who handmake 100% natural skin care using only raw form ingredients of therapeutic and food grade rating.
Allied Arts is a non-profit gallery, all proceeds from sales go towards supporting the arts in our community.