When:
2022-11-27T00:00:00-08:00
2022-11-28T00:00:00-08:00
Contact:
Amy Vergillo
360-647-7093 x105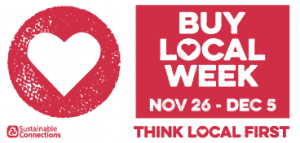 During Buy Local Week, keep your eyes peeled for Sasquatch, the Think Local First mascot. They will be distributing stickers and spreading cheer at many of the community events and celebrations around Whatcom County as well as promoting the Whatcom Think Local First Gift Cards, redeemable at over 270 local businesses. Browse Sustainable Connections' online local gift guide, grab some free gift tags, and get set to shower your loved ones with local gifts this holiday season. Share what you love about your favorite local business and you could also win a Hydrascape sticker from local artist and business owner Gretchen Leggitt along with a new Hydroflask bottle to accompany it. And don't forget to order your custom "Think Local First" and "Drink Local First" hoodies. They're the perfect way to stay warm AND comfortable whether you're shopping locally in person or online this holiday season.