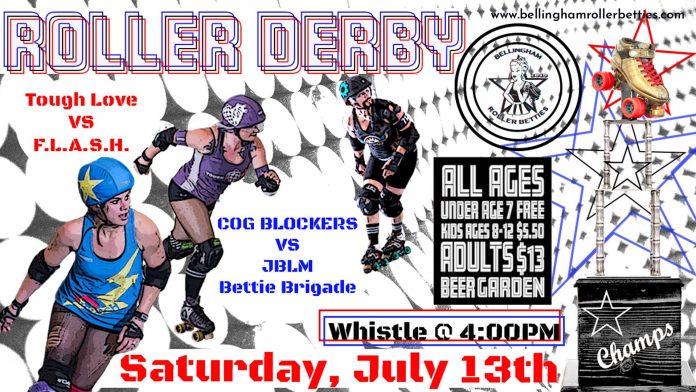 When:
2019-07-13T00:00:00-07:00
2019-07-14T00:00:00-07:00
Where:
Whatcom Community College
237 W. Kellogg Rd.
Cost:
Adults: $15 ($13 in advance)
The Bellingham Roller Betties invite you to Season 12: Championships. We are getting things started early – doors open at 3:00 PM and the first bout begins at 4:00 PM.
At this doubleheader event, the 3rd place Cog Blockers will skate against the visiting team, JBLM Bettie Brigade from the Joint Base Lewis-McChord community near Tacoma, WA.
In the second bout of the night, Tough Love faces Team FLASH for the Championship title and Golden Skate trophy.
The home season bouts are played at the Whatcom Community College Pavilion (241 W. Kellogg Rd.). Free parking is available in the parking lot located on Eliza Avenue, just south of W. Kellogg Rd.
The Bellingham Roller Betties invite a food truck to each of their bouts to give fans an option for delicious local eats – they set up outside of the venue. In addition, we have a concessions stand selling chips, candy and soda, and a Boundary Bay Beer Garden serving beer, wine, and cider track-side. For this bout, we welcome the Mobile Mouth Hole!
There will be a merch booth to pick up all your Betties and home team swag, and often our visiting teams also have items for sale.
We have amazing volunteers that set up a Bitties table outside of the gym offering activities for our youngest fans such as arts and crafts and skater autographs.
This year, our community partner is NAMI Whatcom- the National Alliance for Mental Illness that aims to provide hope and improve the quality of life for those who are affected by mental illness through support, education, and advocacy. NAMI Whatcom will be present at all of our bouts this season – stop by their booth to learn more or offer support for this growing nonprofit organization.
ADVANCE TICKET PRICES
Adults & Teens: $13
Kids 8-12: $5.50
Kids 7 and under: FREE
Advance tickets are available online or at the Community Food Coops. https://www.brownpapertickets.com/event/4049282
DAY OF TICKETS
Adults & Teens: $15
Kids 8-12: $7
Kids 7 and under: FREE