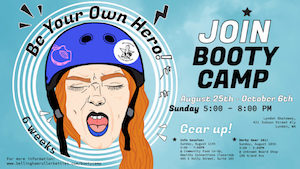 When:
2019-09-29T00:00:00-07:00
2019-09-30T00:00:00-07:00
Where:
Lynden Skateway
421 Judson St. Aly
Contact:
Cynthia French
651-442-5986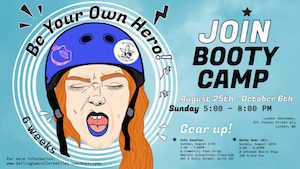 terested in being a Skater or Official for the Bellingham Roller Betties?! Come to our Booty Camp – NO skating experience needed!! We will teach you everything we know, and whip you into shape for our Season 13!
Fees & Costs:
Registration Fee: $40 in cash, check or debit.
Rink Fees: $5 per week. Lynden Skateway accepts cash or cards.
Skate Rental Fee: $2 per week. Lynden Skateway accepts cash or cards.
Rink & Rental Fees are separate from your registration fee, and go directly to Lynden Skateway, not the Betties.
MEET & GREET
Sunday, August 11, 5:00 – 7:00 PM
Community Foods Co-op Connections Building Classroom
405 E. Holly Street, Bellingham
What to bring: just yourself! Meet current Betties and members of the Derby Enforcement Agencey (DEA), learn about time commitments, what to expect at booty camp, gear and insurance requirements and ask all of your questions to get you ready for Booty Camp!
DERBY GEAR 101
Sunday, August 18, 3:00 – 5:00 PM
Unknown Board Shop
105 Grand Ave, Bellingham
What to bring: You don't have to bring anything, but if you want to buy or order gear, bring your money! Zac and members of the BRB Training Committee will go over the different pieces of equipment and help you try on sizes and get yourself ready for Booty Camp. Get the Betties discount from one of our favorite sponsors!
BOOTY CAMP DATES & TIMES
Lynden Skateway
421 Judson Street Aly, Lynden
Sundays: 5:00 – 8:00 PM
August 25
September 8
September 15
September 22
September 29
October 6
Additional Questions?
Please feel free to email training@bellinghamrollerbetties.com for more info!