When:
05/11/2019 @ 2:00 pm
2019-05-11T14:00:00-07:00
2019-05-11T14:15:00-07:00
Where:
Bellingham Arts Academy for Youth
1059 N State Street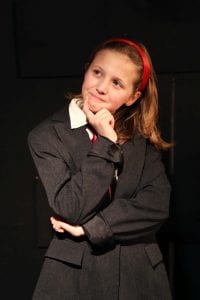 Matilda is the story of an extraordinary girl who, armed with a vivid imagination and a sharp mind, dares to take a stand and change her destiny. Roald Dahl's beloved novel, produced as a film adaptation in 1996, is a bright new Tony-award winning Broadway musical. Witness the magic at Bellingham Arts Academy for Youth this May-June! Over four weekends of performances, four different casts of BAAY students will take the stage for Matilda. These junior and senior performers ages 9-16 join together to tell the story of a young girl gifted with strange powers. Matilda the Musical celebrates the love of reading and learning, the wonder of childhood, and the great power of young people. Directed by Lisa Markowitz and Evan Ingalls, with costume design by Dana Crediford and a student team of designers. Tickets and more information at baay.org!
**Note for admin: This event repeats on May 12, May 18, May 19, June 1, June 2, June 8, and June 9)