When:
2019-05-15T19:00:00-07:00
2019-05-15T19:15:00-07:00
Where:
Fitness Evolution
1504 Iowa St
Bellingham
WA 98226

Cost:
Cost for all 8 weeks: $40 for gym members/$60 for non-members Drop in fee: $10 per session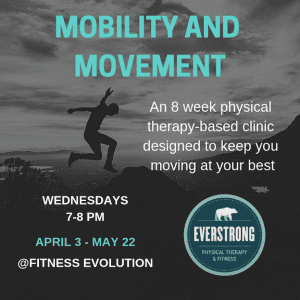 This 8-week clinic focuses on setting up your personal foundation for success, whether your goal is to resolve pain, prevent injury, or optimize your performance. Physical Therapist and owner of Everstrong Therapy Therapy, Dr. Amar Parekh PT, DPT has helped hundreds of people of all ages and athletic levels, improving their movement and positioning to fix inefficiencies and avoid injuries. This will not be your basic stretching class. Instead, this clinic offers a healthy "how-to" blueprint for moving about in our hectic everyday lives. In it, Amar will give you all the tools you might need to improve your movement and ensure long-lasting health and mobility, to access your full potential in and out of the gym.
Cost for all 8 weeks: $40 for gym members/$60 for non-members
Drop in fee: $10 per session