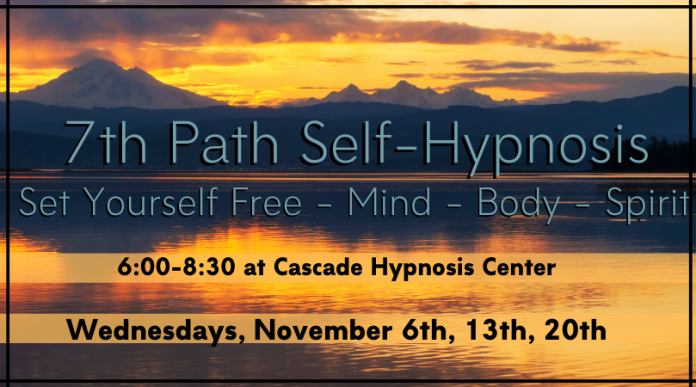 When:
2019-11-06T00:00:00-08:00
2019-11-07T00:00:00-08:00
Where:
Cascade Hypnosis Center
103 E Holly St. Suite B1
Contact:
Cascade Hypnosis Center
360-392-8723
Imagine being able to "program" yourself for success!
Imagine freeing yourself from stress, negative imprints, and painful emotions from the past!
Imagine living in the moment and never overreacting again by getting too angry, too frustrated, or too sad!
Join Shannon Wallace and Catherine Crockett Witt at Cascade Hypnosis Center starting November 6th to learn the revolutionary approach of 7th Path Self-Hypnosis! This three-part series will continue each Wednesday, the 13th and 20th, from 6:00-8:30pm. Learn the hypnosis tools that will change your life!