When:
05/14/2021 @ 1:00 pm – 2:30 pm
2021-05-14T13:00:00-07:00
2021-05-14T14:30:00-07:00
Where:
Puget Sound Partnership Zoom
Online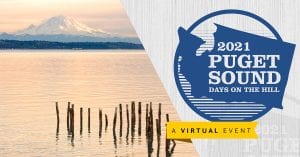 The Puget Sound Partnership and Northwest Indian Fisheries Commission invite you to participate in our next virtual Puget Sound Days on the Hill session on Friday, May 14, from 1:00 – 2:30 p.m. Pacific Time. We'll discuss Puget Sound restoration and protection, salmon recovery efforts, climate change adaptation and mitigation, and infrastructure, among other topics, with Representative Pramila Jayapal.
We will also host a panel discussion with Jane Nishida, acting assistant administrator for the Office of International and Tribal Affairs at the U.S. Environmental Protection Agency (EPA), Barry Thom, regional administrator for the National Oceanic and Atmospheric Administration (NOAA) Fisheries' West Coast Region, and officials from the U.S. Army Corps of Engineers (USACE), and the Council on Environmental Quality (CEQ).
We encourage participants to submit questions for both the panel and Rep. Jayapal in advance, and questions must be submitted by 2 p.m. Pacific Time on Wednesday, May 12. There will also be an opportunity to post questions during a moderated Q&A session.
Advance registration is required and will close at 2 p.m. Pacific Time on Thursday, May 13. More details and registration info are available at https://www.psdoth.org.