There is something magical, says Mikkel Hong, about the flight of a perfectly thrown disc.
The fun, healthy, and technical nature of disc golf — an outdoor game that trades balls and clubs for Frisbees and baskets — has made it extremely popular across the country. In Whatcom County, many disc golf activities fall under the purview of the Whatcom Disc Golf Club, which has more than 500 active members.
Hong, a Bellingham resident and Skagit County middle school teacher, is the club's new board president. He says that although several county courses exist — at Blaine's Lincoln Park, Ferndale's VanderYacht Park, Bellingham's Cornwall Park, and Sudden Valley's Mossy Roc — the sport's popularity has made some a bit too crowded at times.
"Cornwall and Mossy Roc, in particular, are extremely busy," says Hong.
The desire for a public 18-hole course within Bellingham's city limits (Cornwall is nine holes and Mossy Roc is private and outside city boundaries) has led to the construction of Bellis Fairways, an 18-hole disc golf course situated on 20 acres of unused land bordering Bellis Fair Mall.
Formally opened on May 7, Bellis Fairways is free to the public at all times. Its creation also intends to beautify land that had, until recently, been used as a homeless encampment and garbage dump.
"As it goes on, I think [the course] will have a much bigger improving effect on the area," Hong says. "It's really a win-win-win for everybody."
Path to the Pin
About three years ago, Hong created a Change.org petition asking the City of Bellingham to expand Cornwall to 18 holes. Alan Schwartz, who designed Cornwall's course, contacted Hong and helped him dialogue with the city's parks and recreation department.
Despite ideas ranging from re-designing existing holes to adding another three, an adequate plan couldn't be reached. Alternate sites were suggested: the undeveloped Van Wyck Park site, and the Lake Padden site.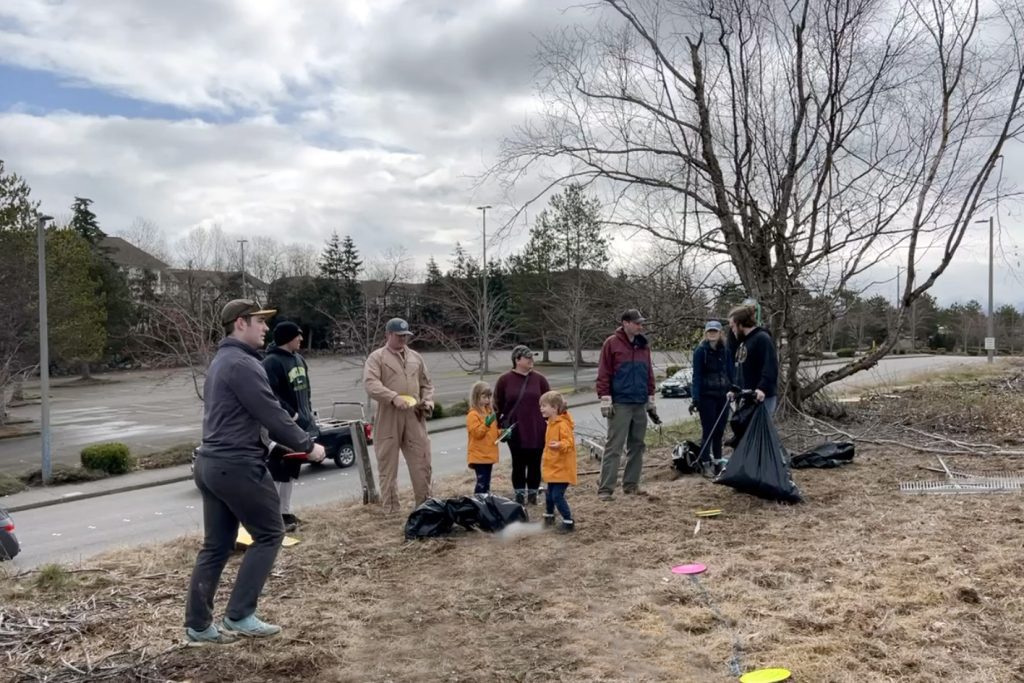 Van Wyck was considered too swampy, and Schwartz is working on a permanent, professional-level 18-hole course at the latter, though it's not yet ready for recreational play. And while the city has examined additional land for another potential 18-hole site, constructing one is at least two years away, according to Hong.
It occurred to him that an area of vacant land he drove by frequently could be an excellent site. Hong figured out who owned the largest portion of the land — the RJ Group — and called them near the end of 2022.
The very next day, they called him back and greenlit the idea. He then received permission from the other two landowners — mall owner 4D Properties and District Brewing owner Mark Schintaffer — to officially get to work on a plan.
Since January, Hong and other club members have been busy taking the course from idea to reality. After planning the course, volunteer work parties began in mid-March to clean the site of trash. On the first day, a dozen volunteers spent five hours removing 3,000 pounds of trash from the space.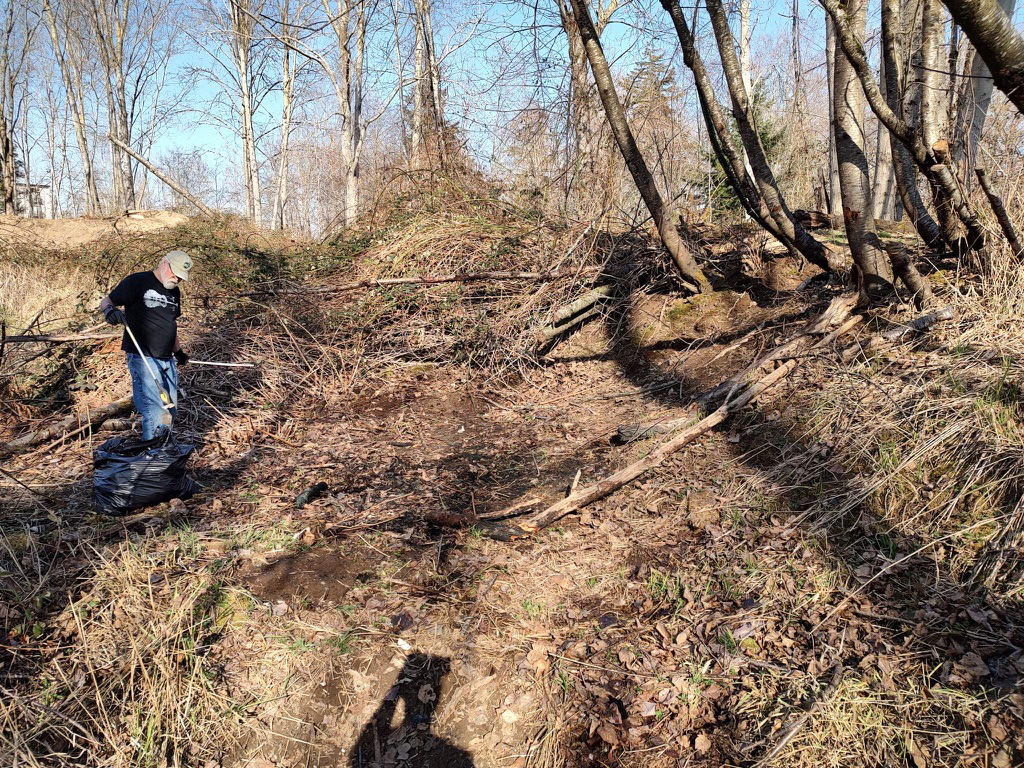 "It was so crazy, the condition it was in," Hong says. "I still don't quite believe it."
Two additional multi-hour work parties, with increasing amounts of volunteers, removed a total of three tons of trash. Volunteers found over 120 used needles, as well as other concentrations of drug paraphernalia, shoplifting debris and general litter.
Besides a volunteer clean-up crew, other community contributors include LJ's Handyman Service — which did tee pad and metal basket work — and Northwest Trails Inc., which completed pathway work and helped remove excess vegetation like blackberry bushes.
The Opening Drive
Liability insurance, hardware installation, and other necessary expenses for the course required an online fundraiser, which was seeking a total of $18,000.
The fundraiser met its goal during the last week of April courtesy of both individuals and local businesses. As of May 1, 2023, $19,310 has been raised.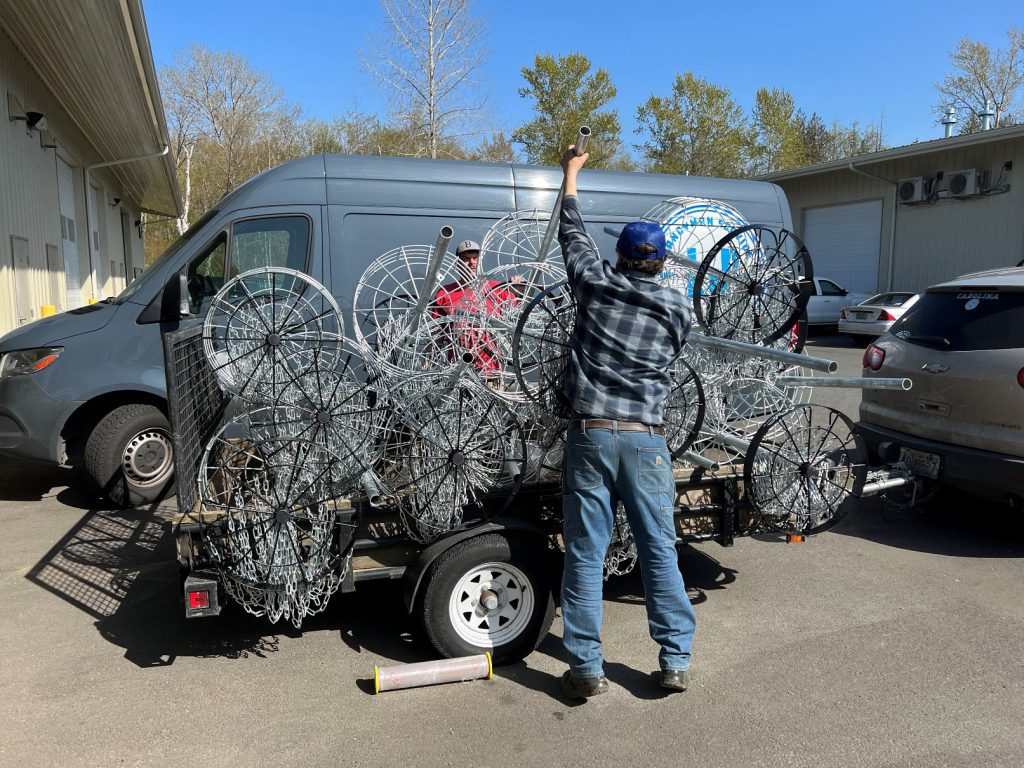 Despite the sometimes overwhelming nature of the work, Hong says the club is thankful for the many community members — some of whom don't even play disc golf — who've chipped in to help them.
The course will operate under a "no-cost lease" with the landowners, with the stipulation that it can exist until the property is designated for future development. No matter how long it lasts (Hong expects a good two years, at least), Hong says the community networking and cleanup has already made the project a success.
"It's really been amazing," he says. "This is something that has potential to make at least one area a lot nicer and less dysfunctional and sad."
About 40 to 50 rounds of disc golf have already been played on the basketless version of the course, with temporary wooden poles in place of the metal baskets being installed the first week of May.
As the weather continues improving, Hong and other club members can't wait to experience more of disc golf's magical moments on the new course.
"We've done the really hard part," he says. "Now it's time for the fun part."