From doodles shared on social media to a world-famous local customer, the artwork of 17-year-old Veda Allen is quickly making its way into the world. With pieces already sold to Mt. Baker Ski Area, Veda is already in talks with other local businesses, and only time will tell just how widespread her signature stickers, t-shirts, hoodies, labels, and more will become.

Veda has lived in Whatcom County since first grade and spent most of her school career as a student at Whatcom Hills Waldorf School. She credits the creative and arts-based learning style with making her a natural in visual arts. "Most Waldorf kids come out knowing how to draw," she says. "I grew up with it being something I knew how to do, something normal, and then I just kept drawing."
She also has a love of skateboarding and skiing that came about in a very different way. "My best friend she was going to leave for a long time, and she said, 'By the time I come back, we're going to know how to skate, be really good at it, and look really cool.' And so, every day during quarantine, when I had nothing else to do, I was out in my driveway trying to learn something," Veda says. "And then it started to actually get fun, and I started to go to the skate park and meet people. And my best friend? She never learned."
Once she got the bug, Veda never stopped skateboarding. During a year of homeschooling, in 7th grade, Veda took part in the Bellingham Family Partnership Program, an offering from the local public schools that supports families who provide their kids with home-based education. "They had skiing or snowboarding lessons at Mount Baker," she recalls. "I love it now, but it was in the beginning it was pretty rough. I just kept getting a pass every year, and now I have a lot of fun doing it because I'm not scared anymore."
With all the basic building blocks in place, it was just a matter of time before Veda's passions came together. "In 2020, I was very excited for skiing, and thought, 'I have to draw Mount Baker. How have I not done this already?'"
She began to draw skiers and snowboarders and Mount Baker, posting them on Instagram. "And people started to really like it," Veda says. Soon her friends wanted to buy t-shirts or stickers with her designs on them, and then the appreciation began to spread beyond her friend group.
"[Illustrator] Brooklyn Bell texted me, and she's sponsored by Subaru, Faction Skis, and all these companies, and she said, 'I love that, let me know if you make a shirt.' It was this moment in time where I was, like, 'Whoa, people like this.'"
They liked it so much, in fact, that they shared her art posts to Mount Baker's Instagram account. It wasn't long before Veda received a message from the Mt. Baker Ski Area and entered into an agreement with them that has led to her designs gracing t-shirts, adult and youth hoodies, and even the mountain's lift tickets themselves.
Her involvement with Mt. Baker got her noticed by The Snowboarder's Journal, a magazine and website read around the world. "Every year they do something for Opening Day at Mt. Baker, and they did a phone interview with me that was on their site. My friends and I would go to Mount Baker Theater and watch these snowboarding films, and it says 'Snowboarder's Journal' at the beginning of most of them. And now I'm, like, 'Oh my gosh, I'm on The Snowboarder's Journal!'"
Veda has started selling her work herself, as well. She's participated in the first Bellingham Maker's Market, as well as events at Aslan Brewing Company and Vital Climbing Gym, and she promotes all of her appearances on her Instagram page.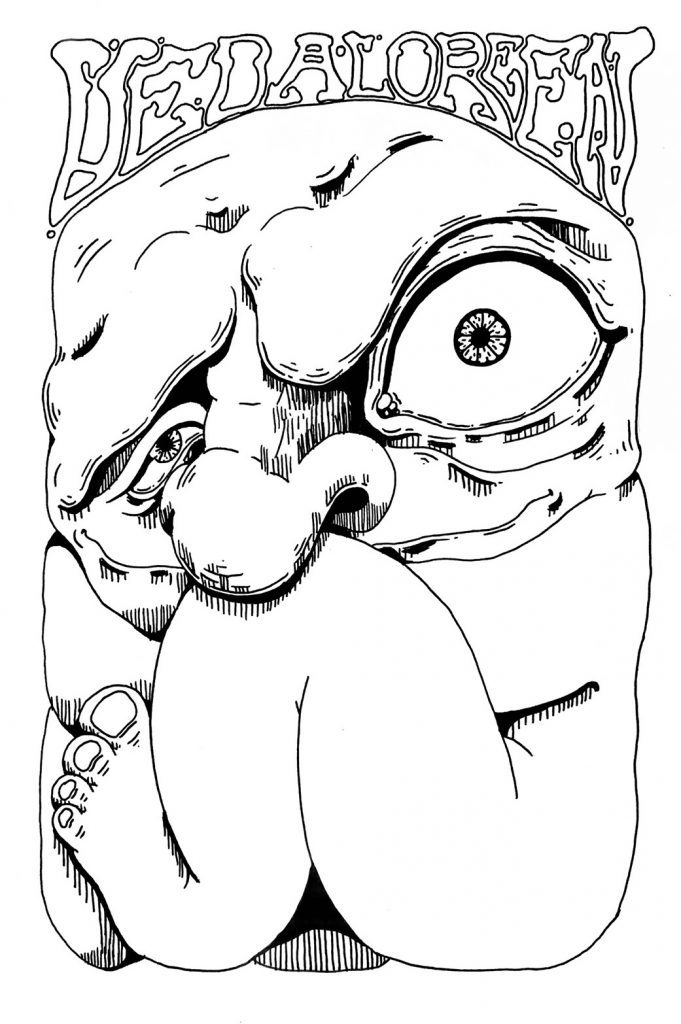 She also accepts direct orders through Instagram, fulfilling all of them by hand. That method is a little hectic, but it also means that she can be successful doing something she loves. "Just last night, it was six o'clock and I was drawing. Then I looked up and it was 11:30, and I had been bent over for hours," she says. "I get lost in it, and it doesn't even feel like time is passing."
As far as the future goes, Veda looks forward to devoting herself to her art. "I say to myself that I'm just going to do this for a living, for the rest of my life. I would like to buy some property and put a bunch of cool stuff on that property. I really, really want a mini ramp to skate on; that's like the next thing for me. But I kind of just let things fall in place."
She also has words of advice to other artists, whether they know they are artists or not: "I think everyone's good at drawing, they just have a style. It's unique to you, which makes it good."
See more of Veda's art on her Instagram page.