Matthew Twining finds the essence of the cocktail to be a mixture of mood, atmosphere, and the person who drinks it.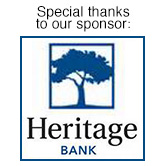 And at Matthew's Honest Cocktails — the downtown Bellingham bar bringing new life to a former Starbucks location at 132 East Holly Street — this mix is elegantly on-point.   
"I did not expect it to be so busy," says Twining, the bar's owner. "Happy people are coming in, and happy people are leaving."
Since opening in August 2022, Matthew's has been on a "wild, wonderful ride" of lively libations and community support, says the 42-year-old. The bar's lighting and atmosphere, readily glimpsed through large, plentiful windows at a high-traffic intersection, has proved an early recipe for success.
"I want the place to be a catalyst for a good night out," Twining says. "We're selling joy."
Enhancing the Mood
Twining grew up in Southern California.
Fascinated by the spirit world — the boozy kind — he spent time in New York City before eventually winding up in Whatcom County. Here, Twining bartended in several environments, from a casino to a hotel lobby, and learned more about what makes a good bar and a stiff drink.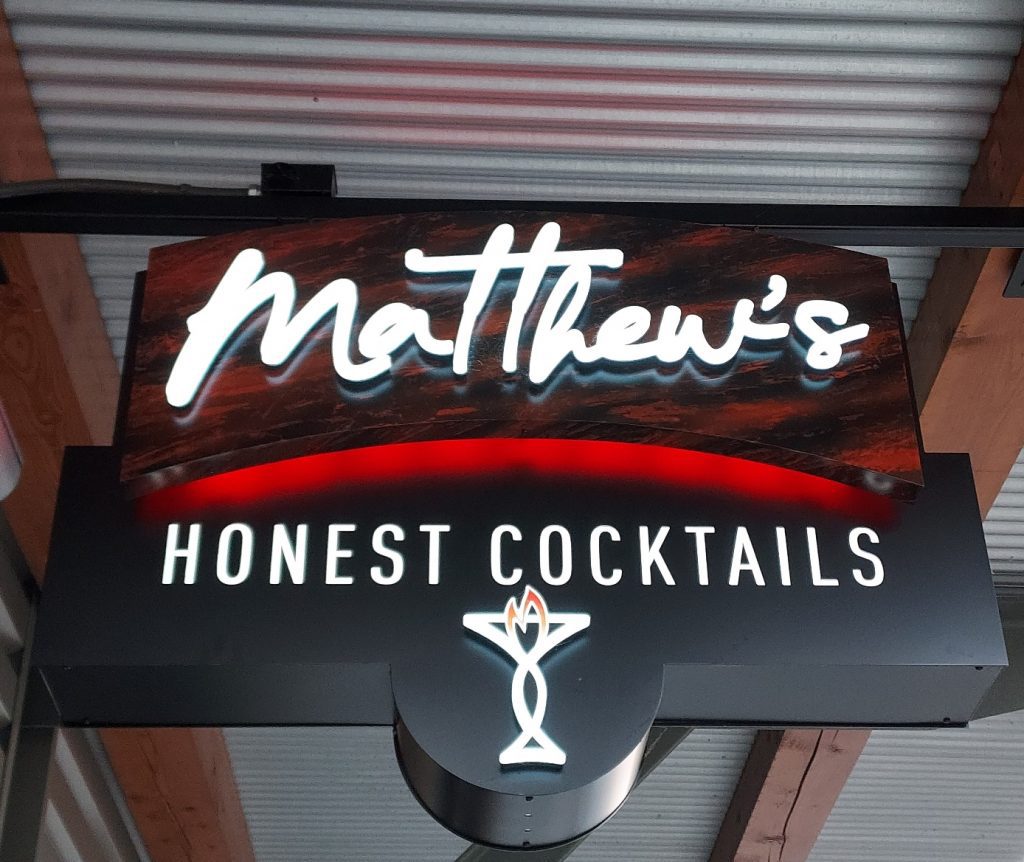 "Spirits pair with a moment in time," he says. "If you focus too much on the cocktail, you're actually missing the point. The drink is a mood enhancer or a social lubricant, and we're really here for people."
That's not to say Twining is serving mediocre alcohol at his bar. Matthew's focuses on quality, high-end spirits, and the many cocktails they're used to create.
Among the bar's favorites is the barrel-aged old fashioned, made with barrel select rye whiskey from the Bellingham Bourbon Society. Twining buys the entire barrel and bottles it, meaning it's not available anyplace else in town.
Matthew's menu also features "The Dram of the Moment" — a neat taste of this special barrel. In addition to good whiskey, the bar specializes in martinis. Their stinging nettle martini, made with locally foraged stinging nettles and elderflower liqueur, is a popular past seasonal. Also popular is their espresso martini, which features powdered cinnamon ignited with a torch for extra roasted flavor.
"I like the elegance of the martini," Twining says. "It's a grown-up drink. It implies and indicates that someone has figured out how to drink."
Matthew's also serves delightful food to accompany whatever elixirs you're sipping. Flatbread pizzas, made with real mozzarella, tomatoes and basil, are a hit, and charcuterie boards are also available.
Proper Pairings
The interior of Matthew's features herringbone oak floors, a curvaceous bar top, and teal-hued walls. But what probably sticks out most is the famous mugshots that decorate those walls. 
Images of David Bowie, Frank Sinatra, and James Brown — in their more undignified moments — peer at visitors. Twining says a friend thought they'd be a fun touch.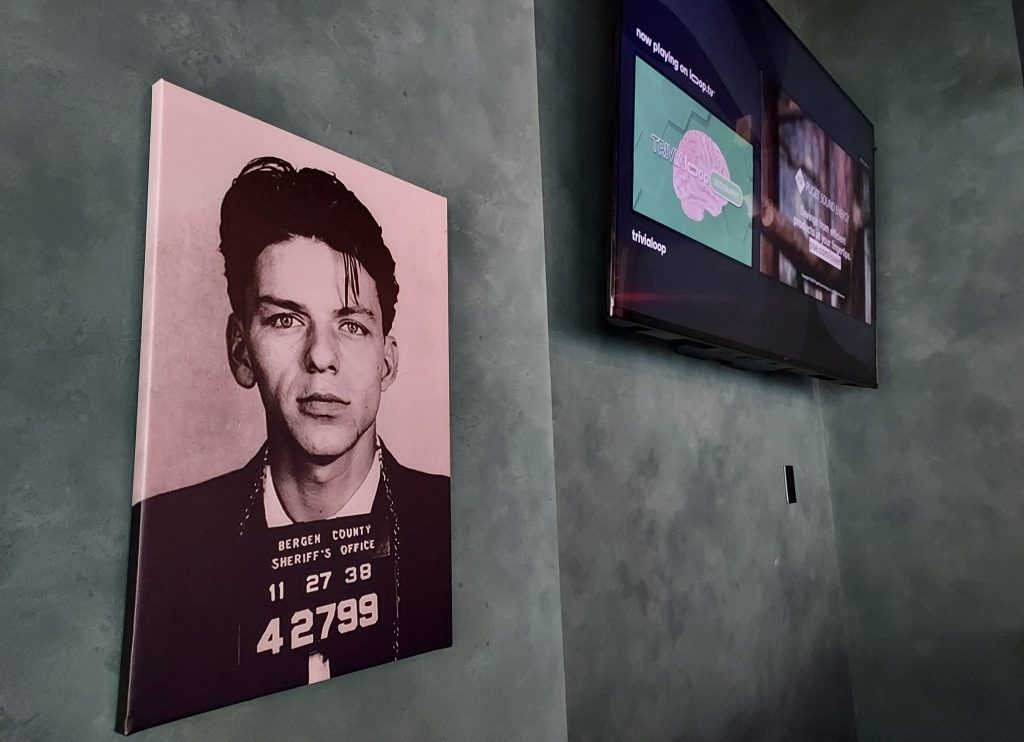 "I think it's interesting to have relatively known or classy people, displaying a more rugged side," he says of the photos. "I find that spirts and cocktails are the end result, I believe in many ways, of a civilization coming to."
A flat screen television sits over the bar, displaying an endless stream of trivia questions. Twining says Matthew's is considering a more organized trivia night at some point. For now, if Twining gets a question wrong that one of his patrons gets right, they win a dollar bill from him.
An acoustic Breedlove guitar is also on display. Some nights, Twining has been known to stand on the bar with the guitar and play it at last call.
"If you're here at the right time on a slow night, I'll sing a song for you," he says.
The guitar itself is a reminder of Twining's first business venture, a Los Angeles recording studio he's still associated with.
One time, ZZ Top guitarist Billy Gibbons came into the studio to record a whiskey commercial. Twining tried to absorb all the advice he could from Gibbons, a kind man successful and wealthy enough to be unaware of the current cost of snacks.
"He told me to go get him some candy bars and soda pops or something," Twining recalls. "He literally gave me a wad of cash that was nine or ten grand. I go, 'Hey man, I'll bring you some change.'"
Twining said he hopes to eventually partner with local music and theater venues, perhaps serving a secret menu for patrons who present ticket stubs after a show. For now, though, the bar continues to be a straightforward place for good vibes and honesty: in conversation, in cocktail, and in moment-making.
"Honesty is important," Twining says. "It encapsulates about everything that I want in a drink, and in a person. Honesty, I find, also makes you humble. You don't have time for ego in here."
Matthew's Honest Cocktails is open 7 days a week, 4 p.m. to midnight. Their daily happy hour, from 4 to 6 p.m., features $2 off all drinks.