Submitted by Funky's Hot Sauce Factory
Bellingham's very own Funky's Hot Sauce Factory has been named the 2022 Grand World Champion at the 9th annual New York City Hot Sauce Expo 2022. It was also awarded the 1st place Screaming Mi Mi for its Carolina Reaper sauce at the September 24-25 event. Funky's was crowned champion out of 400 entrants and the hot sauce maker is the first Pacific Northwest company to be awarded the honor.
Funky's currently offers eight unique hot sauces — loaded with flavor and just the right amount of heat — all of which are 100% vegan, gluten free, Non-GMO, and mostly organic. A small, family-run business, Funky's prides itself on using locally sourced and organic ingredients whenever available. Its products contain no fillers, only natural preservatives, and only naturally sourced salt.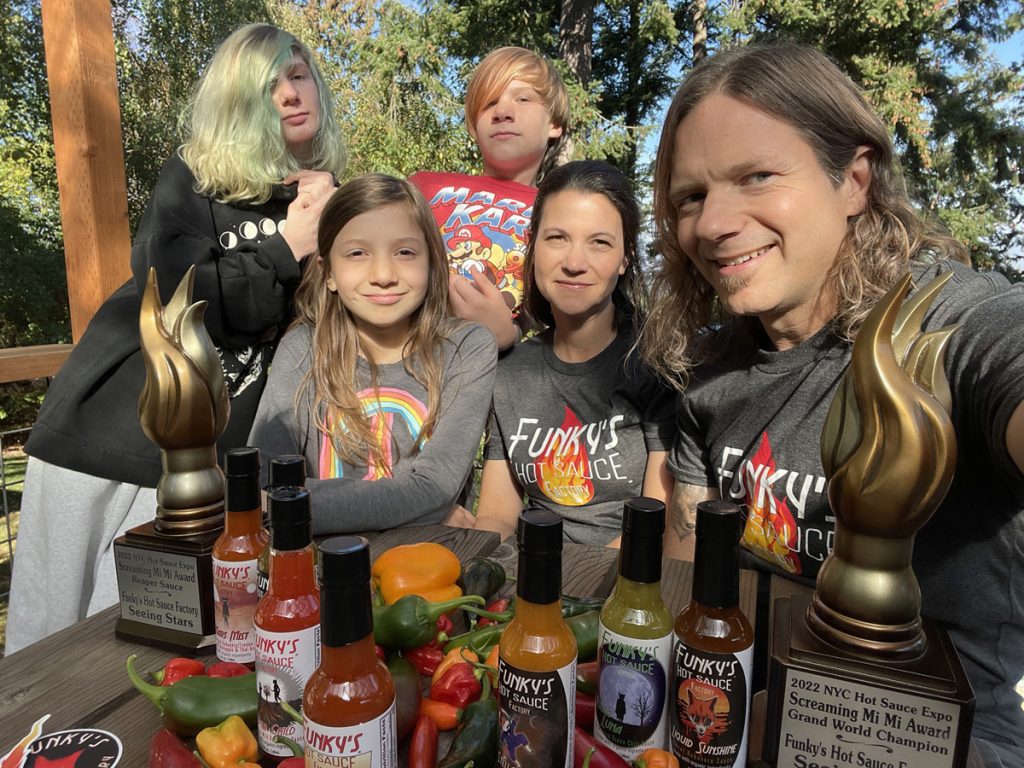 Funky's owner Matthew Mini has been passionate about homegrown gardens since the early 2000s. Fifteen years ago, after planting more than 50 pepper plants, Mini became obsessed with making hot sauce. At the time, he worked at Russian River Brewing Company in Northern California, where he learned about fermentation. It was natural that his love of fermentation and peppers collided to culminate in amazing hot sauce.
The journey of life eventually led Mini and his family to Bellingham, Washington, where he grabbed the opportunity to start his own company. In 2019, Funky's Hot Sauce Factory was born. Today, Mini still tends his own home pepper garden and uses the homegrown harvests to create test batches for new sauces.
Mini loves connecting with local business owners and has enjoyed great success growing a network of Pacific Northwest contributors to his sauces. Among his list of suppliers are Jimmy Kintzele of Southern Exposure Family Farm in Burlington, Washington, who grew the tasty Carolina Reapers used in this year's award-winning Seeing Stars sauce; Shrub Farms of Bellingham, Washington, who makes the apple cider vinegar used in Funky's Liquid Sunshine sauce; and Bellingham-based graphic designer Tony Walters of Fat Lizard Designs, who creates all of Funky's label art. Farm Cooperative and Puget Sound Food Hub help distribute Funky's Hot Sauce Factory sauces throughout Washington.
Whether you're a hot sauce fanatic or someone who's just begun to explore the hot sauce universe, Funky's Hot Sauce Factory has a sauce for you!
Check out Funky's Hot Sauce Factory on Facebook, Instagram, and visit its website www.FunkysHotSauceFactory.com.