The end of September brought exciting new technological enhancements to Evergreen Goodwill's Bellingham job training and education center (JTE), thanks to a six-figure investment from Comcast.
In a September 29 ceremony attended by Bellingham mayor Seth Fleetwood and Washington State Senator Simon Sefzik, the two partners officially unveiled enhancements to the Lift Zone & Community Space at the Bellingham location.
The new technology includes upgraded audio-visual equipment — cameras, microphones, and speakers — designed to optimize the video conference experience of the center's two classrooms, which can now be combined to form one large classroom.
"State-of-the-art audio and visual technology will allow Evergreen Goodwill to seamlessly host hybrid and virtual events and classes," said Daryl Campbell, the nonprofit's president and chief executive officer, at the ceremony.
The Bellingham JTE center has been around for 25 years, serving more than 10,000 students to date, with everything from English and citizenship classes to computer literacy, GED completion, job training, and college navigation.
The Tech
Matthew Peel, a former Evergreen Goodwill instructor who's now the company's digital equity manager, said the new wall-mounted cameras can be manually controlled by instructors from their desks. In addition, ceiling-mounted microphones will provide full audio coverage of the entire classroom, allowing virtual students to hear other students asking questions to an instructor.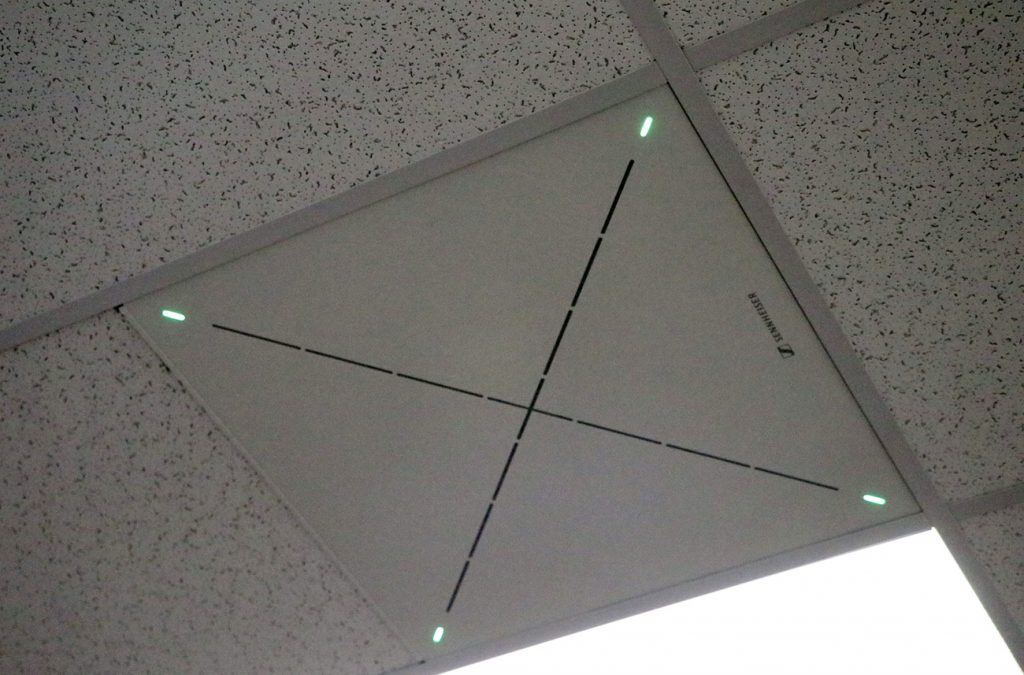 "It's going to provide a much smoother interaction for our students and staff online," Peel said.
In addition, new wall panels will display video information and complement the existing smartboards in each classroom. Comcast also installed its Lift Zone Wi-Fi, which provides enhanced high-speed wireless internet for the JTE center. The internet provider has launched more than 90 Lift Zones in Washington State since November 2020 to assist families with either limited or no internet access at home.
This infrastructure supplements additional support Evergreen Goodwill has already received, including the use of 118 Chromebook laptops for JTE students. The computers are shared as needed among the five Evergreen Goodwill JTE centers in King, Kitsap, Skagit, Snohomish, and Whatcom Counties.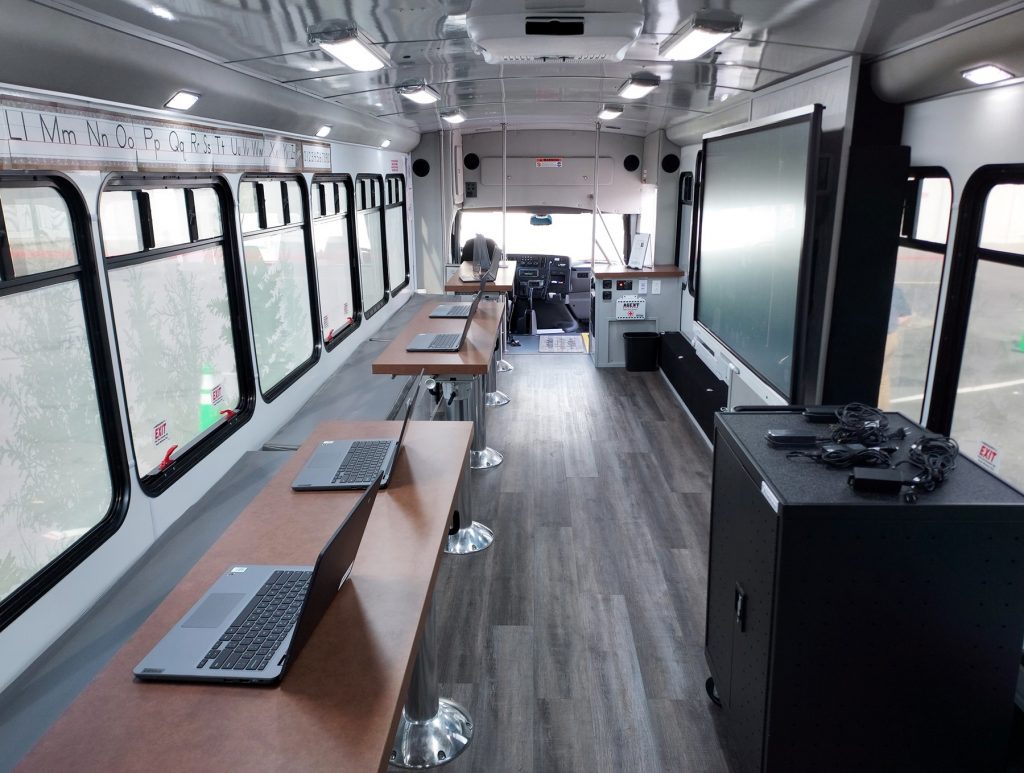 Even older technology is still finding use: Twenty iPads that formerly helped students learn English through Rosetta Stone language software are now being used for voter registration drives.
Eileen Aparis, Evergreen Goodwill's vice president of mission, said continuing digital enhancements are critical to meet the needs of the community Goodwill serves.
"We have these four walls, but we've gone beyond the four walls, because we know that our students can't always come to us," she said.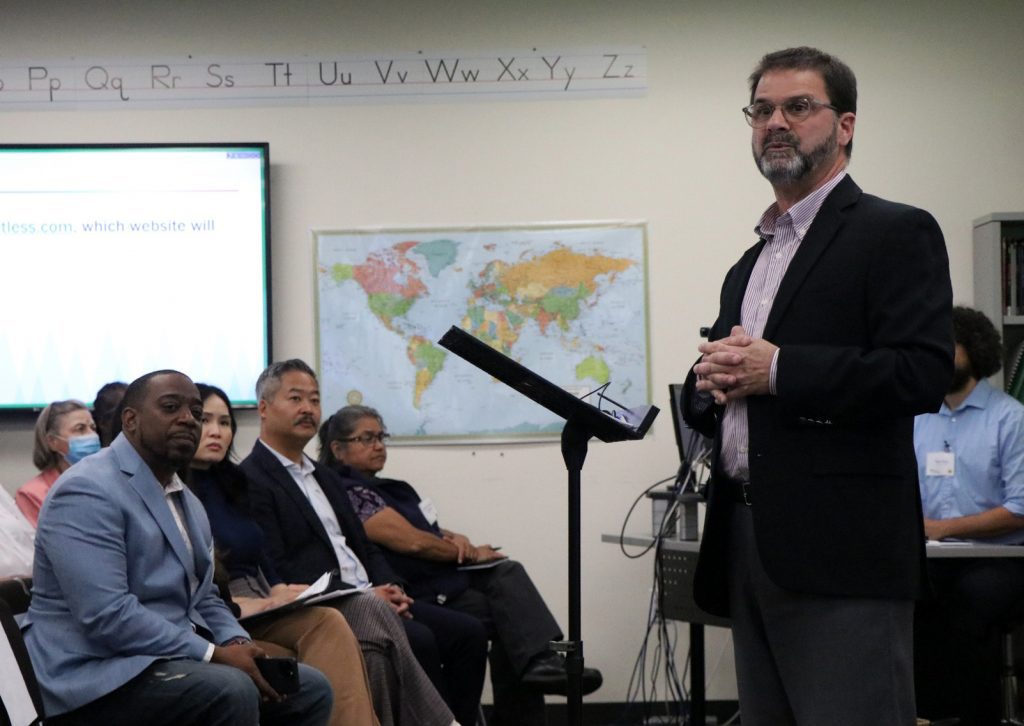 Another of those enhancements is the recently launched Digital Equity Bus (DEB), which provides a mobile classroom in greater Whatcom County.
Having conducted trial sessions in both Everson's Nooksack Valley School District and Kendall's East Whatcom Regional Resource Center, the bus is outfitted with six Chromebook laptops, comfortable seating for up to a dozen students, reliable internet and one of the same smartboards used in the Bellingham JTE classrooms. A significant number of the students who utilized DEB in its trial run were Ukrainian refugees.
The Impact
During the September 29 ceremony, Peel told two stories.
In the first, six members of a Guatemalan family used online learning services to take citizenship and ESL classes. While three of the family members continue to learn English, the other three recently passed their citizenship tests in Seattle with flying colors.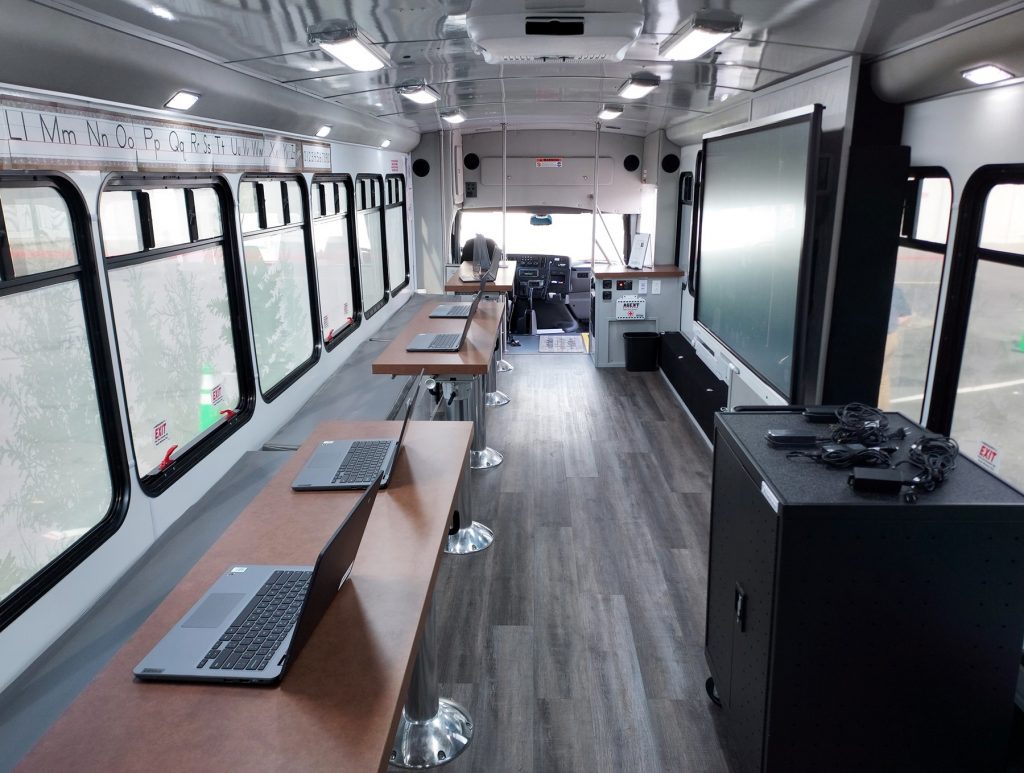 The second story brought a former student to the room's attention. A woman, who one day approached Peel carrying a large duffle bag with all her personal belongings inside, was living at downtown Bellingham's Base Camp homeless shelter.
The woman almost walked away, but Peel spoke with her and helped her register for a high school completion course. Staff at the JTE center also helped her begin living at the women's Agape Home, as well as provide the resume building that helped her obtain a retail job at Bellingham Goodwill.
Today, the woman has her high school diploma, lives in an apartment, and is working a non-Goodwill job while pursuing a local higher education program for nursing.
These stories showcase why digital skills and equity are at the core of Evergreen Goodwill's mission: because jobs change lives. As a former instructor, Peel said seeing the success of the program is profoundly gratifying.
"To see the immense impact, we can have on someone's life is amazing," he said. "We develop a personal relationship with our students. It's so great when they do come back and they say, 'I got my GED, I got this new job, I got a promotion.' It's what drives us."
And in a world that can often seeing overwhelmingly negative, Peel said that being part of this mission — driven in part by increasing amounts of incredible technology — gives him hope about the larger goal of reducing societal inequality.
"We're only a small group of people, but if we can just change one life at a time, incrementally, that gives me optimism," he said. "Knowing that we can help someone in a meaningful way, whether it's a small way or a big way, that's just powerful."
Sponsored