On the corner of Fairhaven's Harris Avenue and 10th Street, the display window of Good Earth Pottery features rotating clayware and lettering by Lively Signs. In the over 50 years this gallery has occupied Morgan Block, a circa 1890 brick building sporting a faded advertisement, it has shaped and molded Fairhaven's artistic scene.
"It's been here since 1969," says Ann Marie Cooper, Good Earth Pottery's current owner and a contributor since 2009. "It started out as a hippie cooperative studio space, and then became a privatized gallery over time, and it's had different owners throughout the years."
At the height of Fairhaven's hippie era, Good Earth Pottery shared one of the only buildings that developers could not buy, with the original Bellingham Food Co-Op and Northwest Passage. Over the decades, various owners have expanded the store to feature local artistry, national pottery events, and e-commerce.
"We specialize in local artists, so most of our artists live within a 100-mile radius of Bellingham, mostly here in Whatcom County," Cooper says. "And it's all ceramics, all handmade, and curated, so we seek people out or sometimes they seek us out, and we decide whether they're the right fit. But I also have national shows a few times a year, just to spice it up a little bit."
Ceramics in the Brick-and-Mortar Store
Walking into Good Earth Pottery, visitors are greeted by ornate pots and ceramic arts lining every shelf along the muraled walls.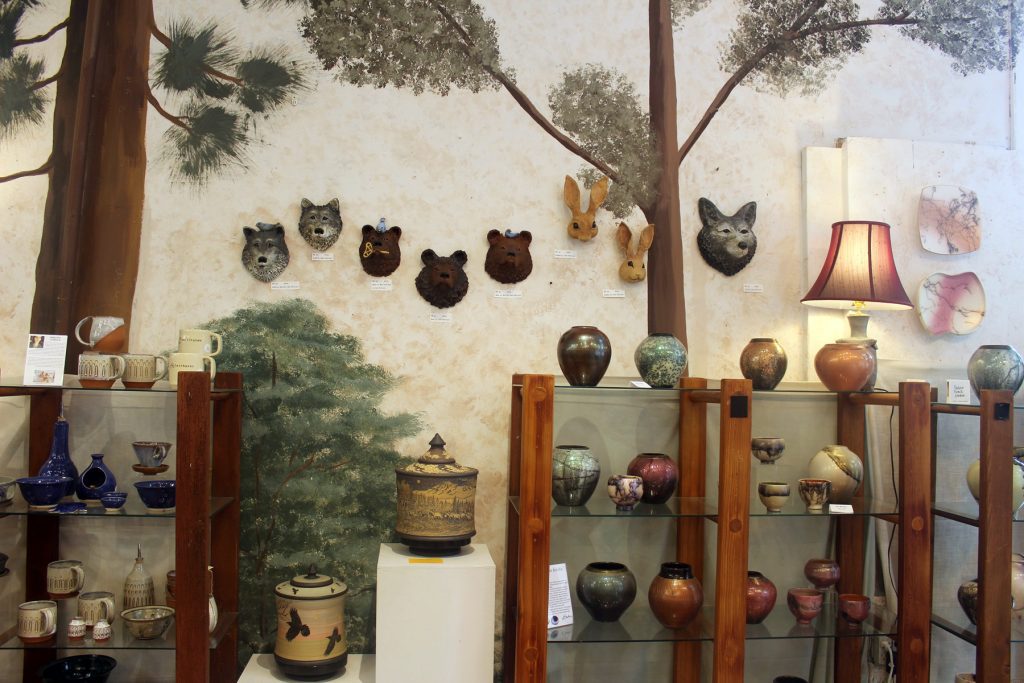 "We have over 40 artists in here," says Cooper. "Locally prominent ones: Chris Moench who makes the prayer wheels, he's extremely well-known… Larry Richmond… and I've been partnering with Simon Levin, who's a world-renowned woodfire potter with his Clay Cohorts program. We've been doing shows together, starting this year; we did one and we'll be doing that annually."
Every month, Good Earth Pottery's window displays feature works from a single artist or from national juried shows with themes such as animal art and woodfired ceramics. "I really enjoy giving all these artists their opportunity to get their work out there and connect with the community," Cooper says.
Additionally, Cooper donates portions of the store's proceeds to various charitable organizations every month.
"We do have a second sale every year, which everyone looks forward to as part of the Ski to Sea festival," says Cooper. "January is a big event — that's where we do our fundraiser for Maple Alley Inn. [It's] a National Cup Show and Invitational Cup Show, but we sell a lot of cups and donate 5% of all cup sales to Maple Alley Inn, so it's a good community fundraiser."
Ceramics in Cyberspace
Customers can now shop online for Good Earth Pottery items through its online gallery. The ecommerce page is divided between types of ceramic items and artists.
"During COVID, I really launched the online side of things, and that's kind of what saved us," Cooper says. "On the website, we have just a sampling of what's available here in the brick-and-mortar space, but we try to have a good representation of all of our artists."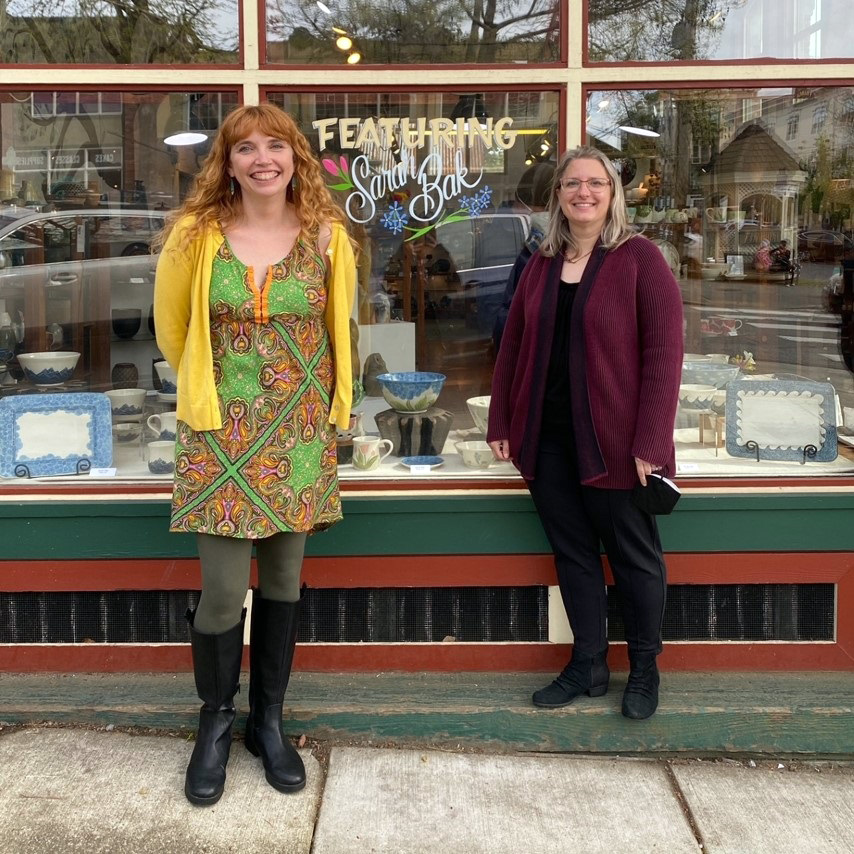 The website also features up-to-date information on artists, features, juried shows, and events, to which potters and ceramic artists can apply on the call for entries page. The local resources for clay folk page connects artists with classes, studios, tools, and organizations in and outside the Whatcom County community — the network of makers that has kept Good Earth Pottery thriving.
"People love it," says Cooper. "We were very supported during COVID — people really stepped up to make sure we kept going. People like the fact that there is such a community connection, with so many of our artists living here right here in town; they can run into them and get to know them."
Firing Up the Clay Community
Like a pottery wheel, the store looks to keep turning.
"My plans are to keep going and see what I can do," Cooper says. "I'm bringing in new artists on a regular basis. I'm going to have more juried shows, more guest artists, just for a little added spice here and there. But just keep going, keep doing everything I can for our local clay people."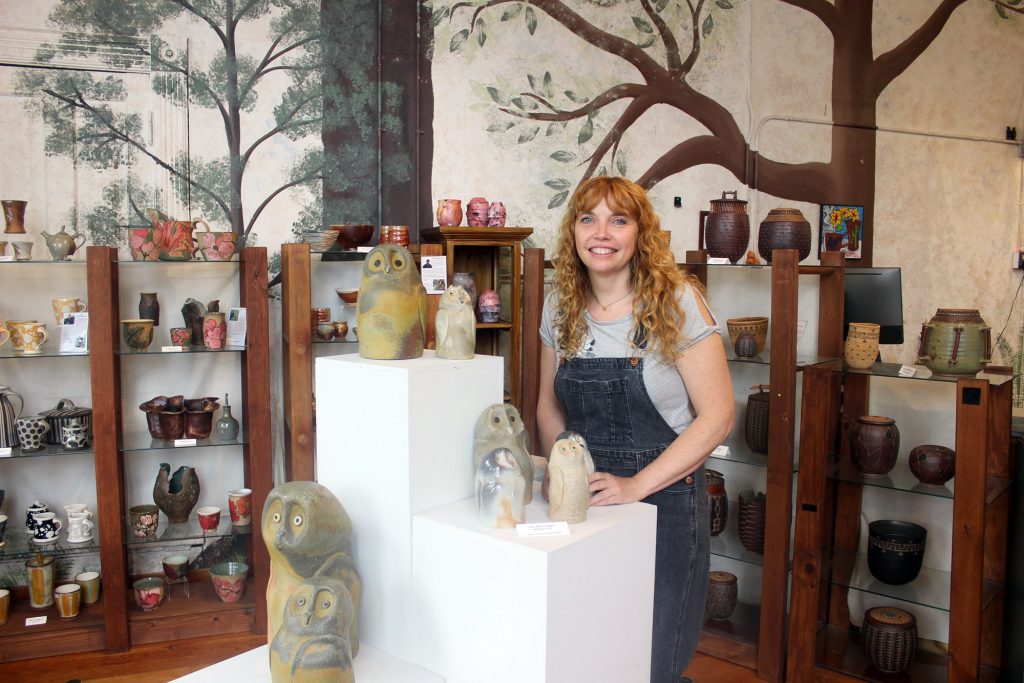 Good Earth Pottery continues to accept entries from local ceramic artists.
"I think that it's had a really strong impact on the community," says Cooper. "I feel honored to be at the reins now — I mean, it's been here since 1969 and it created a lot of the ceramic artists we have in the community today, and it inspires more and more people to become ceramic artists."
Learn more about Good Earth Pottery by visiting their Facebook and Instagram pages or by signing up for their newsletter. The gallery on 1000 Harris Avenue is open daily at variable business hours, which are posted on their website.