The world sometimes has a funny way of telling us it's time to blow up what we're doing and try something new. Mary Morris Solomon, the creator of MaryGold Tales, was told this by a global pandemic. Having been deemed nonessential, Mary sat at home wondering when she could get back to her esthetics business.
Not knowing what else to do, Mary decided she'd try to make people smile. Equipped with her favorite pencil and some pan watercolors, she began to create.
"People were so sad on Facebook. Oh my gosh: just the devastation, the heartache," she says. "I would reach out to five or six people every day and ask for their mailing address. I would hand paint them a little card related to whatever was happening with their posting on Facebook and secretly mail it to them."
She named these "Happy Cards."
As Mary sent out more cards, people began to request that she make one they could send out — and suggested she charge for it. At the time, she laughed at the idea. But as demand grew, she realized the potential was there, so why not?
Mary had originally planned to be an art teacher, before jobs and life pulled her in a different direction. "I feel like I went on this 20-year hiatus to do this thing that paid the bills," she says. "I met great people, but it didn't fulfill who I was. And then, all of a sudden, the world was like whoa, whoa, whoa, whoa, whoa — we're gonna go back to that."
So, Mary went for it. With a 200-square-foot shell of a building in the backyard, intended to be an esthetic studio, Mary finished the space herself and had her own studio to create whatever she felt like whenever she felt like it.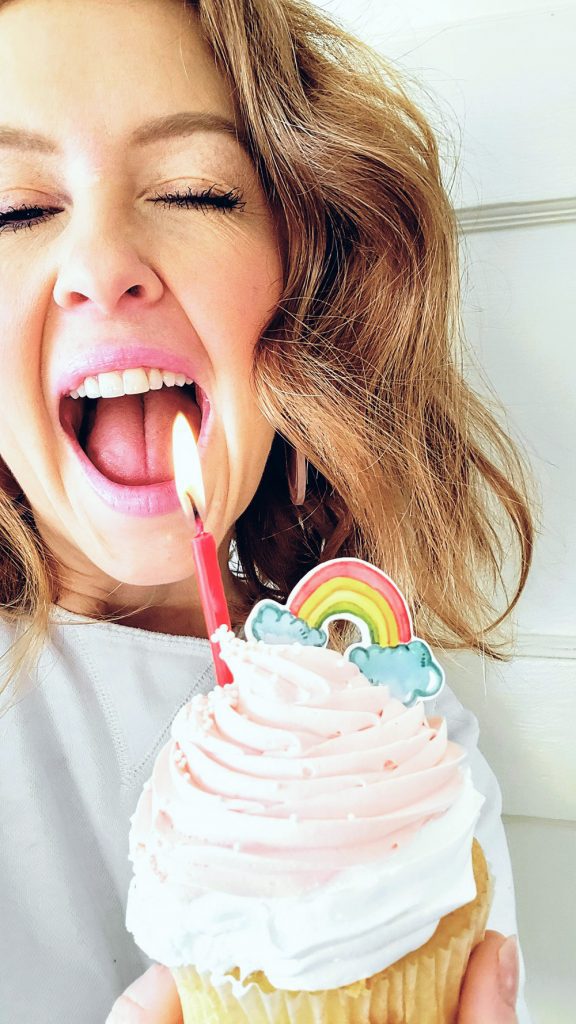 Inspired by everyday life, Mary's art comes from the ideas that pop into her head while driving down the road or cooking dinner. Her sole goal is to paint pictures that make her happy in hopes that they, in turn, make someone else happy, as well. "When people ask, How did you develop your style? I just follow what I want to do. Isn't that what we all should be doing?" Mary asks.
As MaryGold Tales grew, it did so organically. Mary tried new things and added to what she was doing. It reached a point where painting every card individually was no longer practical, so she bought a scanner, then a printer, and somehow a greeting card and stationery business was born. She then started creating things like key chains, cake toppers, notepads, mugs, and stickers. And not just any stickers, but good stickers that won't come off in the dishwasher. The basis of what she's chosen to put her art on is 100% tied to what makes her happy — and if it sells, it sells.
What started as a handful of happy cards has turned into a business that's largely driven by her @marygold.tales Instagram account. She sells her products directly from her website, www.marygoldtales.com, and can be found at local markets around Whatcom and Skagit Counties. Information on where she'll be and when is available on her website. The markets are new to her, but she already loves them for the opportunity they give to connect with other vendors, and the energy they bring as the doors open and customers pour in.
Mary can also be commissioned to paint pictures of homes or portraits in her style, which has become a big part of her business. Just as people wanted to give out her happy cards, they now want to give her art with its personal touch.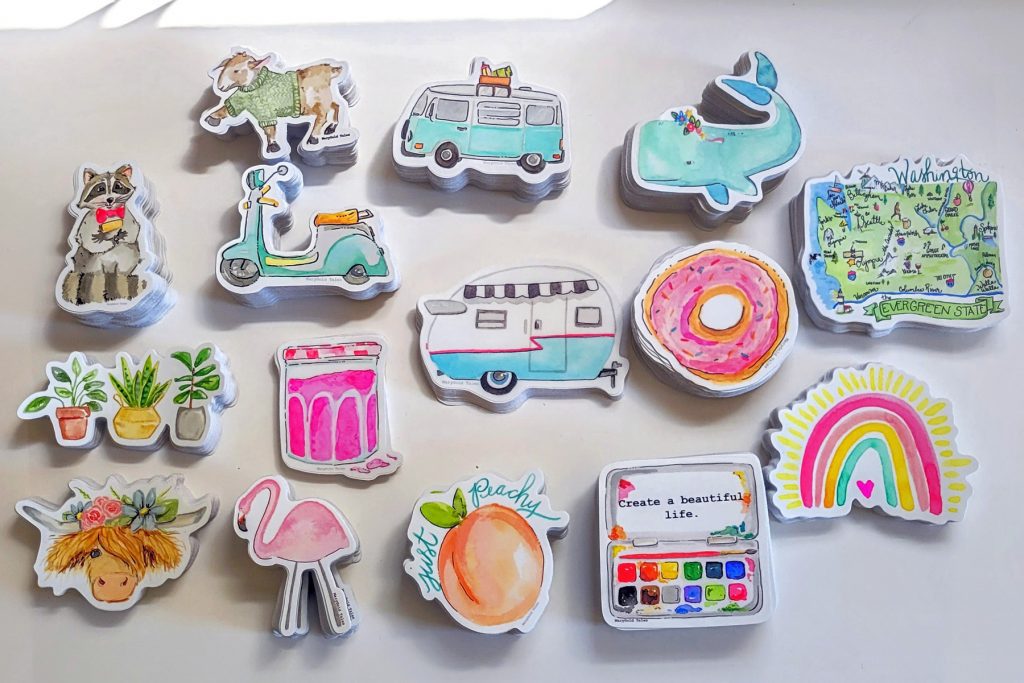 Mary's latest addition to her website: free coloring pages. They're all original and sure to bring a smile to those who color within their lines. They are available here.
Mary isn't entirely sure where her business is headed, but that doesn't worry her. "Everything has happened by a beautiful accident," she says. Mary plans to continue to allow MaryGold Tales to grow in that manner and see where it takes her. "My dream would be that I just get to continue doing this for the rest of my life."
Thrilled by what she's now doing, Mary's passion and enthusiasm pour out as she talks about her paintings. The bright colors and whimsical characters in her art reflect her personality. She hopes that by pursuing her passion she can inspire others to do the same — while also adding a little bit of happy to their day.