Content warning: KKK iconography, racism, white supremacy
The following historical feature discusses racism in Bellingham and Whatcom County and may be harmful or traumatizing to some readers. WhatcomTalk believes it's an important story to share, a reminder that we must never repeat such heinous events of the past.
Today, Bellingham is an increasingly diverse, liberally inclined community. So, it's hard to imagine a time when an organization like the Ku Klux Klan could march through its downtown streets, hundreds of members strong. It's perhaps even harder to imagine Bellingham's mayor giving a grand wizard the ceremonial key to the city.
But, almost a century ago, these things did happen.
The reasons the Klan once had such a local foothold are multi-faceted, much as the reasons the Klan itself was so detestable. While it's easy to view bygone times through nostalgia-tinged lenses, remembering the uglier parts of an area's past provides a more complete understanding of its history, and a reminder of progress made.
From the Stage to the Street
The exact dates of local Klan formation aren't clear, but several events planted seeds of interest that would blossom fully in the 1920s.
The first was a series of lectures delivered at what is now Western Washington University in March 1907. Frank Dixon, younger brother of author and white supremacist Thomas Dixon, visited to promote his brother's 1905 book, "The Clansman: A Historical Romance of the Ku Klux Klan."

The book glorified the Klan's deeds as heroic, and presented a fictionalized, absurdly racist view of Reconstruction. Frank Dixon's Bellingham lectures reportedly warned students of a "negro problem," according to a Bellingham Herald article of the era.
Adaptations of Dixon's book also affected local theaters. The play version of "The Clansman" came to Beck's Theater on Cornwall Avenue in September 1908, featuring participation from fully-robed Klansman mounted on horses.
In 1915, D.W. Griffith's motion picture adaptation, "The Birth of a Nation," broke early movie attendance records and mesmerized audiences with its visuals. The film — considered to have greatly inspired the Klan's 20th Century rebirth — played at both Bellingham's Liberty and American theaters. In a photo taken during its run at the Liberty, a man crudely wrapped in white is seen sitting atop a horse, promoting the film from Holly Street.
Among the first public admissions of a Klan presence came in an April 1922 Bellingham Herald article, in which a local man told a reporter he was a candidate for membership. A December 1922 article lent evidence to the local Klan's early activities, claiming they'd been secretly meeting for more than a year in various city office buildings. One session, held at the Woodsmen of the World headquarters on the second floor of Cornwall Avenue's Zobrist Building, likely occurred only because the Klan rented the location under an alias.
Things took a more public turn on July 4, 1923, when several Klansmen burned a cross atop Sehome Hill.
Confronted by several angry locals, a fist-fight ensued, according to a July 1923 article from "Watcher on the Tower," the Klan's official newsletter. Around this time, a Women's Auxiliary to the KKK was formed, and local chapters also appear to have had support from local clergy.
In March 1923, six robed and hooded members showed up unannounced at Bellingham's First Christian Church. Amid bewildered church-goers, they marched to the front of the altar, saluted the pastor, handed him an envelope with $100, and thanked him for his work. Similar incidents occurred in Mount Vernon, where a pastor allowed Klan members to hold lectures in his church, and at a Sedro-Woolley Methodist church.
One religious denomination the Klan did not favor was the Catholic Church. In fact, anti-Catholic sentiment was perhaps the local Klan's greatest focus.
Kolby LaBree, co-owner of Bellingham's popular 'Good Time Girls' guided history tours, says the Klan took particular issue with the Knights of Columbus, the Catholic fraternal organization. Klan publications referred to members by the nickname "Caseys," and the 1923 Sehome Hill recounting insinuates Klan members gave them a sound thumping.
The Klan actively engaged in disinformation towards rivals. Several years ago, LaBree was gifted a local 19th Century deed book. Tucked into the book was a purported Knights oath claiming the group wanted to "tear out the wombs" of Protestants.
"It was a false thing that was circulated, by the Klan, purposely trying to slander their Catholic adversaries, especially during elections," she says. "It's just crazy."
In 1924, the Klan publicly exerted political influence through a state initiative to abolish private and parochial schools in Washington State. They also sent questionnaires to all 10 of the state's Republican gubernatorial candidates, asking if they wanted the bill voted on in the general election.
After the measure failed, an article in the Bellingham Reveille appeared, arguing the failure was a good reason to ditch the KKK.
"The Klan is the most inexcusable organization ever affected in this county," it said. "Within a few years the organization will be but an unpleasant memory."
Grand Plans and Grand Wizards
Local interest in the KKK, however, did not wane.
In late September 1924, a large Klan demonstration was held at the Northwest Washington Fairgrounds. There's no official record of how many showed up to watch the roughly four-hour event, but the Bellingham Herald surmised it was "many thousands." The Lynden Tribune estimated a maximum of 25,000 people.
The event featured a band concert, a speech by Seattle's imperial Klan representative, marching drills, fireworks, and a membership initiation. The latter took place on a field with a 30- to 40-foot tall, searchlight-equipped tower at one end, and several equally tall, electrically lit "burning" crosses at the other.
By 1925, state Klan membership was estimated at 10,000, having doubled in just two years. National membership exceeded four million. This flourishing — locally and nationwide — likely resulted from several societal factors.
Squalicum High School history teacher Gabe Mayers — who wrote a 2001 Whatcom County Historical Society article about local KKK while working on his WWU master's degree — says the 1920s Klan blended into public sentiment of the era, which included the anti-immigration and eugenics movements.
These were also joined by powerful political movements, adds LaBree.
"Even with things like suffrage and the temperance movement and things like that, there was this real weirdly religious push for moral purity," she says. "I think a lot of that bled over into racism."
Thus, it makes sense the Klan was working to establish a normalized presence like other fraternal organizations of the time, says Jeff Jewell, Whatcom Museum archivist.
"The Klan was trying to present themselves as a mainstream organization, like the Kiwanis Club or the Rotary or something," Jewell says.
In April 1926, the local Klan sought perhaps their most publicly flagrant display: a permit to march in the city's annual Tulip Festival parade — a precursor to what's now the Ski to Sea parade.
Just over a week before the parade, Klan representatives attended a meeting with the festival's cabinet members, still undecided on granting the permit. A meeting just days earlier had grown heated, with three cabinet members threatening resignation.
J.J. Donovan, one of Bellingham's founding fathers and a staunch Catholic who'd helped fund St. Joseph Hospital and the Church of the Assumption, was chairman of the parade committee. Vehemently opposed, Donovan issued the final decision to deny them entry.
The Klan responded with a public parade of its own a week later.
Following an afternoon picnic in Cornwall Park, the Klan lined up more than 750 members just before 9 p.m. on May 15 at the corner of Forest and East Holly Streets, an intersection now home to the Community Food Co-op. A float with Lady Liberty, portrayed by a Lynden Klanswoman, was also included.
According to the Bellingham Herald, accounts vary on how many local Klansman actually participated. A Klan spokesman said nearly every county member was present, but spectators said they saw very few Bellingham faces. A large delegation from Grays Harbor was also present, waving a large Klan banner.
In July 1929, Bellingham held the Washington State KKK Convention at the downtown Eagles' Hall. Several thousand members were expected, though it's unclear how many showed up. Delegates held their headquarters at the Hotel Henry. Donovan, again incensed by matters, wrote a letter of protest in the Herald.
On July 27, at least 300 Klanspeople — about half of whom were reportedly women — showed up for welcome ceremonies. Mayor John A. Kellogg presented state Klan Grand Wizard, E.B. Quackenbush, with a ceremonial key to the city.
As outrageous as this is, Jewell notes Bellingham's mayor would present ceremonial keys to every convention delegation entering town, regardless of content. A Herald article indicates Kellogg also noted Bellingham City Attorney and Klan member, Charles B. Sampley, whom the Herald said was "hailed like a conquering hero" at the ceremony.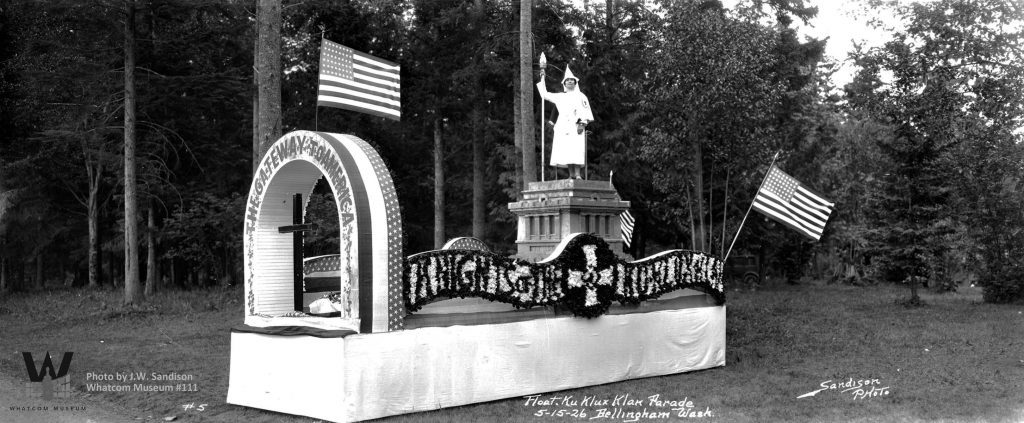 That evening, a three-float parade of about 400 members — led by a band — was held, followed by a banquet at the Eagles Hall. Sunday morning, members attended church services at First Christian Church. Remarkably, the convention ended with a call for the Klan to be even less secretive.
By 1931, local membership was likely on the decline, though the group still held a second-floor office in the Brier Building, which now houses the Bayou on Bay restaurant and apartments. If one was interested in membership, it wasn't hard to find.
"They were in the phonebook," Mayers says. "So, our whole idea of a secretive organization as it's become…at that time it was like, 'Hey, come on in; order your robes.'"
Vestiges of the Past
In 1934, a smear campaign against WWU President Charles H. Fisher was led by a group of anti-communist conservatives. They included Bellingham Herald editor Frank Sefrit, as well as Blanton Luther, a self-described Klansman and significant downtown real estate owner.
Luther's role in the campaign, which accused Fisher of overly liberal, anti-patriotic sympathies, was minimal at best, according to a 2016 Ron C. Judd paper from WWU. Nevertheless, Fisher withstood several years of accusations before being fired by Governor Clarence Martin in 1938. Luther's presence still exists in downtown's 1910-built Luther Building, at the corner of West Magnolia and Commercial streets.
The occasional Klan float also found its way into local parades as late as 1938, but as a whole, the Klan lost steam during World War II. Many former members joined the Silver Legion of America, an underground fascist group.
Those sharing Klan sympathies remained, of course: In 1959, a cross burning took place on Sehome Hill, but the culprits were unknown. By the 1960s, there were no public mentions of Klan activity amid local newspapers, though Klan sentiment in the South was felt during the civil rights movement.
Several years ago, the Whatcom Museum displayed a conical Klan hood and robes as part of its J.J. Donovan exhibit. These came from the former home of Klansman J. Frank Adams, who was also a co-owner and manager of KVOS radio, says LaBree.
Now tucked away in the Whatcom Museum archives, Jewell says there remains a fine line upon which they'd display the artifacts again.
"You need a context, and you need the right moment," he says.
Continual display might open the museum to criticism of Klan promotion, while never showing it might connote burial of a dark yet educational past. Mayers and LaBree also occasionally get Klan reminders, when students or tour-goers remark about deceased relatives with former membership.
While Whatcom County — and the country — is significantly more tolerant than it was 100 years ago, white supremacist, anti-immigrant sentiment still plagues modern political discourse today.
It proves that fear and hate, no matter the time period, can be an effective weapon of division.
"If you can chop people into their little component groups, instead of saying, 'We have all these things in common,' we're gonna be all these little things," Jewell says. "That's been a strategy for a long time."