You may have noticed a difference in the little coffee shop tucked into Fairhaven Station, where the Greyhound buses and Amtrak trains come and go. Fairhaven Coffee is under new ownership with the Machin family, who are excited to knit themselves into the local community. Jude Machin took a few minutes to talk about what brought them to the community and Fairhaven Coffee.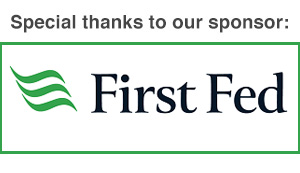 "I'm from Albuquerque, New Mexico, and my wife Amber grew up on the East Coast. We met during college in Texas and stayed there. After 20 years, I missed the mountains, and she missed the ocean. The Pacific Northwest was a perfect combination that provided both," Machin says with a laugh.
Both husband and wife had Bellingham in mind before they decided to make the move. "My wife is a pediatrician and got a job offer here in Bellingham after her residency, "Machin says. "When I came here for some guided mountain bike trips, I fell in love with Galbraith and the area. The trails are amazing, the city is amazing, the food is amazing."
For Machin, being able to bike on the street is just as important as hitting the trails. "I'm legally blind and it's not correctable, so I bike everywhere. Having a town that's bike accessible was another big factor for us."
They bought a condo in Fairhaven in 2019 and worked with an interior designer who would change the course of their lives in their new hometown. She owned a coffee shop down the road and was looking into selling it.
"One day I said to my wife, 'We should just buy that coffee shop and run it," Machin recalls. "I've always been a coffee person — but more than just enjoying coffee, I also understand the science of it and different methods of making coffee. And so we bought it!"
To prepare for their new venture, the Machins attended barista training school and [the national conference] Coffee Fest, before renovating the shop for a fresh look.
As they put roots down in the area, locals started reaching out to them, as well. "We realized that Fairhaven is an amazing microcosm of the Bellingham community. People and businesses help each other," says Machin. "First Fed heard about our plans with Fairhaven Coffee when we open our business account with them. They invited us to do a pop-up station at their Fairhaven branch location even before we had opened the coffee shop officially. It was immediately apparent how supportive First Fed is to local businesses."
"Even other coffee shops have been helpful. They are happy to share who they use to get a machine fixed or whatever. There's not really a sense of competition here. It's more of a 'how can I help you' kind of thing. There are plenty of people to buy coffee," Manchin says.
Now Fairhaven Coffee has opened officially, they are ready to welcome people coming off the trains and visitors to the area. Fairhaven Coffee supports other Bellingham businesses by stocking their products. "I would say 90% of the goods we have in here were made within 10 miles of the coffee shop, including the coffee, the tea, the shirts, and the puzzles," Machin notes. The puzzles were stocked alongside other games with traveling families in mind.
The Machins and their crew are prepared for Amtrak service to return to Fairhaven. "We'll be slammed for 20 minutes three times a day, but our team is ready for quick turnaround. When the weather is nice, there are so many people walking to Marine Park and they always stop by," he says.
First Fed is a member FDIC and equal housing lender. Meet the First Fed team in the Fairhaven branch at 1215 12th Street, Suite 105, Bellingham, WA 98225.