Professor Jim Lortz recently retired from Western Washington University's College of Fine and Performing Arts (WWU-CPFA), where he taught acting, musical theatre, voice and diction classes, and contemporary literature studies for 32 years. Conservatively, more than 7,000 students received classroom instruction from Lortz during his WWU tenure, including five summer programs when he stood in front of a lecture room with 200 eager actors each session.
At his retirement, WWU-CPFA created the Jim Lortz Theatre Enrichment Fund, an endowment to continue Jim's legacy of enhancing students' theatre education and experience. They don't do that for just anyone—and Jim is far from "just anyone."
Born and raised in Deer Lodge, Montana, Jim first stepped foot on a performance stage at the age of six, appearing in a school talent show with two friends,"Paul Wallen and Rex Kendall. "We sang "Que Sera, Sera" and were very serious," Jim recalls. "They [the audience] were laughing."
Jim's was 9 when his father passed away. "Dad was a big ham. Not a kosher ham," he jokes. He has one sibling, Rick, an older brother by three years, and the two maintain a close relationship. Sadly, Jim lost his mother when he was 27, seven years before he was hired to teach at Western.
Jim first came to Seattle in 1979 after receiving his undergraduate degree from the University of Montana. He found himself working as an actor at the Bathhouse Theater in the Greenlake District. "My life has been about luck," he says. "The Bathhouse people were wonderful people to work with. They taught me to think differently."
He returned to Missoula for a short while to work at the Montana Rep. When he was ready to come back to the Pacific Northwest, a friend at The Bathhouse told him about the teaching job at Western. In 1989, he interviewed and was hired. "How, I do not know," he quips. He became tenured. "I'm sorry my mother didn't get to see me teaching. She always thought I'd be a good teacher."
Jim has also participated in theater and other projects outside of his work on campus. He acted in and directed a number of shows at the Bellingham Theatre Guild. Two favorite stage memories came from those experiences. He performed in "Man of La Mancha" as Don Quixote, and says, "I could play him forever"—even though the experience also resulted in his favorite memory forgetting his lines.
"I forgot the lyrics to "The Impossible Dream" and had to make up the whole song," he says. "The audience looked stunned. I imagined they were thinking, 'This isn't the version Ed Ames did.'"
A favorite directing memory at BTG was during the run of "1776," when the lead actor got sick and ended up in the hospital. "There was no one else to stand in for him, so I did it," says Jim. "We cut 15 minutes off the show, and we didn't skip anything."
In addition to his local theater participation, Jim took five different groups of WWU students to Great Britain on a "Brit Tour" over their spring break, enabling them to see plays on the West End and in Ireland.
When two former WWU students created a summer camp in Binghamton, New York, Jim spent several weeks there, working with middle school and high school-aged youth, directing their shows.
He has directed over 100 musicals, his favorites being "Falsettos," "Sweeney Todd," and "Fun Home." Two favorite musicals he's seen on Broadway—14 times each—but never directed are "Once" and "Kinky Boots."
Jim's favorite thing about theater—teaching, acting, and directing—is that "it's about "touching life. Being involved with that energy, that's universal, that means something to somebody. Reaching out to connect to an audience and make them different from when they came into the theater."
What will he miss most about teaching? "Watching the kids grow."
One personal thing that he'd like people to know is that he has Parkinson's Disease. "It's okay to talk to me about it, to ask about it; don't treat it as a big elephant in the room," he says. He shared his experience with Parkinson's on stage in 2010 with "Stories from Jim and Jo," created by Ian Bivins and Pam Kuntz, which also featured MS patient Jo Pullen.
Jim's life has been blessed with many special people in his life. He considers Professor Mark Kuntz, MFA—former chair of CPFA and a directing faculty member—one of his mentors. "He makes me appreciate choices and try different things."
One of his lifelong best friends is Jerry McGarrity. The two have been friends since meeting in college in 1975, when Jim was a junior and Jerry entered as a freshman. Most recently, the two performed with The Neighborhood Playhouse in "Frog and Toad." They only did two performances. "I could do that play forever," Jim says. "Jerry will always be Toad to my Frog."
Noemi Ban was another of Jim's very best friends for many years. They first met when Jim directed "Diary of Anne Frank" at WWU and learned that Noemi, a Holocaust survivor, would speak to groups about her experience. "Every time I ran into her at Fred Meyers, I'd help her with her groceries and help her out to her car, and we became friends." One eventual result of their friendship was the powerful film, "My Name Is Noemi," released in 2009.
In preparation for this article, I reached out to a few of his colleagues who shared how much Jim meant to them and the community.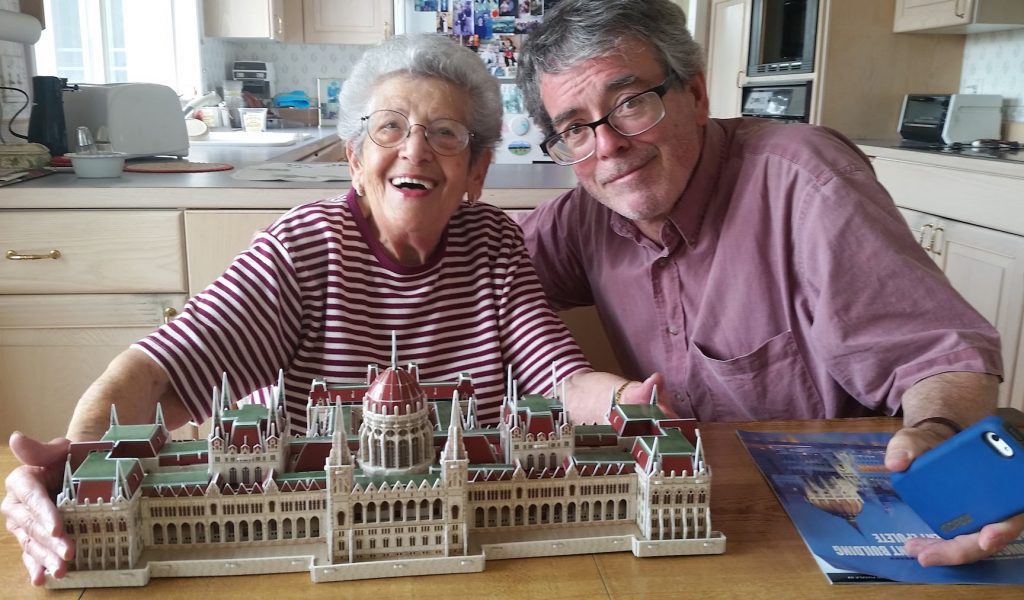 Rich Brown, PhD, Professor of Acting and Movement – Chair, Theatre & Dance: "Jim Lortz is the heart of the department with every interaction. He always wants to give the students just what they need at every interaction."
Ryan Dudenbostel, DMA, Associate Professor of Music and Director of Orchestral Studies: "I first came to know Jim Lortz in 2003. I was 20, and assistant-conducting a production of "Sweeney Todd" at Western. Jim was kind enough to indulge my naivety. He never expressed doubt about my capabilities. It's hard to express the sense of privilege and responsibility I feel in leading "Cabaret" and doing right by this fellow artist and teacher to whom I owe so much."
Pam Kuntz, Dance Program Advisor, Senior Instructor: "Jim sees people. Jim invites his students to share of themselves. He does this with patience and compassion. He creates a safe space for artists to learn to be vulnerable, to be vulnerable, an essential quality for a performing artist."
Maureen O'Reilly, Emeritus Professor of Theatre: "Jim Lortz is a sextuple threat (we often talk about a performer as triple threat…singer, dancer, actor)…Jim is that plus director, choreographer, and supporter of other peoples' work. As he would say: 'It's all good.'"
Erin Emry, Admin Services Manager, CPFA and former student: "The first time I met Jim I sensed that he was sincerely interested in me as a person. I was drawn into a close friendship with him immediately. With Jim, I am able to be my most vulnerable self, without feeling judged—just supported and loved."
Beth Leonard, MFA, Emeritus Professor of Theatre: "There are few people I admire more than Jim Lortz. He is a master teacher who cares not only about imparting information based often on a lifetime in this business but always cared about the students themselves; their worries and challenges as well as successes. Obviously, I admire this irreplaceable human being. Jim means more to me than he will ever know and having him in my life is simply one of the blessings I received by coming across the country to become part of the Department of Theatre and Dance."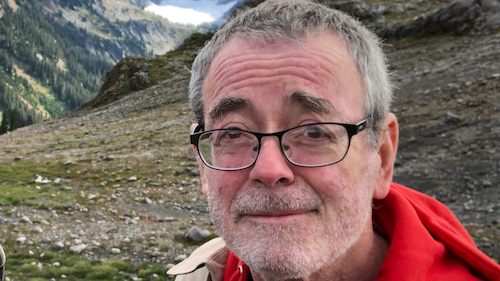 Steve Ban, retired physician and Noemi Ban's oldest son: "He and my mom had a unique and deep relationship. He was instrumental in making her feel important and that she was contributing to Holocaust education in a real way. It was so important to her, being a lifelong teacher. Jim helped steer her towards the kind of presentation that furthered her goal, including having the film made. On his retirement, my mom might say, 'it's about time you relaxed and not work so hard.' And she would acknowledge and thank him for helping her and giving her life meaning and making it more useful and relevant."
After the lights came down for the final curtain of Jim's recent staging of "Cabaret," a number of friends and former students gathered at the Ferry Building for a ceremony to honor him. At the end of a short presentation, the entire crowd took to their feet to sing the final verse of "What I Did For Love" from "A Chorus Line" to our teacher and friend, Jim Lortz.
"Kiss today goodbye, and point me t'ward tomorrow. We did what we had to do. Won't forget, can't regret, what I did for love… what I did for love… what I did for love."
A more fitting lyric couldn't be found.
Featured photo by Lizanne Schader