Whatcom County is home to some of the best mountain bike trails and triathlon scenery in the entire country. And from daily road bike commuters to hardcore trail hounds, there's no shortage of riders out there pedaling with purpose.
Inevitably, anyone who crushes enough miles on their bike will experience an injury, either from an accident, overuse, or suboptimal cycling mechanics. Fortunately, CorePhysio—Bellingham-based physical therapy experts—has multiple clinicians who are also passionate riders, from the streets of Fairhaven to the trails of Galbraith Mountain.
Two of those clinicians, Evan Palmer PT DPT MTC and Frank Kingman PTA have particular interest and experience in helping bikers prevent and heal from injury. Palmer joined the practice in 2021 after six years as a sports and orthopedic physical therapist in the Bellevue area, and Kingman—a former engineer—officially became a clinician in June 2021, having graduated from WCC's PTA program after four years at CorePhysio as a clinical aide.
Both ardent mountain bikers, the duo have seen—and experienced—the gamut of bicycle injuries, from overuse issues with knees, hips, ankles, and feet to traumatic crash injuries like broken shoulder blades and collarbones.
Among non-crash injuries, Kingman says the repetitive motions of biking ensure a weakness or impending issue will make itself known.
"If you've got something that's not quite balanced in the way that you're riding, and you go out on a couple-hour ride and pedal a few thousand times, your body may present with discomfort that can definitely be addressed with skilled physical therapy," he says.
Fit for a King
One of the ways to ensure healthy riding is to look at receiving a clinical bike fit—something a bit different from a traditional fitting done at a bike shop.
Palmer, a Doctor of Physical Therapy, conducts clinical bike fitting at CorePhysio. He begins this process by performing a comprehensive assessment of a client's musculoskeletal system, examining the range of motion of their joints, in addition to muscle length and strength.
Having completed a full physical therapy evaluation, Palmer than examines clients as they ride their bike on a stationary trainer, similar to conducting a gait analysis of someone running on a treadmill. Palmer takes measurements of the client athlete, fine-tuning ergonomic and gear adjustments, to optimize the biomechanics of their pedal stroke and position on the bike.
Kingman, who is interested in becoming certified to conduct clinical bike fitting, compares riding an ill-fitting bike to wearing the wrong size shoes or using skis that aren't the right length: you need to use your equipment properly to get the most out of it.
"I can't emphasize enough how important it is for people to get an appropriate bike fit," he says.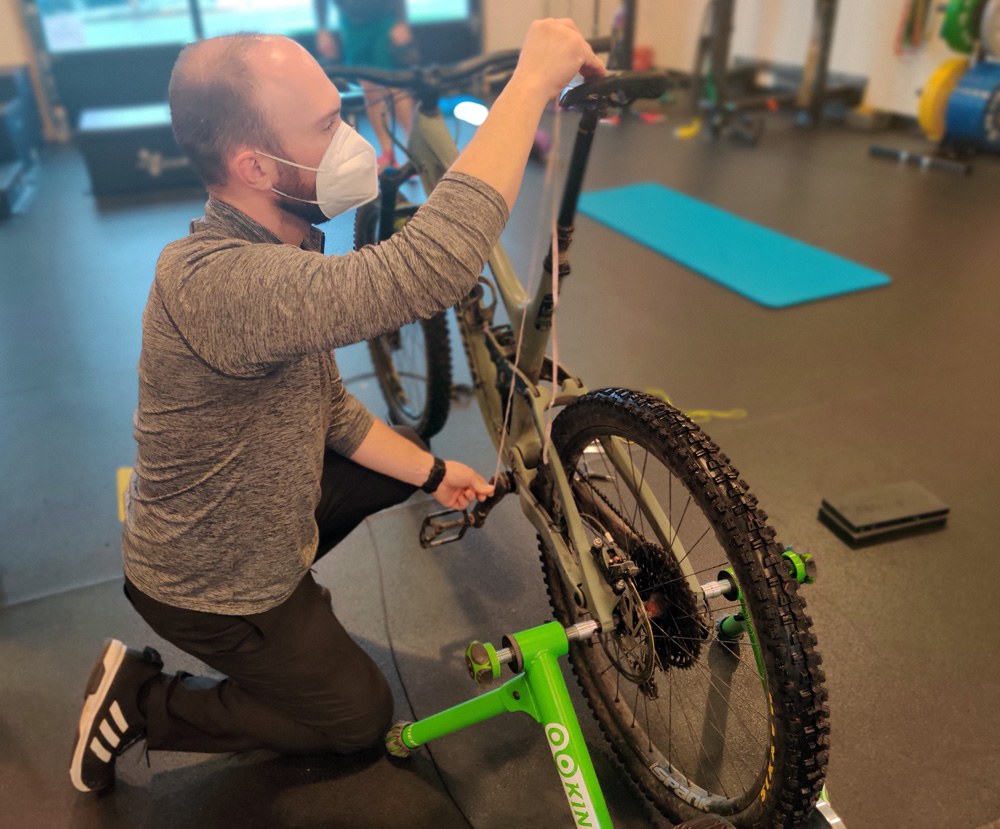 Recovering Right
Another focus of cycling-based physical therapy is riding recovery: what do you do after your ride is done?
For many Bellingham area riders, recovery often consists of little more than a beer with friends, forgetting to properly care for the muscles you've just strenuously worked, Kingman says.
Preventing injury and pain means being sure to stretch muscles after a ride, including using a foam roller, exercise ball, or other devices. Simple exercises like extending your back over a ball can help lengthen muscles that may have been in a flexed position for hours on the bike, Kingman adds.
Palmer points out that proper sleep is also paramount for muscle recovery. Cross-training is also beneficial, as the repetitive and sometime linear workout of a bicycle leaves some muscles underused.
For instance, if you're not clipping your feet to your pedals, you're probably not using your hamstrings as much as you think, Kingman says. Additionally, being seated on a bicycle means certain muscles might not get stretched as much as they ultimately should for proper strength conditioning.
Finding out what underused areas can help achieve balanced conditioning, both men say, is critical for overall strength and flexibility.
Finding Trust
Being mountain bikers helps Kingman and Palmer to establish good rapport with their clients, establishing a high level of trust because both sides of the exam room understand one another, especially when it comes to injuries.
"I know what it feels like," Palmer says. "I can empathize with their pain."
In general, both clinicians say they encounter very little resistance to the professional advice they give, as most local riders are committed and motivated to heal properly and achieve longevity in their sport.
"We want cyclists who are injured to get back on their bike as soon as they possibly can, if that's what they want," Kingman says. "We're going to do everything we can to give you the tools and the information on how to do that, and we're going to be incredibly honest about it."
And because mountain biking is often a very technical craft, seeing a cyclist-clinician at CorePhysio means their familiarity with local trails allows them to make "trail prescriptions"—advice on the best trail given a patient's particular issues.
Rooty, chunky trails that are hard on upper bodies, for instance, might be a poor idea for someone healing from a shoulder injury, Kingman says, allowing him to direct a patient to a smoother trail option.
Whether a rider's focus is dealing with a pain, strain or sprain, or a focus on performance enhancement, CorePhysio can help, says Elizabeth Hampton, CEO of the company and an avid bicyclist.
The practice's lead personal trainer, Luke Galloway, works closely with clinicians to help clients achieve their personal recovery goals, as well as with his personal training clients on overall sports-specific strength and conditioning.
"Our clinical and personal training teams are accustomed to challenging clients who are very high-level in performance training, as well as those who are new to the sport," Hampton says.
In addition, the practice has board-certified pelvic health specialists, meaning any issues with an area critical for sitting comfortably on a bike seat can be addressed. It is not unusual for cyclists to experience symptoms, ranging from numbness to pain in their pelvis or sitting bones during longer rides. Ensuring optimal bike fit, as well as skilled treatment is key to promptly address all factors and prevent symptoms from becoming chronic.
In one study, up to 6.9% of mountain bikers were reported to have experienced concussion. CorePhysio's concussion management program incorporates the latest research and are experienced with helping post-concussion clients recover fully so they can return to daily life, including riding, successfully and safely.
All in all, CorePhysio is a physical therapy practice of bikers helping bikers, and they look forward to helping in any way they can.
"Being able to serve the community of cyclists is something that we've always loved," says Hampton.
Featured photo of CorePhysio PT clinician Frank Kingman courtesy Frank Kingman