Longevity in a career is worth its weight in gold, and the Chrysalis Inn & Spa of Bellingham has a priceless talent for nurturing an environment of mutual respect and camaraderie within its workforce. Employees John Souza, Rebecca Ellis, and Cassie Wiebe personify the strength and dedication behind what it means to work in the hospitality industry.
John Souza
Front Desk Agent and Graphic Designer John Souza fills his roles with fervor and a natural touch for hospitality. He's worked in the industry since his mid-twenties, beginning his career in Minnesota before making the trek out west. "I moved out here to Bellingham in 2005 to visit new places," says Souza, ""I always had my eye on the west coast."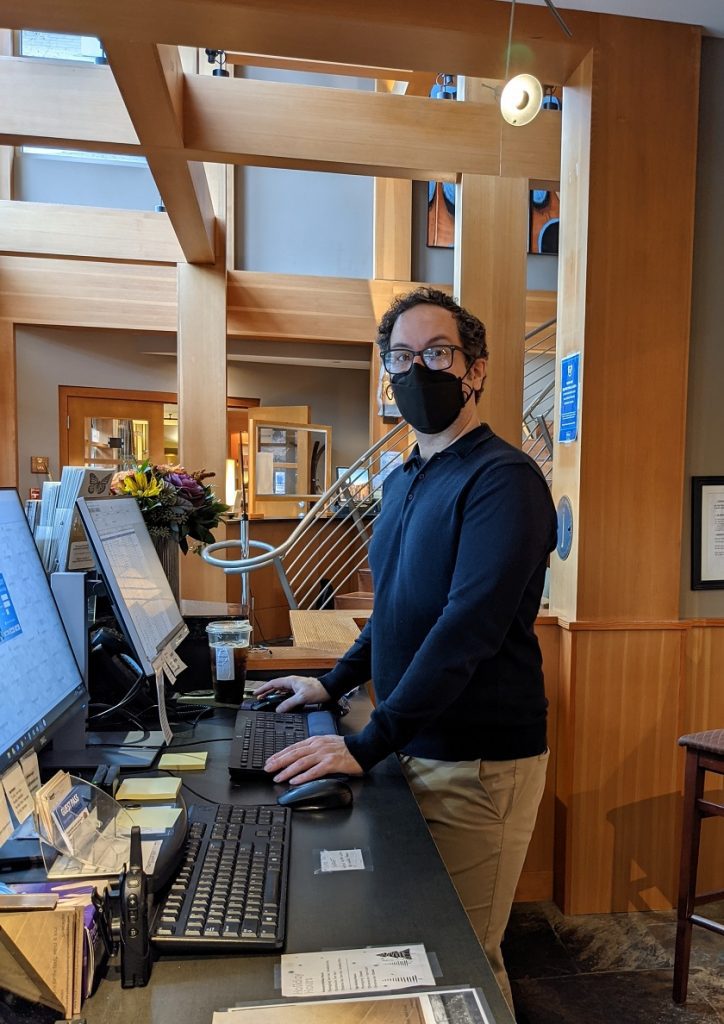 Upon his arrival, Souza secured a position with Village Inn for three years before moving to the Chrysalis Inn & Spa, where he has stayed for the past 13 years.
After starting out at the front desk, John eventually went back to school and studied graphic design, a move that helped him transition to other opportunities within the Chrysalis. "I was able to segue into the sales department at the Chrysalis after going back to school for graphic design," Souza says. "I did some of the early web work for them before we partnered with Hilton." Now he works the front desk on Fridays and Saturdays while doing graphic design for the Chrysalis remotely.
It is a challenging balance, but Souza gets it right. His versatility at the Chrysalis knows no bounds, and Souza comments that to be the front desk is to be multitasking and making quick decisions, especially at their busiest times.
John also recognizes the unique benefits to working up front and the welcoming atmosphere he seeks to achieve with their guests. "It's always nice to see different people from different areas of the country, and the world," he says. "We always make people feel welcome and safe. Especially now, we want people to feel like they have a safe space to come to."
Outside of his busy schedule, John maintains a quiet and peaceful life. "I enjoy Netflix, hiking, biking, and reading good books," he says. "I definitely love science fiction movies and shows." You can also catch him reading design books and learning more about his craft.
It's clear John has a love for his career and the people he works with at the Chrysalis Inn & Spa.
"The Chrysalis is a great team and within the departments there are a lot of people that have been there for a few good years," Souza says. "It's a good team, a good family, and the management always has our backs."
Rebecca Ellis
Laundry Manager Rebecca Ellis has been working for the Chrysalis Inn & Spa for more than 16 years. Her days at the inn are a flurry of activity from the moment she walks into work, to the moment she leaves.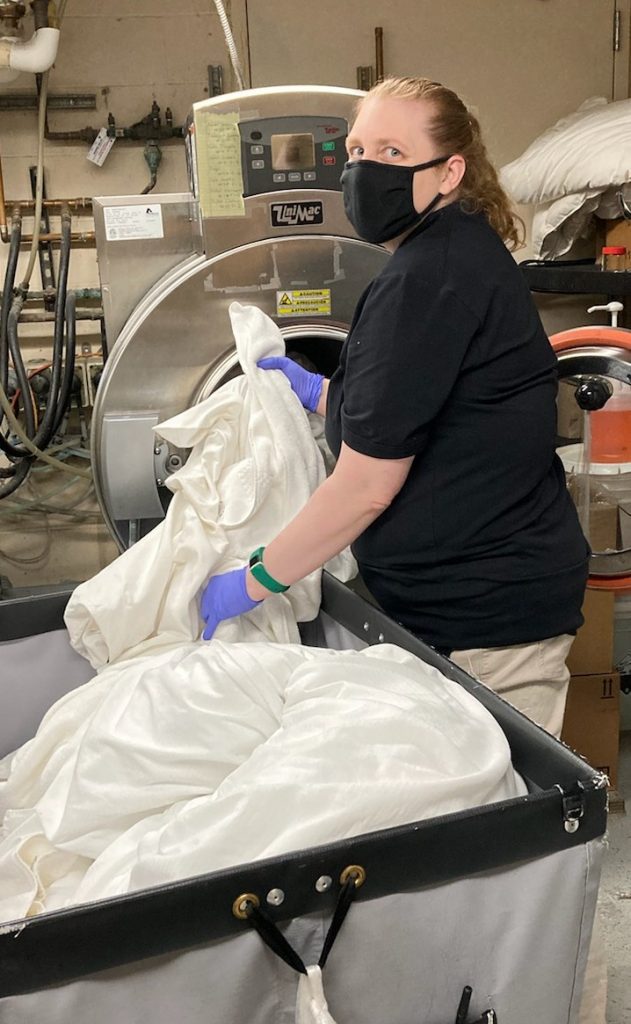 "Usually, I get there about 8 o'clock and I get the laundry room up and running," says Ellis, "Throughout the day, there are people in the laundry room from eight in the morning till eight at night. We wash, fold, sort all the linen that comes down, and then run clean linen to the housekeeping closets."
Ellis helps run the essential workforce at the Inn that keeps key components fresh and smelling heavenly.
Next year will mark the seventeenth year Ellis has worked for the Chrysalis, continuing to achieve longevity in a career serving others. When she first began, she worked with housekeeping and slowly transitioned over to the laundry department.
"They had an ad out for housekeeping, and I applied for the position," Ellis recalls. "I was in housekeeping for 6 to 8 years cleaning rooms, then I moved into the spa and did the spa attendant position. Finally, I ended up moving into laundry and have been down there for about seven to eight years."
Ellis credits her management and her co-workers for her desire to stay at the Inn for so long—it is simply an enjoyable atmosphere to be a part of.
Outside of her career in hospitality, Ellis appreciates the simple pleasures in life. She lives with and adores her two cats, Johnny and Naya. On any given day, Ellis can be found listening to crime stories or walking the trails around her home. "I'm a huge movie fan and a huge cat person," Ellis says. "I watch romantic comedies and action movies, too." Rocketman, a moving biopic about Elton John, is a recent favorite of hers but Ellis jokes she hasn't had the time "yet" to watch the expansive collection of Marvel movies.
Cassie Wiebe
Lead Massage Therapist Cassie Wiebe brings a wealth of experience and a passion for helping others to the Chrysalis Inn & Spa team. A longtime lover of exercise and the outdoors, Wiebe enjoys running and hiking on her off days, and any quality time spent with her beloved fur babies is her favorite place to be. "I am well known for being absolutely obsessed with my dogs," Wiebe says.
This Whatcom native also loves exploring her roots in the home she's known her whole life. "I was born and raised in Whatcom County, and I love it here," she says. "I always knew I wanted to work somewhere in Bellingham and not move away."
After working part time at a local gym, Wiebe heard good things about the Chrysalis Inn & Spa and decided to apply. "It seemed like a nice change of scenery," Wiebe says. "Over time, I've slowly transitioned to full time work with the Chrysalis."
The most fulfilling part of her job is the impact that she has on her clients, something she loves most about being a massage therapist. "It's nice to be a part of their celebrations; it's nice to be a pleasant part of their day," says Wiebe. "They come in with aches and pains, and I try my best to make that hour, hour-and-a-half of their day a positive experience."
Like John and Rebecca, Cassie embodies the encouraging and hospitable atmosphere the Chrysalis Inn & Spa has come to be celebrated for.
Featured photo of Cassie Wiebe courtesy of the Chrysalis Inn & Spa
Sponsored