On a rainy winter night back in 2012, a group of bicyclists led by Therese Kelliher gathered in the meeting room at the old Public Market building to form a citizen's advocacy group to promote safe walking and bicycling in Bellingham.
These local advocates were doing what they could on their own and hoped that by combining efforts they could have a greater effect. Calling themselves WalkBikeBus Bellingham, they discussed their individual efforts (for example, one member had been contacting local business to request bike parking), and what they might be able to do better as a group.
It's taken years to refine the group's purpose but today, rebranded as Walk and Roll and a registered nonprofit organization with a four-member board, the group fosters citizen participation in local planning—and has gathered serious momentum.
In the early days, members attended meetings of the City Council and the Transportation Planning Committee to learn how the planning process works and the best time to get involved as citizens.
"Usually, by the time people develop an opinion on what's happening, it's too late; the plan is set in stone," says board member Sonja Max. "We want to get the word out to people so they can comment while it can still make a difference."
For Bellingham, public involvement in planning means staying abreast of the City's Bicycle and Pedestrian Master Plans, which provide the basis for the Transportation Improvement Plan (TIP).
The Master Plan documents list proposed infrastructure projects, and the TIP, which covers a 6-year period and is updated every 2 years, prioritizes the projects and shows their funding status. Examples of recently completed projects include the Chestnut Street Buffered Bike Lane and the HAWK (High-intensity Activated crossWalK) lighted crosswalks on Alabama Street, providing safe crossing points for neighborhood residents who want to walk to the business district in Sunnyland.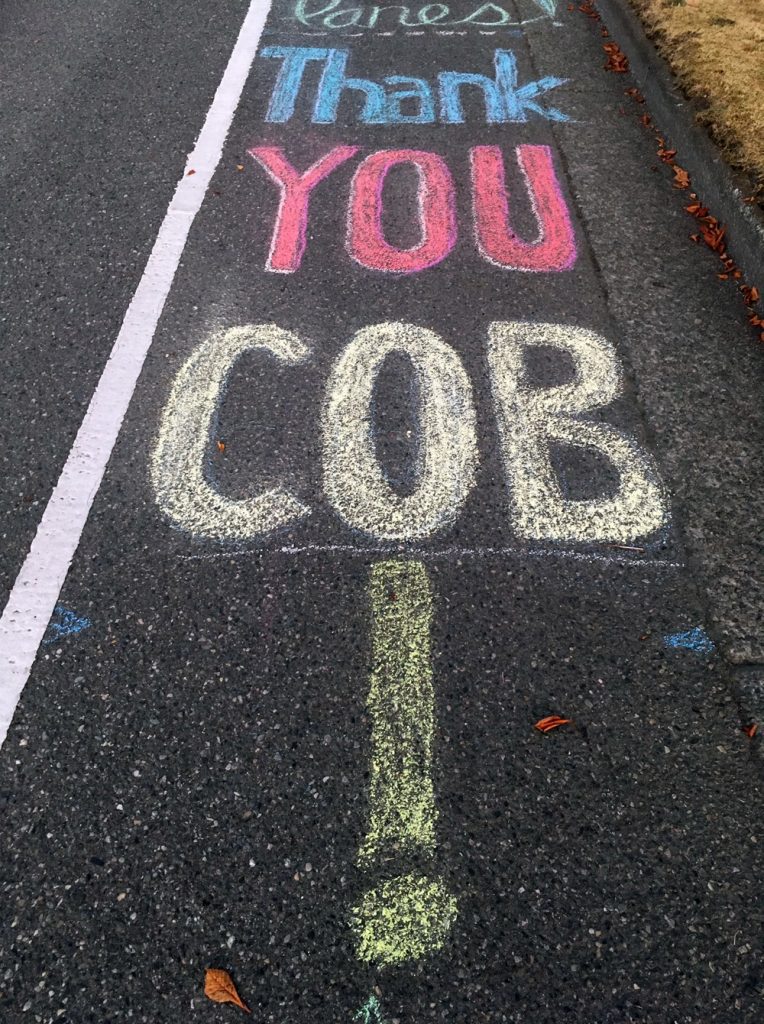 The group's mission is "to create a safer, healthier, and more livable city by improving and expanding our active transportation system through policy, infrastructure, and awareness. Walk and Roll Bellingham envisions a future where everyone in Bellingham can comfortably walk, pedal, and roll anywhere they want to go."
Max emphasizes that Walk and Roll is not anti-car; most people who ride bikes for transportation also own cars they use when a car is needed. "The point," Max says, "is to make active transportation an option people can always choose."
"People struggle with street safety in every neighborhood," says board member Robin Thomas. "I wanted a group where we could address these problems across the city instead of block by block."
I-5 creates a problem that is common in cities of our size; the freeway cuts through town, creating a roadblock with limited over- and underpasses. Improvements to these bypasses are a high priority for the City of Bellingham.
People's comfort level with active transportation varies. Some people will go out and use any street; others need areas separated from traffic to feel safe. Walk and Roll aims to promote infrastructure that can be used comfortably by more people.
Walk and Roll includes disability infrastructure in their advocacy; the "roll" can mean using a wheelchair or mobility scooter. When walking infrastructure is improved, the quality of wheelchair access can improve too, with careful planning. Recently, Seattle's Disability Mobility Initiative (DMI) invited people with disabilities in cities all over Western Washington to comment on their experience with their local infrastructure and talk about how they get around.
Walk and Roll helped get the word out and connect Bellingham residents with the DMI and its resources. One thing that came from the study is that people with disabilities don't all use wheelchairs or walking aids; many people with disabilities use bicycles to get around and maintain optimal physical health.
Walk and Roll maintains ties with the Washington Department of Transportation through regular contact with Barb Chamberlain, the state's director of active transportation. Chamberlain alerts the group to opportunities to participate in state-level transportation planning.
During the pandemic, participation rose sharply—live events in Olympia had drawn about 30 participants, while similar events had 800 people watching via Zoom. Max hopes to see a hybrid approach when live events are back on; people could go to the venue or log in from home.
Inspiration for infrastructure improvements comes from many sources. Members look into what transportation engineers are doing in other countries, U.S. programs like Safe Routes to School, and pilot projects in other cities. Many of these ideas can be proposed to the City Public Works Department in a public comment, and while the ideas may not be adopted right away, at least they get seen, discussed, and perhaps adapted for future use. Change happens slowly, and patience is necessary for this kind of work.
The group fosters a collaborative relationship with the City Public Works Department. They've invited people from Public Works on neighborhood bike rides to experience the areas firsthand and see the opportunities for improvement.
Walk and Roll member Cindy Madigan led the group along her own walking route to work along Lakeway Drive, in which she has sidewalks most of the way, but she must cross 12 business driveways with no protection from cars turning in and out. (Many cities use raised crosswalks and other traffic-calming devices to protect pedestrians in such situations.) Before a new HAWK crossing was installed in her neighborhood, she had to leave 15 minutes early to wait for a gap in traffic to run across the street if she wanted to ride the bus downtown.
For Walk and Roll, public involvement also includes thanking the City and local businesses for their completed projects. Businesses that encourage active transportation with bike parking or other amenities are highlighted on the Walk and Roll Facebook page.
Recently, Walk and Roll held an event where people could write messages to the City in chalk in the new Chestnut Street buffered bike lane. Volunteers watched for bikes and cleared the chalk artists out of the way so people on bicycles didn't have to venture into traffic to pass by.
Communities with a vibrant active-transportation infrastructure are safer, healthier, more connected, and more livable for everyone. Walk and Roll aims to help guide Bellingham into the future as a stronger community.