The Rhetorician. The Black Ranger. Jordan Moss. A man of many names and talents who is also bringing a hip-hop revolution to Bellingham. Moss is a musician and artist who describes his work as nostalgic and reminiscent of '90s hip-hop. "It's very introspective and poetic," he says. "And there's an element of lightheartedness to it."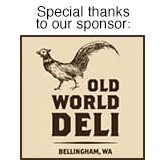 Moss draws his inspiration from many places. "It comes a lot from being in nature," he says. "It's a whole lifestyle, too, of training, sleeping, and just being around good people and getting in good artist conversations. A lot of the answers from the questions I'm working through come when I'm out talking to other artists."
Moss has a strong team of creative collaborators in Bellingham. "For video, there's my buddy Conor at Walking Distance Media. And producer friends KLEFTO and Slap Serif," he says. "And bandmates who are really talented musicians." Moss' band is called the Duper Humans.
These collaborations, as well as Moss' poetry, introspection, and lightheartedness, are on full display in his most recent short film, the Descendant of Zack Taylor. It's the first in a series of short films that explores the story of the Black Ranger, Moss' musical alter-ego.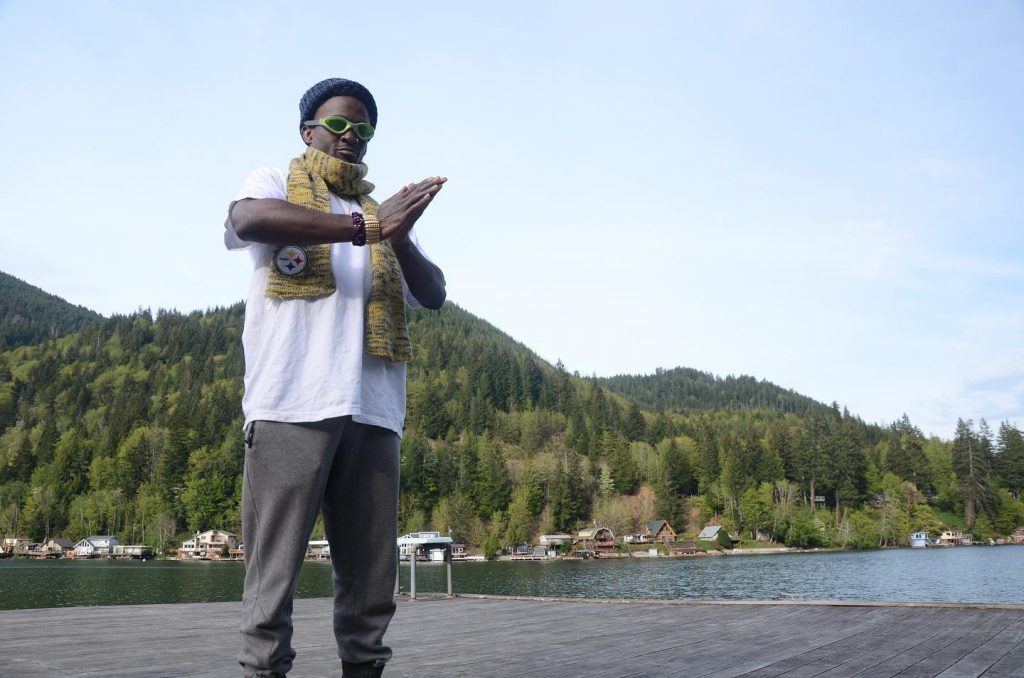 "The Black Ranger started off as a joke," says Moss. "I would just take videos of myself on Snapchat and speed them up, doing all kinds of crazy kicks and punches. Eventually, I started doing a jump and taking a picture over a landscape; it was kind of like planking, in a way. When I decided to make music, it turned into a rap alter-ego."
The Black Ranger is a fanfiction character, a descendant of the Black Power Ranger, Zack Taylor. The journey of the Black Ranger intertwines with Moss' own life, and then transforms into fantasy.
"The story starts out like this," he begins. "I have a daughter who lives back out east. She's in an open adoption, and going through that process. I was trying to figure out what was best for her. I thought I could figure out a way to raise her. I have a big family, and that's what we do. But my ex and I decided it was best to put her in an open adoption. It's a great situation now, and those parents are amazing. And that's where the project starts out. I have to find deeper meaning within the self."
In the video, Moss as the Black Ranger heads to the forest to begin that journey, complete with a horse-sized cat, based on his real cat, Mr. Tim. "Shout out to my friend Mo," Moss says. "She's a really good cosplay artist in town. It took her 30 hours, putting all the hair and foam on."
The Black Ranger continues to journey towards that deeper meaning throughout the short film, strengthening his body, his rhymes, and fighting nemeses alongside the giant Mr. Tim. It's the kind of music and art that inspires personal reflection, as well as makes you dance and have a good time.
Moss' music couldn't come at a better time, both for himself and for the community. "People are hungry for music!" he exclaims. "It's been so cool to connect with them. There's a part of me that wants to rest and hibernate so I can just create, but there's a need to be out right now."
The Rhetorician is the superhero that Bellingham needs. "Hip-hop's not really big here at all," Moss says. "There's starting to be more artists and bands, and people are showing up at shows."He's had a string of performances recently, performing at Juneteenth and Boundary Bay, and more to come. On August 28th, The Rhetorician will headline at the Wild Buffalo.
And there are more creative projects on the horizon for Moss, too, as he develops the character of the Black Ranger in his short film series, works on new music with his band, and continues to bring music and rhetoric to the people of Bellingham and beyond.
But for Moss, the music is about so much more than performance. "It's been mostly for healing," he says. "You flip the pain, right, and it just feels so good. There's a moment of magic when everything kind of just goes together. It's perfect in a way you can't explain. You're like…that was it, right there, whatever that was. I love that."
Watch the magic happen at the Wild Buffalo on August 28th, or find the Rhetorician online.
Featured photo by Matt Remsbecher