Bellingham offers pleasant sights and sounds to all who have ever called the city of subdued excitement home. This has long interested Seattle artist Ryan Haight, whose Instagram @My_Art_Bytes depicts Washington scenery in the style of early 8-bit and 16-bit video games.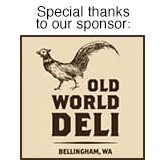 "I was born in Spokane, and I grew up there until like I was 18, [when] I moved over to Bellingham to go to school at Western," says Haight. "I really enjoyed Bellingham a lot more than Spokane. And I also feel that Whatcom County has really excellent scenes for pixel art."
Haight's art has quickly become popular on social media. On Instagram, over 3,700 followers share his animations of familiar scenery depicted in a comfortably retro art style.
"I grew up enjoying games a lot, and as a kid I wanted to try to make games or play games for a living—but once you grow up you realize that's probably not gonna happen," Haight says. "So, I just started messing around on a computer and watching YouTube videos about how to make games and how to make game art, and then I decided to try it myself and post it on the internet for other people to see."
Rendering an 8-bit Bellingham
Haight's pixel art starts with taking or acquiring reference photos of a given building or landscape.
"Once I have a bunch of reference photos and I know what angle I want to try to make the piece of art from, I will pull up a bunch of reference photos on one monitor and start doing pixel art on the other," Haight says, "and just block out the buildings or the plants, the relative shape of things."
Most of Haight's work goes into animating scenes and choosing colors and textures that bring images to life.
"I think that's one of the most challenging and creative parts of pixel art," says Haight. "Trying to describe a scene with relatively low amounts of information and through that, trying to make textures that are interpretable as different materials."
Whatcom County scenes in Haight's art include various WWU locations, the Bellingham Herald building, Pel'meni Restaurant, and several local houses.
"It has like an excellent combination of urban and rural settings," Haight says. "Even though I wasn't raised there, I feel like there's a lot of nostalgia to tap into just in the settings, in the university and the very approachable downtown area."
Haight has also depicted Seattle locations such as Pike Place Market, Capitol Hill, and University of Washington, as well as sites in Whidbey Island, Vancouver, Eugene, Cincinnati, Portland, and Spokane.
Everything Old is New Again
Haight started posting his art on Reddit community r/PixelArt, citing influences such as Pacific Northwest pixel artist 8pixl and classic video games in general.
"Back in the day, they had to make pixel art because of performance constraints on the consoles," Haight says. "Nowadays, pixel art isn't necessary to run a game on a computer; graphics have evolved, but people still elect to use pixel art in a lot of games simply because it evokes feelings of nostalgia for older games for some people."
In addition to his positive reception on social media, the Associated Students of Western Washington University feature Haight's art on several webpages.
"I think a lot of art I have is kind of escapist or something," says Haight. "You wanna go there, live there, but it's cool to see a place where you already live or have lived displayed in that light, in this sort of rose-tinted perfectionist light. And so, people will often message me and be like, 'Oh, I miss going to school at Western! Thank you for making this art.' Or, 'Oh, I live right down the street from that, this is awesome!' And it always is really cool to get that feedback."
Leveling Up
Haight plans to continue making pixel art of Pacific Northwest environs.
"Eventually, I want to make a video game, because I went to Western, I got a degree in computer science, and I feel like I could do it if I just sat down and did it for, like, three years," Haight says. "But it's impossible to stick to one project for that long for me, so we'll see if that ever happens—maybe a video game by 2030 or something."
In addition to Instagram, Haight posts pixel art on Twitter and sells prints on INPRNT, allowing these pieces to feel like home in more ways than one.