When Bellingham musician Pace Rubadeau first picked up a horn instrument as a teenager, he couldn't have known that three decades later, in response to a pandemic and statewide shutdown, he would play his trusty trumpet for 68 days straight in a lonely parking lot in the middle of downtown.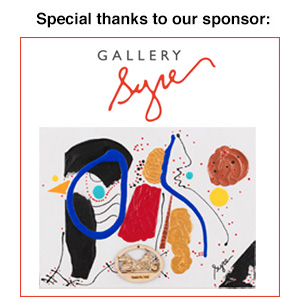 Pace started playing music as a child in the Midwest, picking up the trumpet in junior high. By 2001, Pace had graduated from high school and traveled with a Ska band across the country. He realized music was his path but wanted to expand his musical education while continuing to travel, so he joined the Army to play in the Army Band and was stationed in Germany. He learned much from the musicians he played with. Here's one of his samples from his Army band days. His unit deployed three months after he separated from the military, in 2003.
He continued to add to his resume by playing music all over the world, comforting audiences with recognizable music. (Though he says he'd be happy if no one ever asked him to play "In the Mood" again.)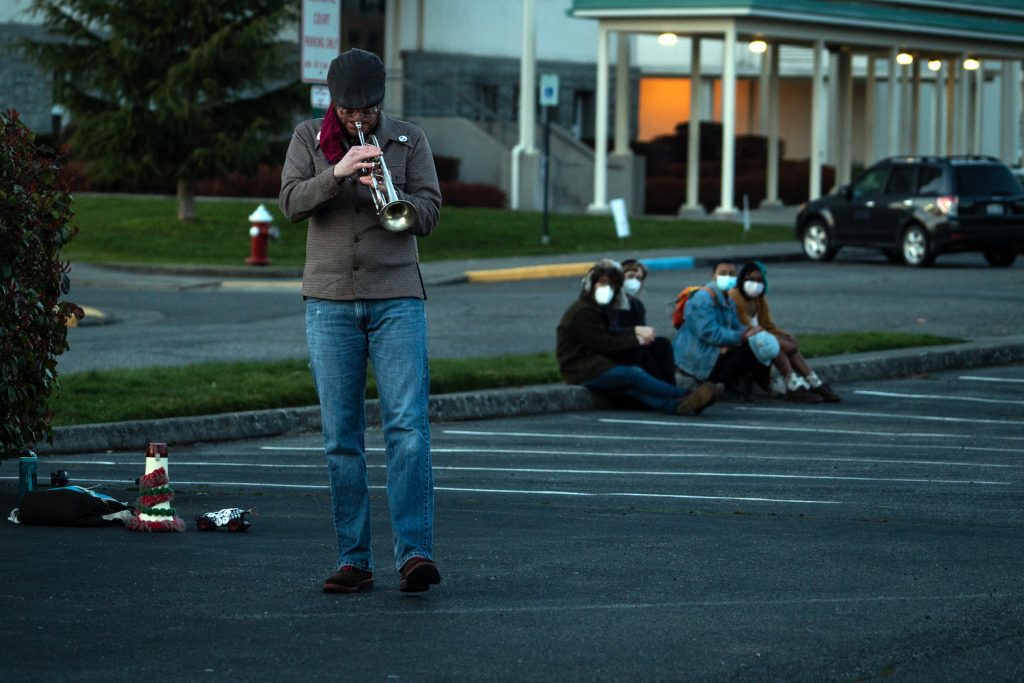 Pace felt he had seen the world, and instinctively knew he would live eventually his life in the Pacific Northwest. He moved to Portland in 2010 where he worked with Deklun, an electronic artist he met doing soundtrack work for an independent film company in Los Angeles.
Deklun shared Pace's love for the ways in which environment impacted sound. They collaborated for several years and played all-outdoor shows that were totally improvisational. (Listen to one of the gems that resulted from their pairing here.)
Pace created Inspirational Beets, a jazz/swing band that played all over Portland and contracted with the Portland Spirit, a 150-foot yacht, that hosted affordable musical experiences and sailed up and down the Willamette River.
In 2015, Pace crossed paths with the late Lucas Hicks in Portland. Pace had met Lucas years before, when the Gallus Brothers were on tour. Lucas invited Pace to visit Bellingham. Pace had been yearning to live in a more connected community and had an immediate feeling of "home" when Lucas walked him around town. Pace moved to Bellingham on November 1, 2015, and never looked back.
Pace had become aware of an area in the open parking lot of the Municipal Courthouse Building, just outside where he and his partner Kate lived. He knew how the sound of his open trumpet would be affected by the physical environment, thanks to his experience with Deklun.
"All I have to do is take a look at the landscape and know, okay, there's a concrete building over here and this huge tree waving in the distance that will create a pretty magical acoustic experience," he says. "It's super nerdy."
The day Pace and Kate lost their service industry jobs, in March 2020, he decided to go outside to that spot and play one song. One song became two, and then three. He continued to play as onlookers made noise in support of the music. It was therapeutic for him "and a coping mechanism" he says. "It gave a sense of normalcy."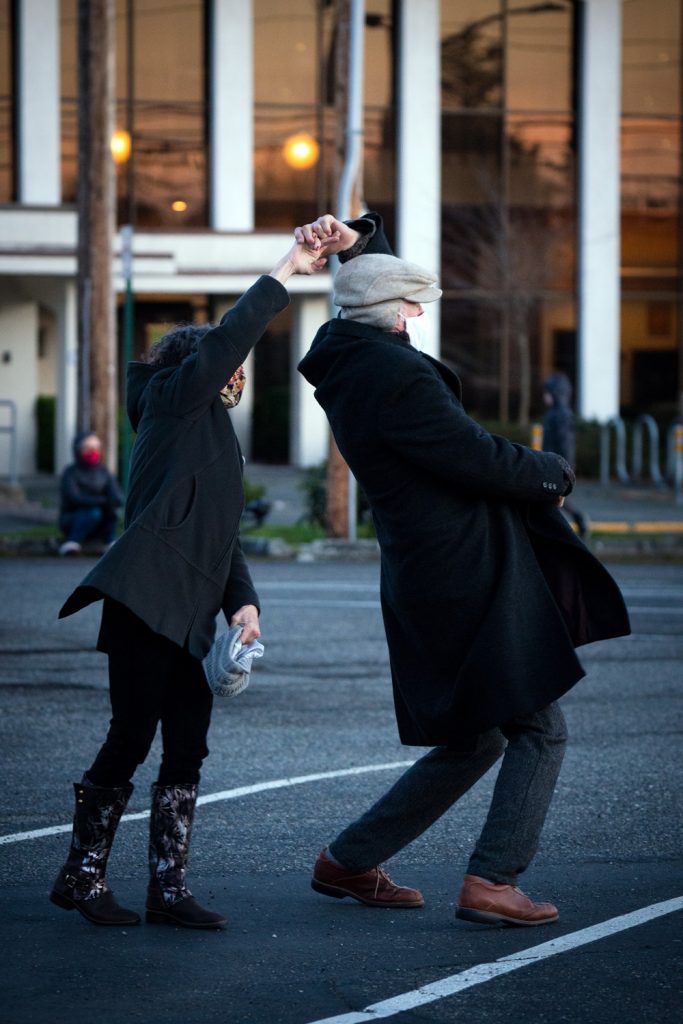 Pace came back the next night—and did the same for the next 68 days. (Here is one of the recordings made one of those evenings, taken from his Facebook page.) Regulars began to show up; sometimes a lot of people, sometimes, just a few.
Additional photos from the one-year anniversary of Pace's nightly performances, taken by Alexander Bodi Hallett of Sattva Photo, can be seen here.
When Pace and Kate were able to return to work in June 2020, he thought about commemorating the musical experience he'd shared with the community. He reached out to Shannon Taysi at the City of Bellingham Office of Planning and Development, who became his champion.
He sent her a photo of the trumpet photoshopped on the area of the parking lot—and Taysi ran with it. Because of the mural's size and location of the mural it took a few months of back-and-forth design and specifying location and paint classification and color to get the right color combinations to make the trumpet look real. The project was then pitched to the Whatcom Arts Commission, received permission from the City and the Mayor, and was formally approved for installation through 2023.
All Pace needed to do next was secure the artist. His first choice was Shawn Cass, AKA Ruckas (tagger name) AKA PIKLZ (his DJ name). Ruckas is a man of many talents and art styles, and his work can be found in many places around town.
Pace had happened upon Bird Alley before the pandemic while Ruckas was working on it. He told Ruckas how much he liked his artwork and hoped he would take on this meaningful project. Shannon was familiar with Ruckas' work and immediately supported the idea.
Thanks to a suggestion from Lindsay Payne Johnston at Downtown Bellingham Partnership, Pace applied for and received a grant from Whatcom Community Foundation that covered the cost of supplies and labor to create the ground mural. More photos from the installation event can be seen here.
During Pace's 68 nights of sunset serenades, one particular young man was always the first to arrive and the last to leave. "He was invited to cut the ribbon at the installation," Pace says. "I will never forget that."
What's next for this busy troubadour? During the day, you'll find him working at Hotel Leo as the concierge. He's also coordinating the music for the August Downtown Bellingham Art Walks, and for a few of the upcoming 4th Fridays in Fairhaven. His current passion project is hosting a Tuesday evening Swing Dance Party through B'ham Hop at the Hotel Leo with occasional live bands. (If you happened to have one of his trumpet pins, you can get $5 off your entry fee for the dance.)
You'll usually find Pace playing Taps in the various cemeteries around town on Veteran's Day and Memorial Day, since he had so much experience playing during his time in the Army.
Otherwise, if you find yourself wandering near or away from the urban core, you might hear him playing some soulful tune on his trumpet for the environment and everyone in it. Pace's desire is to have people connect to each other, whatever that takes. His way of facilitating connection is through his music. That empowers him, invigorates him, and does all the things that make life worth living.
During our chat, Pace was overwhelmed with memories of performing this music for 30-40 minutes every day. "It was my idea to have some sort of lasting sentiment to support that experience we all shared," he says. Now there is a beautiful ground mural of Pace's trumpet in the spot where he stood for 68 days in 2020. Pace invites everyone from Whatcom County to walk by Girard and D Street and see what we helped create.